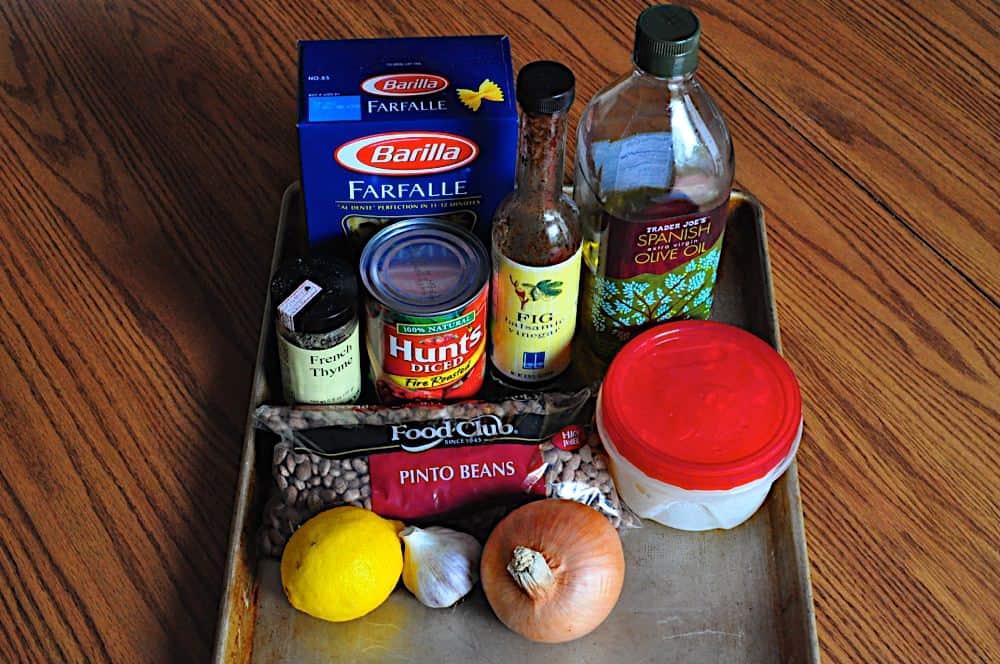 This post is inspired by loyal reader Guitarzan. He heard me say "I can make this out of pantry ingredients" one too many times, and asked what I keep in my pantry.
I started a list…and wound up with a five pages of "things I can't live without". I don't think you want to read that any more than I want to spend an afternoon typing it up. So I took another approach.
What is my desert island pantry? I tried to go with five items, to match the five kitchen tools idea that floated around the internet a few years ago, but I couldn't cut it down that much. I had to go with….
The Ten Item Pantry
Extra Virgin Olive Oil
Onions
Garlic
Lemons
Balsamic Vinegar
Beans - canned or dried
Canned tomatoes (diced)
Pasta (or rice, or potatoes)
Chicken Stock (Homemade in the freezer, preferably)
Thyme (dried, or fresh if my thyme bush is in season)
*Note: Salt and pepper were too basic. I left them off the list, assuming everyone has them.
If I have those items on hand, I'm ready to cook. A quick run through the outside walls of my grocery store* for fresh meat and vegetables, and I can make a surprising variety of food.
*Or, even better, I can stop at my local farmers market.
This list gives me my key building blocks:
XVOO as a cooking medium

Oil and vinegar to make vinaigrettes - salads and vegetable sides are covered
Aromatics to make the base for soups, stews, and chilis
Pasta and beans to bulk up whatever I make
Chicken stock as a soup and sauce base
Vinegar and Lemon to add acid, citrus, and sweet/sour flavors
Thyme so I can add in herbs when needed
I had to think hard before I cut the following, to get the list down to ten.
Butter (This was the hardest one. XVOO stands in…but barely.)
Dijon Mustard (The first add-in for all my vinaigrettes)
Canned Chipotles (I love the smoky heat)
Hard grating cheese (Parmesan or pecorino romano, to grate on top)
Chili Powder (I love chili. But coriander, cumin and smoked Spanish paprika almost made it on the list)
Soy sauce (essential for Asian cooking...but that's a pantry list for another day)
Sherry Vinegar (I kept going back and forth between balsamic and sherry. I use balsamic more...)
What do you think? What did I miss? What would your list look like? Talk about it the comments section below.
*Enjoyed this post? Want to help out DadCooksDinner? Subscribe using your RSS reader or by Email, recommend DadCooksDinner to your friends, or buy something from Amazon.com through the links on this site. Thank you!