I love it so much, I wrote a cookbook...

The Weber charcoal kettle rotisserie is my favorite grill accessory.
Yes, at $150, it costs as much as grill itself. But it turns a simple kettle grill into the best rotisserie oven money can buy.
Why does that matter? Because a rotisserie turns out the best roasts I've ever cooked. Perfect chicken, prime rib with amazing crust, pork shoulder to die for. If you want to roast on your grill, you want a rotisserie.
Setup is simple - there is a large ring that sits between the grill and the lid, with a motor mount on one side and a notch on the other. The rotisserie motor slides onto the mount, the spit plugs into the motor, and rests in the notch on the other side of the ring.
Configure the grill for indirect heat - put coals on both sides of the grill, add a drip pan between the coals, under the spit, and you're ready to cook.
My only complaint about the kettle rotisserie? Sometimes, when I'm cooking for a crowd, I wish it was bigger. It's limited by the 22 ½ inch width of the kettle grill. I can squeeze three chickens on the spit, barely. If I need more food on the rotisserie, I have to turn to my humungous Weber Summit gas grill. And, frankly, the charcoal cooks better, especially when I use smoking wood.
*I keep hoping Weber will make a rotisserie for the extra-large 26.75 inch kettle grill. But, my guess is the 26.75 inch grill is a specialty item, and a rotisserie for it would never sell enough units to be worth the effort. Sigh.
Do you want your your humble kettle grill to be a superstar? Get the rotisserie. You won't regret it.
What do you think? Questions? Other ideas? Experiences with another electric pressure cooker? Leave them in the comments section below.
FTC disclosure: All my "Things I Love" posts are about products I use and purchased myself. I did not receive any form of compensation to write this. If you buy something through one of my Amazon links, I do get a small commission.
Related Posts:
Inspired by:
Of course, once you get the rotisserie, you might want a cookbook to go with it…hint, hint…
---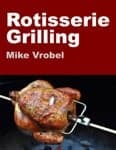 Check out my cookbook, Rotisserie Grilling.Everything you could ask about the rotisserie,
plus 50 (mostly) new recipes to get you cooking.

It's a Kindle e-book, so you can download it and start reading immediately!
---
*Enjoyed this post? Want to help out DadCooksDinner? Subscribe to DadCooksDinner using the RSS or Email options on the right, link to this post from your blog, recommend DadCooksDinner to your friends, or buy something from Amazon.com
through the links on this site. Thank you.