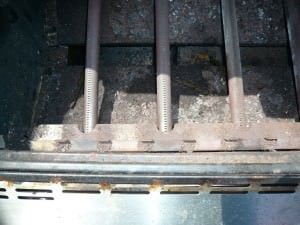 Debris from one year of cooking
Does the inside of your grill look like this? Burners not burning evenly? Grease fires happening more often than usual? If so, it's time for your annual grill cleaning.
I was amazed how much better
my grill
worked after I cleaned all the crud out - the big hot spot in the front of the grill was gone!
*I need to do this more often. I grill too much for a once a year cleaning.
Don't know where to start? Here are instructions from Weber on how to get your grill back into top shape:
Cleaning your gas grill
[Weber.com]