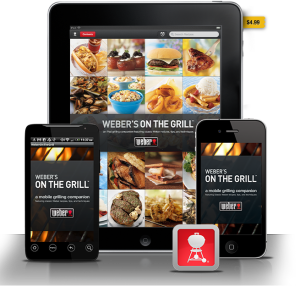 I just returned from a week's vacation at my family cottage in Madison, OH.  We had a great time, lounging around on the beach, splashing in the lake, sailing our Sunfish, and (of course, for me) cooking some meals on the grill.  I pack my backup Weber kettle into the trunk of the car, and bring it with me each year.
What?  You don't have a backup Weber kettle?  But...but...how do you grill when you go on vacation?
The upside (and downside) to the cottage is that we're pretty much technology free - no TV or internet connection at all.  This is great for the kids, because it gives them time to detox from their TV and Wii.  The downside is that *I have to detox from the internet.
Really, I can quit any time I want.  I use the internet, it doesn't use me.


My surfing was primarily about trying to find recipes on the internet, using my wife's iPhone and the spotty internet connection you can get on the shores of Lake Erie.  I can cook a lot of different things off the top of my head, but what do you do with 5 pounds of zucchini that Grandma bought at the farmer's stand, because it looked so good?  So, I spent a week looking for the one spot in the house where I could get a connection that would last.


When I get home, what is the first thing I read?  A post describing the answer to a week at the cottage with a shaky internet connection: Weber's On the Grill iPhone app.  [via: bbq.about.com]
It's a collection of 250 recipes from the various
cookbooks
that Jamie Purviance has written for Weber, including my personal favorite: Apple Brined Barbecued Turkey.
It also contains a section on basic grill techniques, and a few video guides.  My favorite section in the entire application is the "grill guide" - a list of how to cook just about anything on the grill, broken down by cut of meat (or vegetable).  You pick what you're cooking; they give you a quick summary of how long and at what temperature.  (For my example from earlier: zucchini, cut into ½" slices: cook for 3-5 minutes over direct, medium heat.)
It even has a countdown timer built into the application, so you can time your cooking with your iPhone.
Because of my focus on rotisserie cooking, I immediately checked their "Using a Rotisserie" section in the grilling basics.  I was a bit disappointed.  There isn't much information there; a paragraph or two of text and a few pictures.  I went back and checked their cookbooks, and found basically the same information there. I was reminded of why I started writing the rotisserie recipes on this blog - I was looking for that missing information!  I don't consider this a deal breaker - the basic technique for rotisserie cooking is the same as the indirect grilling information they give you in other sections.
If you're looking for an easy way to carry around the grilling information that Weber packs into their cookbooks, and you have an iPhone (or iPod touch), this app is worth a look.  I think it's well worth the $4.99 price tag to have this information at your fingertips.
Weber's On the Grill iPhone app download page [Apple.com]