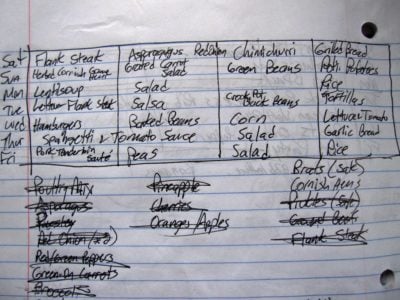 "The thing about cooking...I think the big misapprehension that people have is that cooking is time consuming. The shopping part is the time consuming. I mean, the part where you're sitting around saying what are we going to have for dinner tonight is very time consuming. I mean, if it's 4 o'clock and you're in your office and you haven't figured out what you're having for dinner tonight, the battle's half lost."

Ruth Reichl, interview with Terry Gross on Fresh Air [npr.org]
Exactly! The key to cooking dinner every night is planning your meals in advance.  Every Saturday morning, I sit down with the flyer from my local grocery store and plan out that week's menu based on what's on sale.  I make a grid in my cooking notebook, Saturday to Friday, with four columns.  Column 1 is the protein, columns 2 and 3 are the vegetables, and column 4 is the starch.*  Once I've made my plan, I make the shopping list for it on the rest of the page.  It takes some effort; I usually wind up scratching my head over a few of the days, trying to come up with some ideas for what to make that we haven't done recently.  But the benefits are amazing.
*When you're starting out, go with three columns: Protein, Veg, Starch.  I do the two vegetables to make my meals healthier, and get me to think about not making the protein the focus of the meal.  When you're starting out, setting up the menu plan is more important than making sure you get your extra veggies.  Once you've been doing it for a while, you can expand to two vegetables if you want to.
Don't think.  Just cook: Now, when I do get home on a busy Thursday, I can immediately start cooking, instead of trying to work through "OK, what do I cook now?" That is the key to cooking at home every night.  If I have to think about it, as Ruth says, the battle's half lost.  Thoughts about heading over to Tres Portrillos for a margarita and carnitas start to creep in, and it's all over.
There's nothing to cook: Another benefit is avoiding "I don't have anything to cook" incidents.  You bought everything you need when you were shopping.  Now you won't look in your fridge and find a collection of foods that don't really make a meal.
Saves money, too: It's also a good way to keep your grocery bills down.  By planning with the weekly sales right in front of you, it's easy to center your meals around what's on sale.  And, even if you don't follow the sales flyer, it is still cheaper to cook at home than it is to eat out.  Don't get me started about how much more expensive it gets when you give in to the siren song of a fast casual restaurant.
Setting up your meal plan:
Here's my general plan of attack.
Weekend: adventurous cooking
If I'm making something that goes bad quickly, like fresh fish, it's Saturday dinner.  Otherwise, Saturday is probably a new recipe that I want to try out.
Make a big roast or stew on Sunday, and plan a second meal later in the week around the leftovers.
*These two are the recipes that usually wind up on the blog, unless I'm focusing on a weeknight dish.


Then I pick a collection of weeknight friendly recipes for the rest of the week, usually from the following list:
Soup and Salad night
Sandwich and Salad night (great if you're in a hurry, and a good way to use up the weekend roast)
Big Salad with a loaf of bread night (also great if you're in a hurry)
Grilled/Sauteed protein with side of grilled/steamed vegetables, salad and quick starch
Most of my meals fall in this last category of protein with 2 veg and a starch.  Some examples of this, spread across different ethnic cuisines:
American Grilled: Grilled chicken breasts with grilled asparagus, salad and a side of rice
American Roast: Sear-Roast chicken pieces with frozen peas, salad and roast new potatoes
American Saute: Pork Chop Saute with steamed green beans, salad and a side of orzo
Chinese: Stir fried chicken with stir fried broccoli, stir fried cabbage and a side of rice
Mexican: Grilled flank steak with salsa, black beans and tortillas
Italian: Italian Sausage with quick pasta sauce, steamed broccoli and spaghetti
Greek: Grilled Lamb Shoulder steaks with steamed green beans, shredded carrot salad and couscous
French: Seared steak with herb butter with steamed asparagus, salad and roast fingerling potatoes
...the variations are endless.  I just came up with these off the top of my head over the last five minutes.  *Of course, if you've read my blog for any length of time, you know I lean heavily on the grill side of this list, particularly during the summer.
Um.  Well.  OK, I'll admit it.  When we're really in a hurry:  hot dogs with frozen corn and canned baked beans.
*The kids love it.  Hey, they can't all be gourmet meals...
And finally, when I need a break, Diane pitches in with Pizza night.
*She makes a great homemade pizza dough.
**Yes, I married well.  Love you, dear!
I tend to think of the plan as:
New Recipe Saturday
Sunday Roast
Sandwich and/or Soup and/or Salad day
American #1 day
Stir Fry day or Pasta day
American #2 day
Mexican day
...but I shuffle it around quite a bit, depending on our schedule, what's on sale, and what looks good in the grocery store flyer
Notes:
*I stuck with a four week meal plan when Diane was on bed rest with our youngest, and I was both DadCooksDinner and Mr. Mom for six months.  I didn't have the energy to figure out a new meal plan every week from scratch.  Nowadays, I'm too adventurous a cook to stick with the same plan month after month.  I always have some new recipe I want to give a try, and a rotating schedule felt too restrictive.
*Sticking with a meal plan, with some slight variations, will also make you a better cook.  You'll start to internalize the techniques and ingredients you need.  This is how I learned to cook, really.  I made sautes a couple of times a week with different pan sauces, then once I had the technique internalized, I moved on to something else.
*It's tough to tell from all that protein I have listed above, but I try to do one soup/salad meal a week, and one vegetarian meal a week.
*I get my CSA box every other Friday in the summer.  That's usually where the vegetables come from when we're in season.  If I'm going to the farmer's market, I fill out the plan as best I can, then put things in general terms in the shopping list.  Like: "veg for stir fry, veg for roast".  Then I fill in at the market.
*Also, once you're comfortable with the general process, don't be afraid to improvise at the store.  Green beans look bad?  Unadvertised special?  Swap something else out.
*Lean on what you know, and what you like.  Chicken Tuesdays?  Chili Thursdays?  Make-your-own-monster-burger-Monday?  Go for it.
So, how about you?  Do you plan your meals for the week?  Any other tips or tricks I didn't mention?  Any go-to weeknight meals, for when you're desperate?  Let me know in the comments, below.
Inspired by:
Ellyn Satter's Secrets of Feeding a Healthy Family: Orchestrating and Enjoying the Family Meal
*Enjoyed this post?  Want to help out DadCooksDinner?  Subscribe using your RSS reader or by Email, recommend DadCooksDinner to your friends, or buy something from Amazon.com through the links on this site.  Thank you!