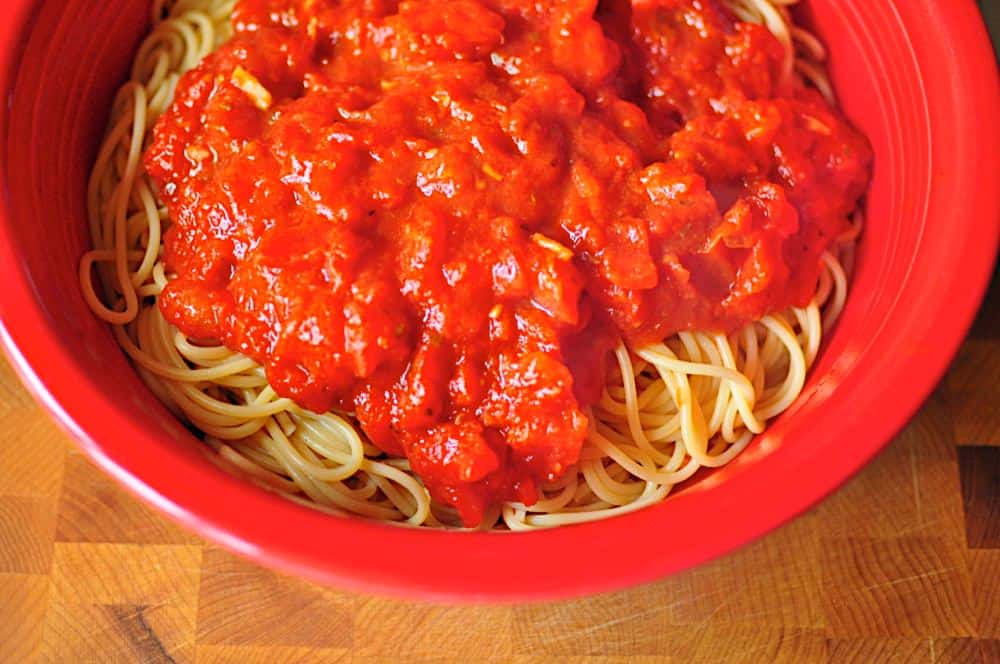 When my grand scheme for dinner falls apart, spaghetti with tomato sauce is my backup plan. I always have a few onions, some garlic, and canned tomatoes at hand.
*One of the keys to making dinner every night is having a backup plan. After a long day at work, the temptress of pizza delivery is whispering sweet nothings in my ear. Instead of reaching for the phone, I reach for the dried pasta and a can of tomatoes.
My tomato sauce recipe has evolved over the last few years. I started out with olive oil, diced onion, garlic, and diced tomatoes, and simmered until thick. Then two things happened:
I read about Marcella Hazan's famous tomato sauce [h/t smittenkitchen.com]
I had kids
Marcella's sauce taught me to use butter instead of olive oil, for the rich taste that only butter seems to have.
*OK, butter and pork fat. But pork fat seemed excessive.
The other trick I learned from Marcella (and one the kids reinforced) is using a halved onion instead of diced onion. The halved onion gives up its sweet flavor to the sauce, without sauteing the diced onion. It's quicker, and when you discard the onion, the kids don't see the chunks of "yucky stuff" in the sauce.
*I want my kids to be adventurous eaters...but I get tired of them eating around pieces of onion in the sauce.
My other change is culinary heresy. I...I used crushed tomatoes. I know, to maintain my image, I should use nothing less than whole plum tomatoes, canned in San Marzano. But...I need a quick, weeknight sauce, not something that must simmer for 45 minutes.
So, here is my current tomato sauce recipe. It takes less time than boiling the pasta water. Like all good recipes, it's still evolving. But right now, if I'm backed into a corner by dinner, this is how I fight my way out.
Recipe: Tomato Sauce

Adapted From: Marcella Hazan Essentials of Classic Italian Cooking
Cook time: 25 minutes
Ingredients:
1 tablespoon butter
1 tablespoon extra virgin olive oil (or replace with butter)
2 cloves garlic, minced (or pressed through a garlic press)
1 teaspoon dried oregano
pinch of red pepper flakes (optional)
1 medium onion, peeled and halved
28oz can crushed tomatoes
1 large sprig fresh basil (optional)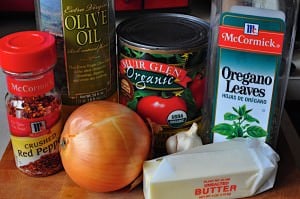 Directions:
1. Quickly saute the aromatics: Heat the butter and olive oil in a sauce pot over medium high heat until the butter stops foaming. Add the garlic, oregano and red pepper flakes, and cook for 1 minute, or until you smell garlic.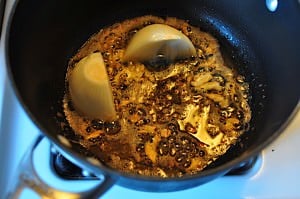 2. Cook the sauce: Add the onion (cut side down), the crushed tomatoes, and the basil sprig. Bring to a boil, then reduce the heat and simmer for 15 minutes, until the tomatoes thicken. Discard the onion and the basil sprig, and serve.
| | |
| --- | --- |
| Starting to simmer | Thickened up, and ready to serve |
Variations:
*Diced onion: This is the other way I make sauce: Mince the onion and cook it until softened in the melted butter. Then add the garlic and red pepper flakes.
*Fresh herbs: Instead of the dried oregano, add a sprig of fresh oregano or fresh thyme; make sure to remove it with the onion and basil sprig.
*Whole canned tomatoes: Simmer for 45 minutes instead of 15 minutes. Or turn them into crushed tomatoes by whizzing them with a stick blender (which is what I do...)
Notes:
*Really, the only requirements for this are some butter or oil, onion, and tomatoes. I love the extra flavor the garlic and herbs add, but I've made the sauce without them in a pinch, and it comes out fine.
*I have to admit, I'm going back and forth on sauteing diced onions vs the halved onion. It tends to come down to how I'm feeling that day - if I have five extra minutes, I'll dice the onions and saute them; if I don't, the halved onion is tossed in the sauce.
What do you think? Questions? Other ideas? Favorite pasta sauce techniques? Leave them in the comments section below.
Related Posts:
Sear Roasted Turkey Thighs in Tomato Sauce
Adapted from:
Marcella Hazan Essentials of Classic Italian Cooking
*Enjoyed this post? Want to help out DadCooksDinner? Subscribe using your RSS reader or by Email, recommend DadCooksDinner to your friends, or buy something from Amazon.com through the links on this site. Thank you!