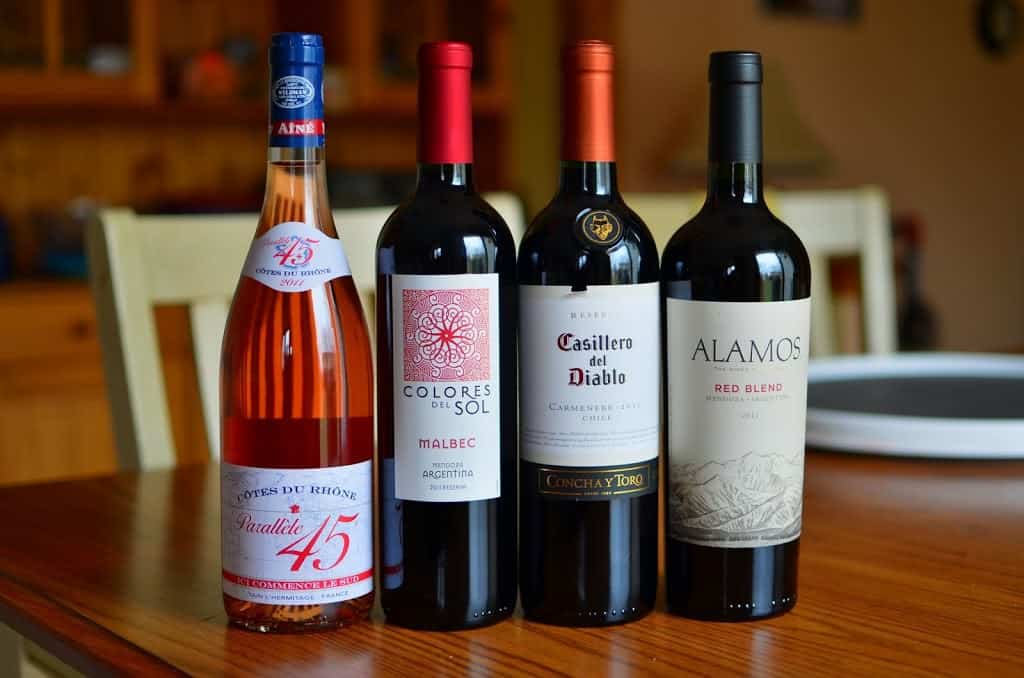 A few cheap finds
I used to be a wine snob. Then I had kids.
My love of food is intertwined with my love of wine. Wine and food just go together, and I believe a glass of wine should accompany almost every dinner. My favorites were expensive wines from famous wine regions, especially ones I have visited. Napa Cabernet. Sonoma Zinfandel. Oregon Pinot Noir. As Napoleon said, I celebrate victories with Champagne, and need it after defeats.
*When I went to France, I had to take the TGV to visit Reims, home of Champagne. Had to!
When we were DINKs, that was fine. We could afford it. Once the kids started to arrive, expensive wine turned into a luxury, saved for special occasions. Did I give up wine? No. But I had to find cheap wine that I loved.
Except...cheap wine can be awful.
Allegedly, I'm just being a snob, and I can't taste the difference. It's all in my head, I'm being influenced by the labels, the price. It's all psychology, not taste.
In spite of all the studies, I know I can taste the difference.
That jug of Yellowtail, or bottle of Three Buck Chuck? Fruit bombs, with nothing interesting going on. I'd rather have water. (Or a beer - but that's another post.) I wish I could get all wine snobby and explain why - "they lack astringency, and the finish is too short" - but I don't have the words.
The best I can do is: good wines are balanced. Wine should have both fruit and structure. It should be buttery and acidic. It should have a balance of oak and tannins. Cheap wine tends to be the first (fruity, buttery, oaky) without the balance (structure, acid, tannins).
Now, I'm not against cheap wine, I'm against bad wine. The key to cheap AND good wine? Buy wine from off the beaten path. Look to South America and Spain in particular. And, try some new grapes, not the traditional Cabernet, Merlot, or Pinot Noir. If there is a local specialty, it has to be good to stand up to the classics.
Now, for some humble suggestions. I won't mention specific brands; wine laws are erratic, and distribution is spotty, so I have no idea what you can find. Trust the wine experts at your local stores - they'll have suggestions in all these categories.
Ohio has draconian wine laws. Whenever I visit Chicago, sparkling wine is much, much cheaper. I always buy a case of real Champagne, because it seems like such a deal. That's right, I'm a bubbly bootlegger in my suburban minivan.
Reds
Spain - Tempranillo or Garnancha
Argentina - Malbec
Chile - Carmenere
South Africa - Pinotage
Southern France - Cote du Rhône (stick with the village blends; high end Chateauneuf du Pape or Hermitage are great, and expensive)
California - Syrah/Shiraz, Petite Sirah
I drink big wine with some structure to it, and these wines all fit the bill. Again, I wish I could give you the wine snob play-by-play about each of these - "tastes like currants, tobacco, with a glassy edge and a hint of acid" - but my flavor memory isn't that good. These wines are in two groups - regional specialties from under appreciated wine regions (Spain, Argentina, Chile, South Africa), or under appreciated grapes from well known wine regions (Cote du Rhone, California Syrah or Petite Sirah).
Australia normally gets a mention here, but I'm not a fan of cheap Australian wine - I like it when it gets a little more expensive, in the $10 to $20 dollar range, and if you can find a good Australian Shiraz on sale, grab it. But the cheap Australian stuff doesn't do it for me.
Whites
South Africa - Rhone-style white blends
Italy - Pinot Grigio
America - Pinot Gris
Everywhere - Sauvignon Blanc (except, unfortunately, New Zealand)
As long as you stay away from Chardonnay, cheap white wine tends to be better than cheap red wine. Now, don't get me wrong, I love a good chardonnay, but it seems like I have to spend a lot of money to get a good one. New Zealand Sauvignon Blanc would be on this list, except everyone figured out how good it is, so the price jumped. Now I'm lucky if I can find a bottle for under $15. Pinot Grigio and Pinot Gris can be pretty bland, but they're perfect on a hot summer day, when I want something cold and acidic.
Pink
French - Rosé (usually Provence, Rhone, or Languedoc)
Rosé is meant to be cold, crisp, and cheap. It is my favorite summer wine. And fall. And winter. Oh, and spring, for that matter. Luckily, it's not that popular here in the US (I think it's fallout from White Zinfandel) so it can be found with reasonable prices. There are some other regions making rose in the French style; South Africa and California are making some good, cheap versions, so keep an eye out.
Bubbly
Spain - Cava
Portugal - Vinho Verde
I drink a lot of bubbly. Spanish Cava is the real thing, and is a good substitute for Champagne or Napa sparklers. Vinho verde is a tart, slightly bubbly white wine; I almost put it in the white section, but it sparkles just enough to qualify here. It is another great summer wine.
Cooking
Spain - Tempranillo/Garnacha blends
France - Cote du Rhone
Australia - GSM blends
When I use a wine for cooking, I want it to be cheap, a blend of grapes, and (usually) have some grenache in the blend. (If I'm putting a cup or two of the wine in a stew, I'm even cheaper than usual.) Cote du Rhone wines are the best example of these blends, but can get pricey, so I look to other regions for a really cheap ($7 or $8) bottle. This is where I break my "avoid Australia" rule; they make a number of inexpensive GSM (grenache, shiraz, mouvedre) blends. And, if I'm using half the bottle in a stew, I want cheap. I might even stoop to Three Buck Chuck.
Box Wines
I want to like box wines. I really do. I hate when I forget about a half a bottle of wine, and find it a couple of days later, when it's already gone.
The box wine concept should work; seal three bottles worth of wine in a plastic bag, keeping oxygen away so the wine can't oxidize.
The problem? The wine they put in the bags. Ugh. Even the newer "high end" boxes don't really do it for me - all the ones I've tried are fruit bombs, like I mentioned above. I keep trying them, hoping I'll find one I like, but so far I've been disappointed.
Final Notes
I don't mean to talk trash about your favorite wine. If you're a fan of Black Box Cabernet, or love Yellowtail chardonnay and drink it by the jug, more power to you. I wish I could enjoy it as much as you do. (Or, at least, my wallet wishes I could…)
How do you find what you like? Taste a lot of wine! If your local wine shop has a tasting, visit it. If your grocery store is giving out samples, try them. If you're in wine country, visit wineries. Then, if you find something you like, and the price is right, buy some.
Local wine shops love to make recommendations. Give them your price range - don't worry about seeming cheap - and they'll be happy to work with you. And, if they're not? Move on to the next store. High end grocery stores often specialize in wine, and they'll have someone on staff who will happily make recommendations. Ask for a mixed case - you'll get 10% off the total price - and see if you like the recommendations.
Take what they recommend, buy the case, go home and drink it. (This is research.) If you liked their suggestions, keep going back and giving that person your business. And if one of the wines was a particular favorite, go back and buy a case!
And, when you're asking for help, don't worry about wine snobs. The vast majority of people who work in wine shops do it because they love wine, and want to share. They're looking to create new wine lovers, not lord over you with their knowledge. And if you do run into a snob? Like I said, move on to the next store. Odds are, they'll be happy to help you out.
What do you think? Questions? Cheap wines you love? Leave them in the comments section below.
*Enjoyed this post? Want to help out DadCooksDinner? Subscribe to DadCooksDinner using the RSS or Email options on the right, link to this post from your blog, recommend DadCooksDinner to your friends, or buy something from Amazon.com
through the links on this site. Thank you.