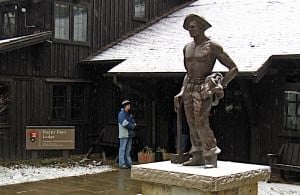 Would you like to give your cooking a mid-winter shot of inspiration? Find your local winter farmer's market.
My CSA from Crown Point doesn't run during the winter. I needed a fix of locally grown produce and locally raised meat. The Cuyahoga Valley Conservancy, the organization behind the Howe Road farmer's market in the summer, moves the market indoors for the winter. It is in the Happy Days Lodge in Cuyahoga Valley National Park, and it runs one Saturday a month from November through April.
I was impressed with the variety of food available for a market in the middle of winter. Obviously, since this is Northeastern Ohio, we don't have a wide range of produce, but the storage vegetables were out in abundance. I couldn't believe all the different, locally grown meats that were available. Beef, pork, lamb, buffalo, chicken, duck...and those were just the ones I saw; someone might have been hiding in a corner that I didn't get to.
They even have a "bank machine" at the front desk of the lodge - they can run a debit card and give you $5 tokens for the market.
This is a big help when you have a space cadet moment and forget to stop at the bank machine on your way there. Like I did.
While I was there, I ran into DineInDiva from Garden, Grocery, Gadget Girl. It's always nice to meet someone you've been reading on the internet, to put a real face on the person behind the words.
Countryside Winter Farmers' Markets
Saturday: November 21, December 19, January 16, February 20, March 20, April 17
Happy Days Lodge
500 West Streetsboro Road
Peninsula, OH 44264
cvcountryside.org
My top five list of favorite things they sell:
1. Eggs: Brunty Farms has fresh, local brown eggs. We bought a flat of 24, and they were gone in five days. I think I need to get two flats next time.
2. Winter vegetables: Potatoes, chard, kale, onions, carrots, beets, squash, even hothouse lettuce. I was impressed with the variety available in the middle of winter.
3. Lamb: I bought a leg of lamb from Great American Lamb, and ordered a lamb shoulder roast for next time. I love lamb shoulder, which is hard to find whole around here. The best I can usually do is lamb shoulder chops.
4. Goat Cheese: Lake Erie Creamery makes a wonderful goat cheese that I get as part of my Crown Point CSA during the summer. I was excited to see them at the market, so I could pick some during the winter.


5. Pork: I found out about Curly Tail Farms from Garden, Grocery and Gadget Girl's Paella post. In addition to the usual pork selection, they have sausages (chorizo!) and pork belly. Pork belly! I've been looking for that, and I walked right by them.
6. Other: I couldn't keep the list to five this time. Duck, Buffalo, homemade jelly, homemade chocolate candy. And that's just what I was able to get to - the place was pretty crowded by 10AM, and I spent all the money I had budgeted (and then some) before I got through the entire building.
*Ben was with me for the trip. His top 5 would be: 1 through 4: chocolate, 5: jelly.
Here's the map:
Related posts:
My list of Ethnic and Gourmet stores near Akron, Ohio.
*Enjoyed this post? Want to help out DadCooksDinner? Subscribe using your RSS reader or by Email, recommend DadCooksDinner to your friends, or buy something from Amazon.com through the links on this site. Thank you!