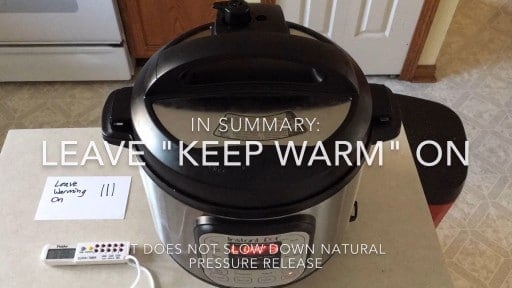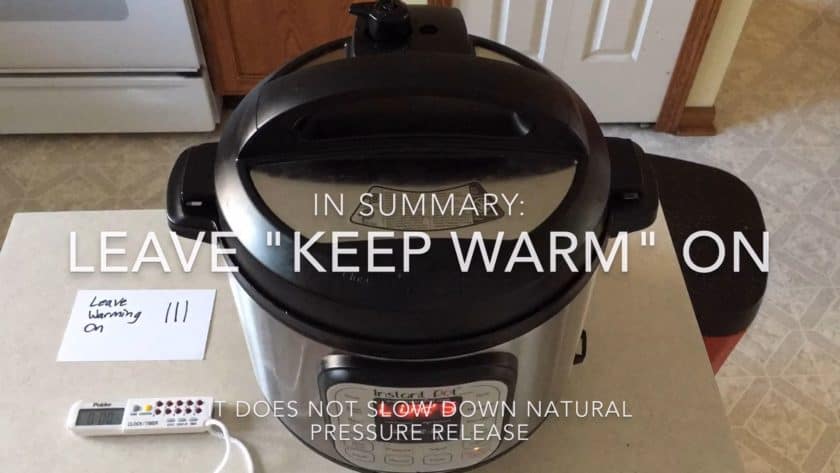 In my Instant Pot FAQ, I have the following question:
Q: What about natural pressure release? When the Instant Pot finishes cooking, it switches to Warming mode – is that OK with a natural pressure release? Or should I cancel it?
A: Cancel warming mode to speed up natural pressure release.
I was reading the Instant Pot Community Facebook group, and saw a heated debate: Keep Warm and Natural Pressure Release. One side was strongly in the "warming mode doesn't matter" camp, the other was in the "turn warming mode off" group - and used my FAQ post as evidence.
After reading the debate, I started to wonder - am I wrong about warming mode? I assumed that turning off the heat would speed up the natural release - that the pot would lose heat quicker without any heat being added by warming mode.1In part, because that's how I learned to do it with a stove top cooker - turn off the heat and move the pot to an unlit burner so it cools down faster. The argument against cancelling Keep Warm mode is the pot's thermostat. Warming mode keeps the temperature between 145°F and 172°F, so it won't turn the heat on until the temperature drops to 145°F. That's well below the temperature where pressure will release.
I ran a quick test - I set my IP-Duo and IP-Smart next to each other on the counter, added a quart of water to each, set them for 3 minutes of high pressure cooking, and waited for it to finish. They both came up to pressure and counted down the three minutes at about the same time. I cancelled the Keep Warm mode on the IP-Smart, and waited for the pressure indicators to drop. Much to my surprise, the IP-Duo finished manual pressure release about five minutes before the IP-Smart!
But…is that a valid test? Maybe there is something about the IP-Smart that slows down cooling. To reduce the variables, I ran the test over and over again with my IP-Duo, a quart of water at high pressure for 3 minutes, and alternated leaving Keep Warm mode on and off.
Sitting and watching natural pressure release is only slightly less interesting than watching grass grow. So, instead of babysitting each run, I set my Phone on a tripod and filmed it using time-lapse video mode. Here are the time-lapse videos from the third run, side by side:
You can see them finish within a minute of each other - this is consistent across all the tests. Sometimes Keep Warm mode finishes first, sometimes cancelling it does - but the difference between them was always less than a minute, and it kept moving around as to which was faster. 2The other interesting result - it took between 20 and 24 minutes for pressure to come down naturally in each of the tests, with an average of 22.8 minutes. So, assume a Natural pressure release will take 23 minutes…if you cooked a quart of liquid.
In summary...
Keep Warm mode doesn't affect natural pressure release. It finishes at about the same time either way, so don't bother canceling it. I was wrong in my Instant Pot FAQ; I'm sorry I gave you bad information. (And, of course, I updated the FAQ to match this new info.)