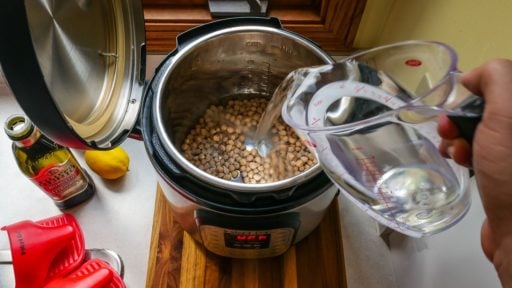 The cook at our house cooked rice in the instant pot, but since the stainless container was soaking in the sink from the previous use, the cook didn't remember there was a container to put it in first! So it went directly into the bottom of the InstantPot.

I've managed to get most of the burned and uncooked rice out of the InstantPot, but there are a few rice kernels inside. I removed the bottom of the InstantPot and was able to get more of them out this way also. Oil was used along with the water in the cooking process.
Oh, Treva, I know exactly how this feels.
Years ago, I was teaching Tim how to pressure cook his favorite side dish - black beans. This was a while ago - I think we were still using my Instant Pot Lux, or maybe my Cuisinart Electric Pressure cooker. Anyway, I showed Tim how to sort beans, and had him set up on the counter next to the kitchen sink. The pressure cooker itself was plugged in on our kitchen island. When Tim finished sorting, I had a great idea - I'll bring the inner pot to him, and set it in the sink next to him. That way, he can pour the beans into the pot, any beans that miss will wind up in the sink, and we can fill it up with water right there. This all worked great - Tim was ready to go, with the pot full of dried beans and water in his hands.
I told him "Put it in the pressure cooker", then checked how the other kids were doing (we were all working on Taco Night.) I saw Tim cross the kitchen with the inner pot, lift it...and pour the contents into the pressure cooker base.
I felt like I was moving in slow motion - "Noooo! Stop!" - and most of the beans and water were poured into the pressure cooker base before he realized that something was wrong. Water was streaming out of the pressure cooker base - I found out there are a lot of holes in there. I quickly unplugged the base, then we started mopping up the counter with towels.
Not having any better ideas (like contacting InstantPot.com/support to find out what I should have done), I dumped the beans out and dried the pressure cooker base with paper towels, reaching under the heating element with the edges of towels to try to absorb as much of the liquid as possible. I left the cooker base sitting upside down in our dish drain for a handful of days, until it looked completely dry, then crossed my fingers and plugged it in. And...everything worked! The control panel lit up, all the buttons responded when I pushed them, and a "2 cups of water" pressure test was a success.
That pressure cooker was still chugging along when I upgraded to the Instant Pot Duo a few years later. If it's the Lux, I passed it on to my sister-in-law, where it is still working.
They must build electric pressure cookers knowing mistakes will be made - liquid will wind up in the base of the cooker - and drain properly. That said, after writing this post, I sent an email off to Instant Pot, asking what I should have done. I'll update my Instant Pot FAQ with their answer.
Any Instant Pot mistakes you'd like to share?
How about you? Any kitchen disaster stories you'd like to share? (They seem much funnier in hindsight.) Tell us about them in the comments section below.
Enjoyed this post? Want to help out DadCooksDinner? Subscribe to DadCooksDinner via eMail or RSS reader, recommend DadCooksDinner to your friends, and buy something from Amazon.com through the links on this site. Thank you.