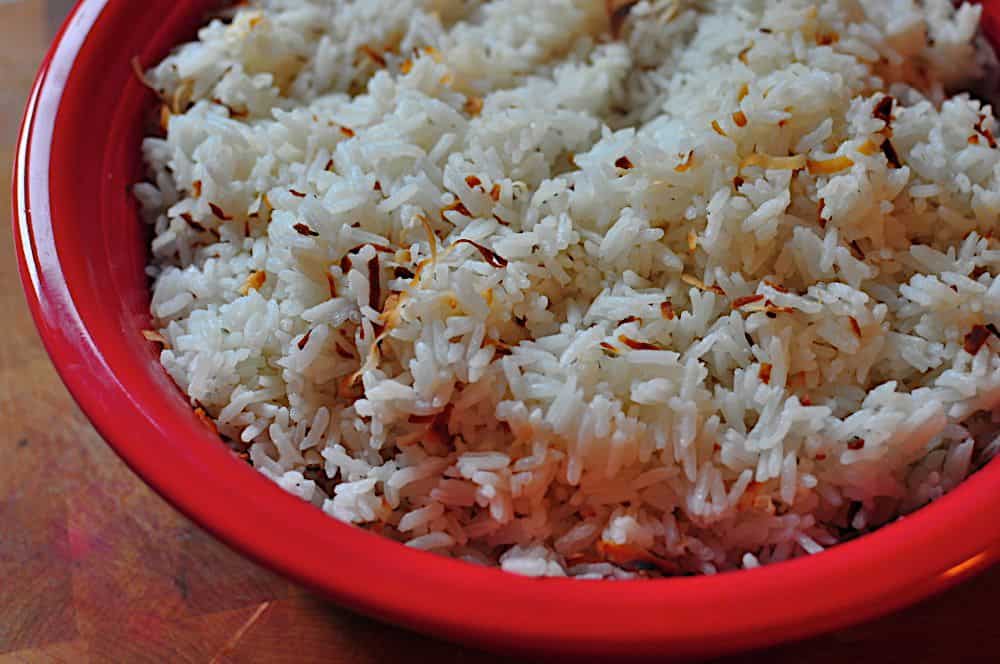 Plain white rice. It bores me. Sure, white rice is great as a neutral starch, soaking up the sauce from a stir fry or stew. But on its own? I get tired of it.
Unfortunately, my kids love it, so I make a lot of Plan White Rice. And for them, it has to be Plain White Rice. (Yes, you can hear them saying it with the capital letters.) Nothing fancy is allowed, or they'll push their bowl away and say they're "not hungry".
Coconut rice is the exception. Replacing some of the water with coconut milk adds a subtle sweetness to the rice. Even better, it doesn't register with the kids "not hungry" sensor - it leaves the rice looking like Plain White Rice.
Until I got wild and crazy…and added shredded coconut. It seemed like a great idea, adding a little color and crunch to the rice. But I knew I had a sales job to do on the kids. The first time I made it, I gave each of them each a lone strand of toasted shredded coconut. They looked dubious. I used sweetened coconut, though; once they got a taste of the sweet crunch, they asked for more. I dumped it on the rice, stirred it up, and passed out the bowls. And…it was a success. We had moved past Plain White Rice!
Recipe: Coconut Rice

Cook time: 30 minutes
Equipment:
Medium pot with a lid (3 to 4 quarts is good; I use this nonstick pot from Calphalon)
Ingredients:
¼ cup shredded coconut (sweetened or unsweetened)
2 cups jasmine rice
2 cups water
15oz can coconut milk
1 teaspoon Kosher salt (or ½ teaspoon table salt)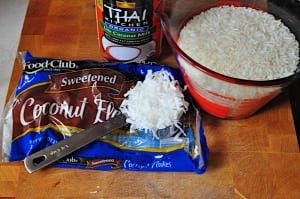 Directions:
1. Toast the coconut: Put the shredded coconut in a cold medium sized pot, and turn the heat to medium. Cook, tossing and turning occasionally, until the coconut is toasted brown. Immediately remove the coconut to a plate.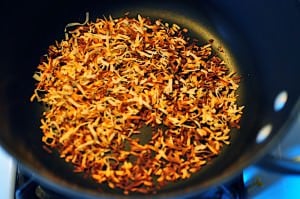 2. Cook the rice: Put the rice, water, coconut milk and salt in the pot, stir to combine, then bring to a boil over high heat. Stir once more, then reduce the heat to medium and continue to boil until you see "fish eyes" in the surface of the rice. (That means the liquid has boiled down to just slightly below the surface of the rice, and it is bubbling up through the rice in big, eye-like bubbles.) Cover the pot, reduce the heat to low, and cook for ten minutes. Remove the pot from the heat and leave covered for another ten minutes to allow the rice to gradually finish steaming.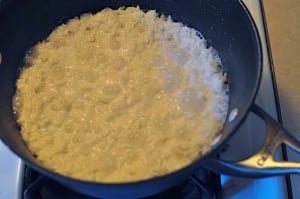 "Fish Eyes"

3. Serve: Sprinkle the coconut on top of the rice. Toss and fluff the rice with a fork until the coconut is evenly distributed, then serve.
Notes:
*The toasted coconut is not essential. It adds a nice crunch, but I skip it when I'm in a hurry, or want a neutral side dish.
*The combination of jasmine rice and coconut milk is a classic pairing. But, if you don't have jasmine rice, any type of rice will do.
*When the kids seem hungry, I cook more rice. I use ⅓ cup of shredded coconut, 3 cups of rice, 3 cups of water, 1 can coconut milk, and 1 ½ teaspoons kosher salt. Make sure the pot is big enough if you use these larger quantities - this is a tight fit for my 4 quart pot.
What do you think? Questions? Other ideas? Leave them in the comments section below.
Related Posts:
Basic White Rice
Fried Rice, Bittman and Vongerichten Style
Click here for my other rotisserie recipes.
*Enjoyed this post? Want to help out DadCooksDinner? Subscribe using your RSS reader or by Email, recommend DadCooksDinner to your friends, or buy something from Amazon.com through the links on this site. Thank you!