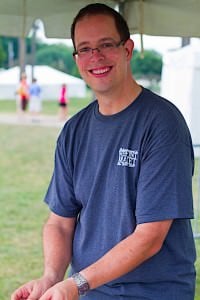 I went in to this contest determined to do three things:
Have a good time
Make sure everyone around me had a good time
Cook the steak properly. (I hate it when I overcook a steak. Hate it!)
I think I did a better job cooking my steak this year than I did last year, but it wasn't enough to get me one of the prizes. The judges seemed to favor more elaborate recipes this year. All the winners had extra toppings, and sauces; I like my steak to be, well, just a great steak. Last year that won me the contest. This year, this set of judges...it wasn't what they were looking for.
My story from last year: I was telling my parents about the contest. I said I won with a plain steak, without an elaborate sauce, which allowed the beef to shine. Mom's response was: "What do you mean you didn't have a sauce? That's the best part!" My own mother...
All the entries I sampled were great. I loved mine, of course, but I'm biased. I loved the other ones I tasted as well. The judges had their work cut out for them - I would have hated to be a judge and have to pick one as "best". They were all very, very good.
Yes, I'm obsessing. I'm a little disappointed that I didn't win anything. I didn't think I'd be lucky enough to come in first place two years in a row, but I was hoping to get one of the top four spots, and a West Point Market gift certificate. I was going to go straight to their wine section. Oh, well, I guess I have to spend my OWN money on wine. Darn!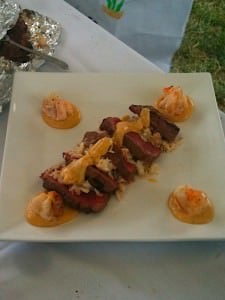 Jack Hart's Steak Newburg -
This took fourth place. I didn't see his amazing
presentation until he sent me this picture.
What about my goals? I had a great time. I was last on the turn-in schedule, so I had a couple of hours to kill before I could start cooking. I filled the time by chatting with my fellow contestants and their friends. It's fun to be surrounded by people who are as obsessed about food as I am, sharing notes and exchanging tips.
I got to talk a lot with the contestants in the tents next to mine: Bill Moll, John Kusinski, and (the eventual winner) Stephanie Yost.
*Stephanie's family is a hoot - her son is a character, and her husband and I had a long discussion about the brick pizza oven he just built in their back yard. Like I said - it's fun to be around people who are as obsessed about food as I am!
**Also, thank you to John Kusinski and Jack Hart for sending me the pictures you see. Thanks, guys!
Congratulations to Stephanie Yost on her victory. Stephanie, it couldn't have gone to a nicer person. And your steak was delicious, too!
Thanks to West Point Market for sponsoring the contest, and Lisa Abraham for doing such a great job as the Master of Ceremonies. I'll definitely be entering again next year - it's a lot of fun even if you don't win.


Here's a video from the Taste of Akron - they interviewed a bunch of the contestants; we start about thirty seconds into the video (I'm at 1:15).
Taste of Akron video [ohio.com]
Related Posts:
Grilled Ribeye Steaks with Mediterranean Herb Butter - last year's winning recipe
Grilled Ribeye Steaks with Chipotle Lime Butter Baste - this year's recipe
*Enjoyed this post? Want to help out DadCooksDinner? Subscribe using your RSS reader or by Email, recommend DadCooksDinner to your friends, or buy something from Amazon.com through the links on this site. Thank you!