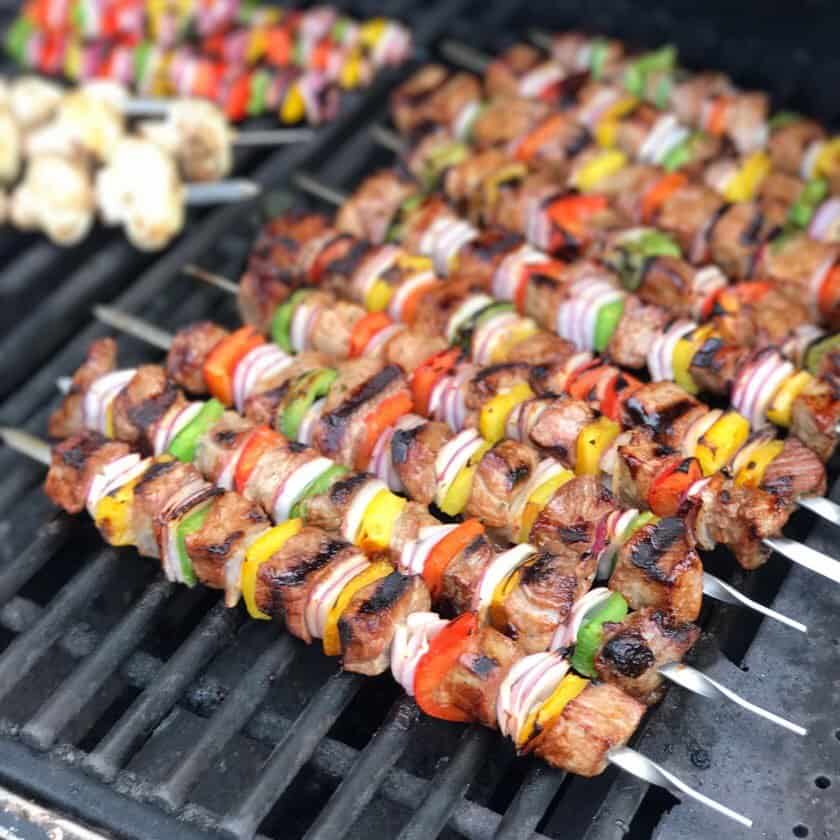 ---
Thank you to my friends at Certified Angus Beef® Brand for sponsoring DadCooksDinner. This month, we're talking kabobs on the grill. What do I put on my #BestBeef Kabobs? Read on and find out!
Check out hashtag #BestBeef for more beef kabob ideas, and come visit the Certified Angus Beef Kitchen Community on Facebook. Thank you!
---
I don't like marinades. But…there are exceptions to every rule, and my exception is Kabobs.
As I have said in the past, marinades have issues. They don't tenderize meat, and they don't penetrate. All you get is a thin layer of flavor on the outside of the meat.
2Will not tenderize…unless there is pineapple in the marinade. Pineapple has an enzyme that actually does break down meat - tenderizing it - but watch out, because it will turn the meat into mush if you leave it marinating overnight.
But kabobs avoid these issues. It doesn't matter that marinade doesn't penetrate- the meat on a kabob is cut small enough that I get some surface with every bite. Also…I cheat with this marinade. It is more of a brinerade than a marinade - the salt in the soy sauce seasons deep into the meat.
Kebabs are also my favorite use of sirloin. I love ribeye steaks, so sirloin steaks seem like a less-tender cousin. But in bite-sized kabobs? Their big, beefy flavor is the perfect base for a complex marinade.
Print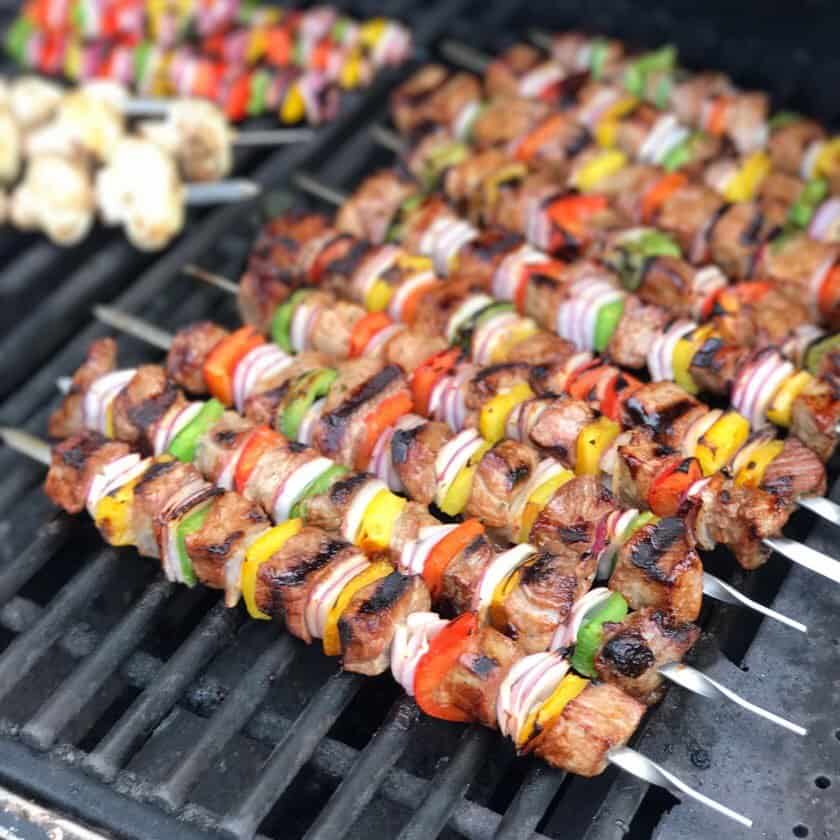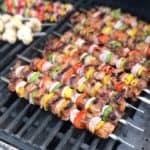 Grilled Beef Sirloin Kabobs
---
Author:

Mike Vrobel

Total Time:

38 minutes

Yield:

8

kebabs

1

x
Description
Grilled Beef Sirloin Kabobs recipe. My favorite recipe for grilled beef kabobs, marinated in soy, garlic, and thyme.
---
2

pounds beef sirloin, cut into 1.5-inch pieces (I buy thick-cut steaks to give myself a head start)

1

red bell pepper

1

yellow bell pepper

1

green bell pepper

1

large red onion
Soy, Garlic, Lemon and Thyme Marinade
¼ cup

vegetable oil

¼ cup

soy sauce
Juice of

1

medium lemon

4

cloves garlic, minced

2 teaspoons

fresh thyme
---
Instructions
Cut and marinate the sirloin: One to four hours before cooking, cut the sirloin into 1.5-inch chunks, and put in a zip-top bag. Whisk the marinade ingredients together in a small bowl. Pour the marinade over the sirloin chunks, squeeze out the excess air, zip the bag closed, and shake and toss to coat the beef with the marinade. Refrigerate for one hour, and up to four hours, turning the bag and tossing after every half an hour. (Or marinate in a bowl just large enough to hold the pieces of beef, tossing with a spoon every now and again.)
Cut the vegetables: Just before grilling, prepare the vegetables. Stem and core the peppers, and then cut the peppers into 1 inch squares. Trim the red onion, remove the skin, then cut it in half. Remove the central "core" of the onion, leaving three or four layers of onion. Cut the remaining layers into eight pieces (cut each half in half lengthwise, then in half again, then cut crosswise.) This will give you a pile of 0.75-inch to 1-inch pieces of onion.
Skewer the kabobs: Remove the beef from the marinade. Skewer the kabob in the following pattern: one piece of beef, two pieces of pepper (I alternate colors), and one piece onion. Repeat until you are at the end of a skewer, then add a final piece of beef to hold everything together. Keep skewering until all the beef is kabobbed. (If that's a word.) If you have extra vegetables when you're done - and I usually do - I make an all-veggie kabob or two, alternating onion and peppers.
Set up the grill for direct medium heat: Set the grill up for cooking with direct medium heat, about 350°F to 400°F internal temperature with the lid closed. For my Weber Summit, this means preheating the grill for ten to fifteen minutes on high, then brushing off the grill grate and turning the burners down to medium. (In my charcoal kettle, I light a chimney full of coals, wait for them to be covered with gray ash, then spread them out in a single, tightly packed layer on the charcoal grate.)
Grill the kebabs over direct heat for 6-8 minutes, rotating every 2 minutes: Put the kabobs on the grill over the direct medium heat. If cooking on a gas grill, cook with the lid closed as much as possible. Grill for 6 to 8 minutes total, turning the kabobs a quarter turn every 2 minutes. In other words: Grill 2 minutes, quarter turn, grill 2 more minutes, another quarter turn, grill 2 more minutes. Check for doneness by peeking at the middle of a kebab skewer – if the meat in the middle isn't done to your liking, turn another quarter turn (this should be the last un-browned side on the kebab) and grill for 2 to 4 more minutes. (On my grill, I had medium doneness after 3 turns - about 6 minutes - over medium heat.)
Serve: Let the kabobs rest for 10 minutes, then serve.
Notes
Tools
A grill. Any grill will work with this recipe, and my massive Weber Summit is overkill - but I still love it.
8 8-inch grilling skewers (I like these skewers from Weber because the wide blade keeps the meat from spinning when I turn the kabobs)
Prep Time:

30 minutes

Cook Time:

8 minutes

Category:

Sunday Dinner

Method:

Grilling

Cuisine:

American
What do you think?
Questions? Other Ideas? Leave them in the comments section below.
Related Posts
Enjoyed this post? Want to help out DadCooksDinner? Subscribe via eMail or RSS reader, recommend DadCooksDinner to your friends, and buy something from Amazon.com through the links on this site. Thank you!