---
This week, DadCooksDinner is sponsored by Le Creuset and their Grilling with Le Creuset promotion. I'm giving away one colorful Rectangular Dish with Platter Lid. To find out how to enter, go to my giveaway post on DadCooksDinner.com by June 12, 2016.
---
Sometimes it's hard to come up with an idea for a recipe. This was not one of those times.
Le Creuset gave me one of their rectangular dishes with platter lid to use as part of their Grilling with Le Creuset promotion. I took one look at it and said "Kebabs!" This set is perfect for kebabs. Put the skewers in the dish, coat them with marinade, then slide the dish into the refrigerator. Then, when I'm done grilling, I pile the kebabs on the platter for serving. Genius!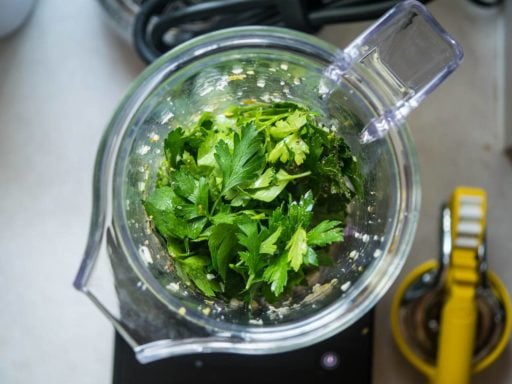 Next I had to come up with a marinade. Hmm. What to make? 3Son #1 kept saying "Teriyaki!", because he's on a Teriyaki kick - but I've been using it a lot recently, so I wanted something different. That's when my wife walked into the kitchen and said "We've got a ton of parsley out front - it's overrunning my garden bed. Can you use it?"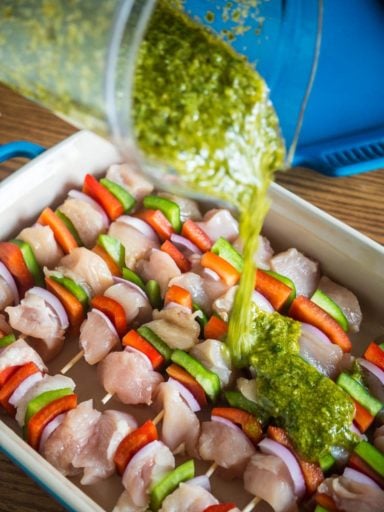 Like I said, the idea for this recipe wasn't planned - it's more like it fell out of the sky and hit me in the head. Now, that doesn't mean that this is a slapdash recipe; my kebabs are carefully planned out. I feel like I have to say this up front, because this is the internet, and some people will feel compelled to tell me I'm doing kebabs wrong. "Don't mix meat and vegetables on the same skewer!" they're going to say. They're entitled to their opinion, but I disagree. 4Come at me, haters. My finger is hovering over the "delete comment" button, just itching to smite.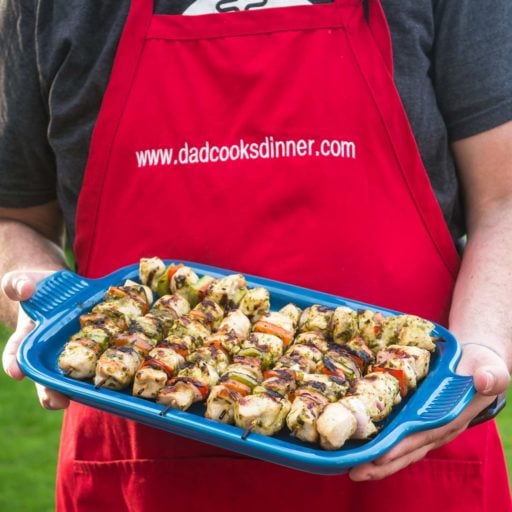 My favorite Kebabs are a mix of meat and vegetables - specifically peppers and onions, which cook at the same rate as meat. Even better, the mix of chicken, peppers, and onions trade flavors while they're cooking. I love a bite of grilled chicken with a hint of onion, followed by a bite of pepper flavored with chicken juices.
Recipe: Grilled Chicken Kebabs With Italian Salsa Verde Marinade
Equipment
Print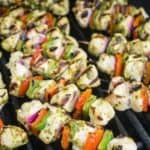 Grilled Chicken Kebabs With Italian Salsa Verde Marinade
---
Author:

Mike Vrobel

Total Time:

2 hours 8 minutes

Yield:

About

16

skewers

1

x
Description
Grilled Chicken Kebabs with Italian Salsa Verde recipe - grilled chicken on a stick, with a tasty herb marinade - what could be better?
---
6

boneless skinless chicken breasts, cut into 1 ½ inch cubes (about

3.5

pounds of chicken)

1

large red onion, peeled and trimmed, core discarded, cut into

1

inch pieces and separated into individual layers

2

large red bell peppers, cored and cut into

1

inch squares

1

large green bell pepper, cored and cut into

1

inch squares
Italian Salsa Verde
2

cloves garlic, peeled

2 tablespoons

capers, drained

1

anchovy fillet (optional)

2 cups

of loosely packed parsley leaves (Leaves from

½

of a large bunch of parsley)

1 teaspoon

fine sea salt

½ teaspoon

fresh ground black pepper
Zest and juice from 1 lemon

½ cup

extra virgin olive oil
---
Instructions
Skewer the kebabs: Skewer the kebabs in the following pattern: one piece of chicken, one piece onion, two pieces of peppers of different colors. Repeat until you get to the end of the skewer, then add a final piece of chicken (If you run out of ingredients, make a lopsided skewer – mostly chicken, lots of peppers, extra onions, whatever you have left.) Layer the kebabs in a baking dish.
Prepare the Italian salsa verde: Drop the garlic clove into a running food processor or blender, and wait until it is completely minced, about 30 seconds. Then, add the capers and anchovy and pulse with one second pulses until minced. Add the parsley, salt, pepper, and lemon zest, and then pulse the processor with 1 second pulses until the parsley is finely chopped. Add the lemon juice and olive oil, turn on the processor, and run until the salsa verde is a thin puree.
Marinate the kebabs: Pour the salsa verde over the kebabs, spread it evenly over the top of the kebabs to coat. Refrigerate the dish with the kebabs for 2 to 4 hours, turning the kebabs occasionally to evenly distribute the marinade.
Set the grill up for direct medium heat: Set the grill up for cooking with direct medium heat. On my gas grill, I preheat the grill on high for ten to fifteen minutes, brush off the grill grate, then turn the burners down to medium. On my charcoal grill I light a chimney charcoal filled ¾ full (about 50 briquettes), wait for the charcoal to be covered with gray ash, then spread the charcoal in a tight single layer on my charcoal grate.
Grill the kebabs:
Put the kebabs on the grill grate over direct medium heat. (On a gas grill, cook with the lid closed as much as possible.) Grill until the chicken is browned on the bottom, about 4 minutes. Flip the kebabs and grill on the other side until the chicken is browned and the kebabs are cooked through, about 4 more minutes. Transfer the kebabs to a platter, let them rest until they are cool enough to touch, and serve.
Prep Time:

2 hours

Cook Time:

8 minutes

Category:

Grilling

Cuisine:

Italian
Notes
To easily separate the parsley leaves from the stems, grab the whole bunch in your fist, stems facing up and leaves facing down. Run a chef's knife along the stems, "shaving" parsley leaves away from the bunch. This leaves a pile of mostly leaves, with a few stems still attached; I pick through them and pull off any obvious stems, but since it's all going in the food processor, I don't get too finicky about it.
Onion details: cut the onion in half, and discard the inner core, leaving yourself the outer four layers of the onion. Cut onion into 1 inch pieces, then break each piece in two – each piece of onion should be two layers deep. See the picture below - I'm about halfway done with that onion.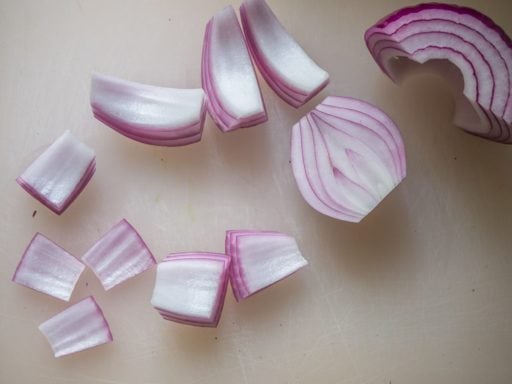 What do you think?
Questions? Other ideas? Leave them in the comments section below.
Related Posts
Grilled Pork Shoulder Kebabs with Peppers and Onions and Spice Rub
Grilled Beef Kebabs with Tomato, Onion, Lemon, and Thyme Marinade
Grilled Chicken Thigh Kebabs with Mini-Sweet Peppers
Enjoyed this post? Want to help out DadCooksDinner? Subscribe to DadCooksDinner via eMail or RSS reader, recommend DadCooksDinner to your friends, and buy something from Amazon.com through the links on this site. Thank you.