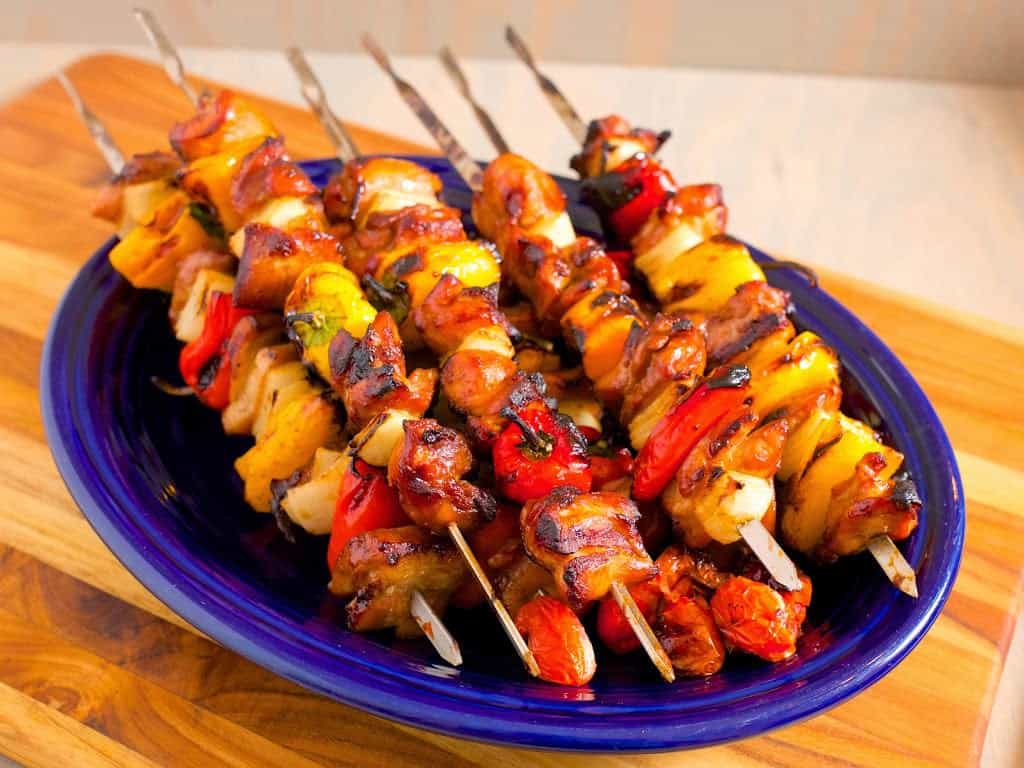 Last week I complained about awful weather….and that was before the polar vortex arrived to remind me what real cold weather was like. On Tuesday, the temperature was –10°F according to my backyard thermometer.
Today is Saturday, four days after the polar vortex left town. The temperature is up to 47°F, with scattered rain.
And I wonder why I get sinus headaches in the winter.
47°F? In January? Of course I'm grilling. Time for some chicken thigh kebabs in a soy sauce marinade.And I'll see you on the dark side…of the chicken.
I'm taking a shortcut with sweet peppers and using mini sweets. If I leave the peppers whole, they're too big for the rest of the ingredients on the skewer; halved, they are the perfect size to go with the chicken and onion pieces.
Patience is essential to winter grilling. If the weather is cooperating, take advantage of it and get out there and grill.
Recipe: Grilled Chicken Thigh Kebabs with Mini Sweet Peppers

Prep Time: 20 minutes
Cook time: 16 minutes
Equipment
Grill (I love my massive Weber Summit…but you don't need a supergrill for this recipe.)
8 skewers, each at least 8 inches long (I used these from Weber)
Ingredients
1 1/2 pounds boneless chicken thighs, cut into 1 1/2 inch pieces. (7 thighs, each cut into 6 pieces)
2 medium onions
20 mini sweet peppers
8 grape tomatoes
Marinade
2 cloves garlic, peeled
1 green onion, root end trimmed, cut into 1 inch lengths
2 tablespoons brown sugar
3/4 cup soy sauce
1/4 cup vegetable oil
Directions
1. Marinate the chicken thighs
Process the marinade ingredients in a blender or food processor until the garlic and green onion are completely pureed. Cut each chicken thigh into 6 pieces, each piece about 1 1/2 inches square. Each thigh is wider than it is high; I cut it into three pieces width wise, then I cut each piece in half. Put the chicken in a gallon zip-top bag, pour in the marinade, squeeze all of the air out, then seal the bag. Refrigerate the chicken for 1 to 4 hours, turning the bag occasionally to redistribute the marinade.
2. Prep the onions and peppers
Trim and peel the onions. Cut each onion in half, then cut each half into quarters. Discard the inner layers of the onion, leaving the outer three layers. Cut each remaining piece in thirds, leaving 48 pieces of onion, each about 1 inch across. Cut the mini sweet peppers in half across the middle, leaving 40 pieces of pepper.
3. Build the kebabs
Skewer the ingredients in the following pattern: a piece of chicken, a piece of onion, and a piece of pepper. Repeat three more times (chicken, onion, pepper; chicken, onion, pepper), then finish each piece with a piece of chicken, and a grape tomato on the point of the skewer. Repeat until everything is skewered. (There will be a few extra onions and pieces of chicken – squeeze them onto the end of a skewer.)
4. Preheat the grill
Set the grill up for direct medium heat, preheat for 15 minutes, then clean the grill grate.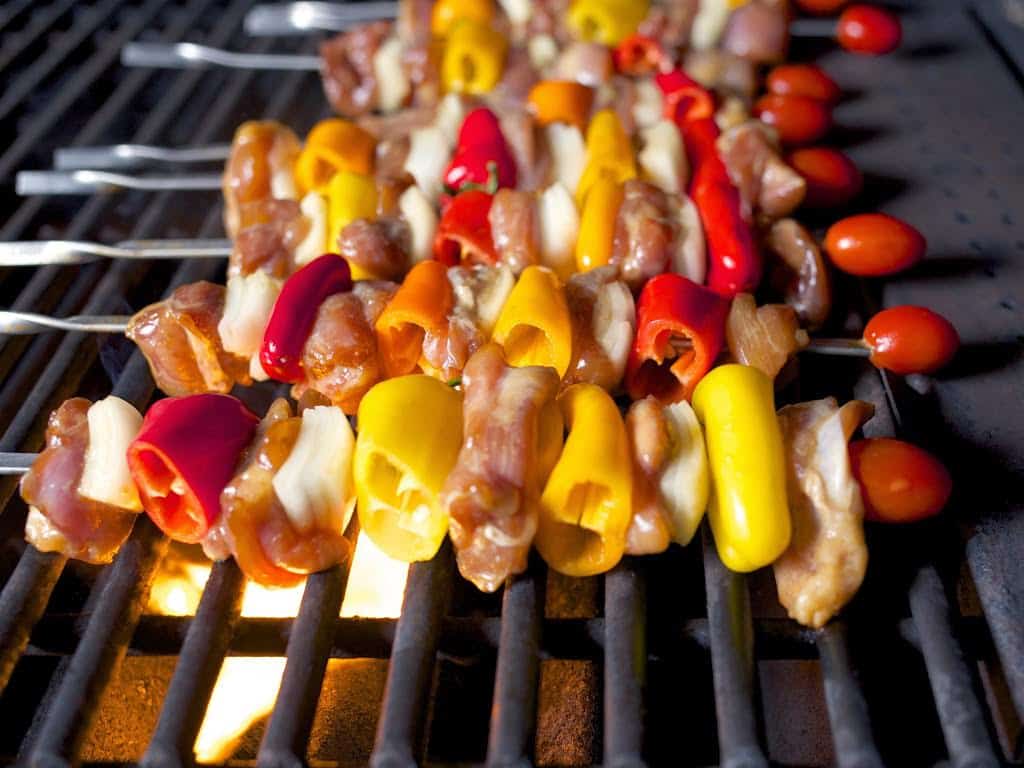 5. Cook the kebabs
Put the kebabs on the grill over direct medium heat. Keep the lid closed as much as possible if you're on a gas grill. I think of each kebab having four sides, since the pieces of chicken are cut into squares, and we're going to brown each side. Cook with the first side down until the kebabs have dark brown grill marks on the bottom, about 4 minutes. Give the kebabs a quarter turn, and grill until the side that is down is browned, about 4 more minutes. Another quarter turn, grill until browned, about 4 more minutes. The final quarter turn should put the last uncooked side facing down, and you know the drill: grill until browned, about 4 more minutes. The entire kebab should be browned and the chicken should be cooked all the way through. Remove the kebabs to a platter.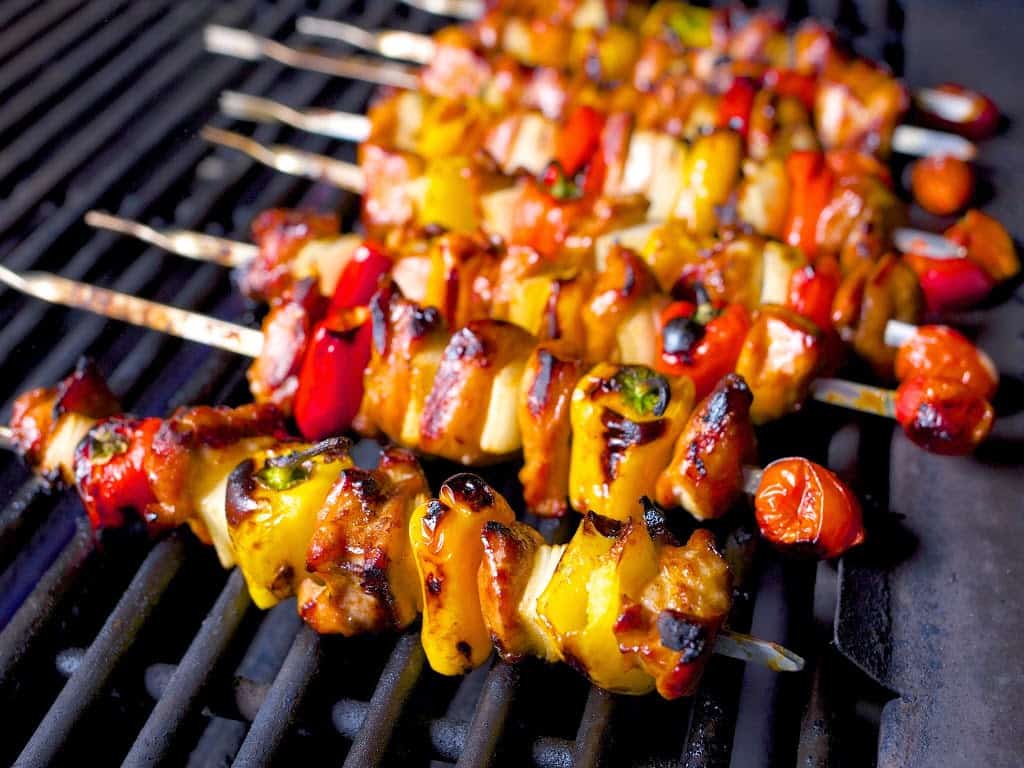 6. Serve
Serve the kebabs. (Be careful if you used metal skewers. Give them a few minutes to cool down; don't burn your lips.)
Notes
Chicken thighs are almost impossible to overcook. More cooking is always better; if the kebab is not burning, keep it cooking.
I always lose a few of the grape tomatoes as they soften up; that's OK. If you can, grab them with your tongs and move them to the serving platter when they fall off.
I like the new Weber essentials skewer set. At a quarter of an inch wide, they are twice as wide as my regular skewers. The extra width keeps the kebab ingredients in place, so they don't spin when I try to flip the skewer. These skewers a little pricey at $10 for a set of four – probably because those four skewers weigh more than a dozen cheaper skewers.
What do you think?
Questions? Other ideas? Leave them in the comments section below.
Related Posts
Grilled Pork Shoulder Kebabs with Peppers, Onions and Spice Rub (and Tailgating Tips)
Zucchini and Summer Squash Kebabs
Grilled Beef Kebabs with Tomato, Onion, Lemon and Thyme
Enjoyed this post? Want to help out DadCooksDinner? Subscribe to DadCooksDinner using the RSS or Email options on the right, recommend DadCooksDinner to your friends, buy something from Amazon.com through the links on this site, or donate through my tip jar. Thank you.