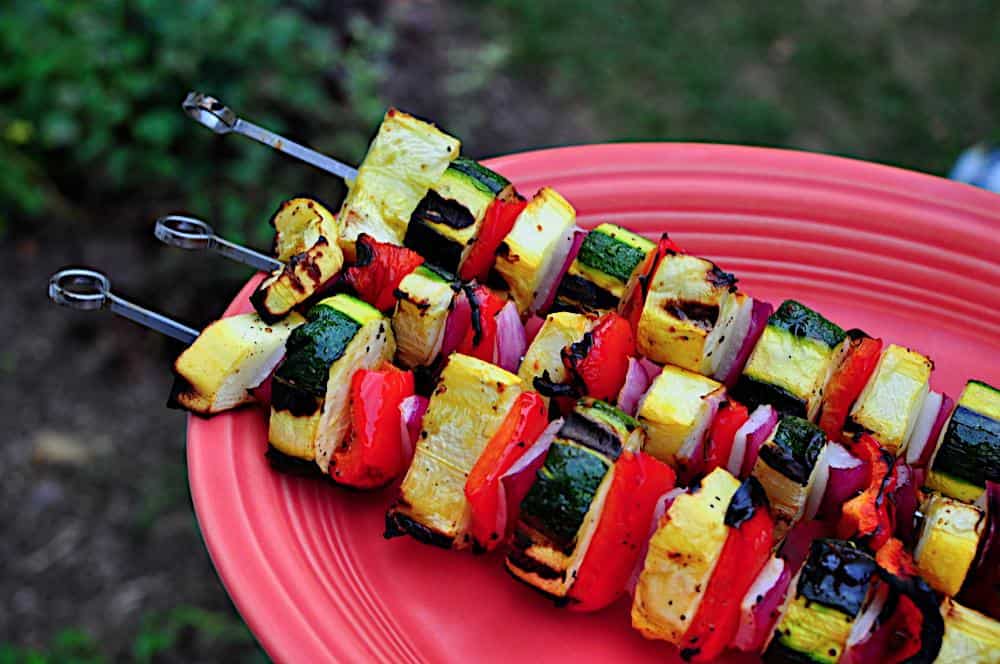 The tidal wave is here - I'm up to my armpits in zucchini and summer squash, and there's no end in sight. I used this recipe for Zucchini and Summer Squash kebabs at the Seville Farmers Market for their Zucchini Explosion event.
*I needed an excuse to bring my grill. Some people have their blankie, some have a lucky rabbit's foot...I have a Weber kettle. It's not as cuddly, but it feeds me better.
This recipe uses a trick I learned from Cooks Illustrated - kebabs taste better when they are flavored by peppers and onions. I never make a kebab without some peppers and onions on the skewer, to give their flavor to the other ingredients. Other than that, it is about as simple as a recipe gets - toss the vegetables in olive oil, salt and pepper, and cook over medium-low heat until they are browned and softened. And did I mention it uses up zucchini and summer squash?
*Yes, I was developing this recipe on August 8th, "Sneak some zucchini on your neighbor's porch day". I can neither confirm nor deny my participation in this holiday beyond working on this recipe.
Recipe: Zucchini and Summer Squash Kebabs

Adapted From: The Cooks Illustrated Guide to Grilling

Cook time: 15 minutes
Equipment:
Ingredients:
1 medium zucchini (8 ounces, about 1 ½" in diameter. If it is larger, cut lengthwise into halves or quarters)
1 medium summer squash (8 ounces, about 1 ½" in diameter. If it is larger, cut lengthwise into halves or quarters)
1 large red bell pepper
1 large red onion
2 tablespoon olive oil, plus more for brushing on at the end
1 teaspoon kosher salt
¼ teaspoon fresh ground black pepper
Directions:
1. Prep the vegetables: Slice the ends off the zucchini and summer squash, and cut them crosswise into 1 inch thick pieces. (Optional - peel them in a stripe pattern, like I did in the pictures.) Cut the core out of the bell pepper, and cut it into 1" to 1 ½" pieces. Trim the red onion, remove the skin, then cut it in half. Remove the central "core" of the onion, leaving three or four layers of onion. Cut the remaining layers into eight pieces (cut each half in half lengthwise, then in half again, then cut crosswise.) You should get ¾" to 1" pieces of onion - see the picture below. Toss all the vegetables with 2 tablespoon olive oil, salt and pepper until evenly coated.
2. Skewer the vegetables: Skewer the vegetables in the following pattern: one slice zucchini, one piece red pepper, one piece onion, one slice summer squash, another piece red pepper, another piece onion. Repeat until you are at the end of a skewer, then add a final piece of zucchini or squash.
*The last piece of zucchini holds everything together. Onions and peppers at the end of the skewer tend to fall off into the grill.
3. Prepare the grill: Set the grill up for cooking at direct medium-low heat. For my Weber Summit, this means preheating the grill for ten to fifteen minutes on high, then brushing off the grill grate and turning the burners down to medium-low.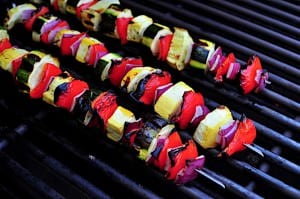 4. Grill the skewers: Put the skewers over the direct medium-low heat, and cook with the lid closed. Total cooking time is 12-15 minutes; rotate the skewers a quarter turn every three minutes or so, to brown them evenly. The skewers are done cooking when they are well browned, and are shrinking and softened. After 9 minutes of cooking, brush the skewers with a little olive oil to keep them moist.
5. Serve the skewers: Remove the skewers from the grill, and brush with a little more olive oil. Serve.
Variations:
*Balsamic skewers: Instead of plain olive oil, salt and pepper, replace the olive oil with balsamic vinaigrette. Use it for coating the vegetables before you skewer them, and use it for brushing during the cooking time.
*Lemon herb dressing skewers: Again, instead of plain olive oil, salt and pepper, use lemon herb dressing.
Notes:
*It is hard to overcook zucchini and squash. If you have extra time (your main dish is cooking longer), don't pull the skewers off the grill right away. Instead, turn your grill to low and leave the skewers on for another 3 to 9 minutes, turning and brushing with some olive oil as you go. You want them as soft as you can get them without burning, and the medium-low to low heat gives you that. Or, just move them off the heat completely and let them sit over unlit burners. Extra cooking time never hurt zucchini or squash.
*Getting a charcoal grill to medium-low to low heat is harder...unless you give a charcoal fire some time. When the coals are first dumped into the grill, you have a high to medium-high heat fire. If you grill your protein first, and put the zucchini skewers over indirect heat while you do, by the time the protein is done grilling the coals will have cooled off. Even so, watch out for burning over charcoal - it is much less forgiving than gas when it comes to vegetables.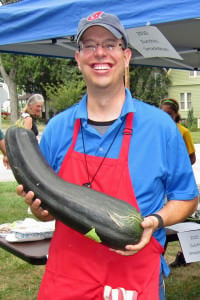 Me and the winner of the "Largest Zucchini" contest.
Now, which of my neighbors forgot to lock their screen door?
What do you think? Questions? Other ideas? Leave them in the comments section below.
Related Posts:
Grilled Monster Zucchini
Zucchini and Summer Squash Salad
Adapted from:
The Cooks Illustrated Guide to Grilling
*Enjoyed this post? Want to help out DadCooksDinner? Subscribe using your RSS reader or by Email, recommend DadCooksDinner to your friends, or buy something from Amazon.com through the links on this site. Thank you!