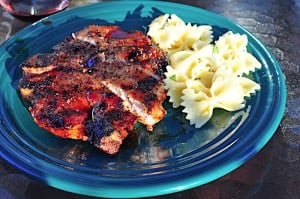 It started with the cover of Saveur magazine. Grilled Pork Chops Agrodolce, Roman style (aka Maiala in Agrodolce, Italian for sweet and sour pork). The cover photo stopped me in my tracks. Two pork chops, covered with a dark red glaze and a casually placed sprig of rosemary. It looked so simple, and so delicious.
The recipe is as simple as the photo, and perfectly suited for grilling a weeknight dinner. I've adjusted it a bit for my own use. In the original, you reduce balsamic vinegar and honey to make a syrupy glaze, then stir in some butter and a sprig of rosemary. I can't reduce vinegar in my house; my loving wife, Diane, has been very sensitive to the smell of boiling vinegar since she was pregnant with Tim, our youngest. I trust the heat of the grill to thicken the glaze for me, and I upped the amount of honey to make up for the lack of reduction.
*My first thought when I saw the recipe was "Rosemary herb brush!"
**And I added crushed garlic, because I just can't help myself sometimes.
Don't let the simple set of ingredients fool you. The result in a complex set of flavors. The sweet/sour taste of balsamic vinegar is balanced by a big hit of sweet from the honey. Then you get the pine scent of rosemary, and an undertone of heat from cracked black pepper*.
*Black pepper is big in Rome, and has been since the spice route ran to Europe through the Roman Empire.
I also enjoy how different the flavors are from the Italian-American tradition I'm used to. There is not a tomato in sight, but you can't eat these pork chops and think the taste is anything but Italian. Give this recipe a try; you'll be impressed with the results.
Recipe: Grilled Pork Chops Agrodolce (Sweet and Sour Pork, Roman style)

Adapted From: Sweet and Sour Glazed Pork Chops, Anya von Bremzen, Saveur magazine [saveur.com]
Equipment:
Grill (I used a Weber Summit 650. Here it is.)
Rosemary herb brush made with 2 to 3 sprigs of rosemary (or use a regular basting brush, and add a little more rosemary to the glaze)
Ingredients:
6 pork loin chops, bone in (¾" to 1" thick)
3 teaspoon salt (½ teaspoon per chop)
1 ½ teaspoon coarsely ground black pepper (¼ teaspoon per chop)
Agrodolce glaze
¼ cup balsamic vinegar
3 tablespoon honey
2 tablespoon butter
2 tablespoon extra virgin olive oil
2 cloves garlic, crushed
½ teaspoon fresh rosemary, minced
½ teaspoon fresh ground pepper
Directions:
1. Prepare the chops, glaze and herb brush: Sprinkle the pork chops evenly with the salt and pepper, and let them rest at room temperature while the grill heats. Combine the glaze ingredients in a microwave-safe dish (I use a Pyrex measuring cup), and microwave on high for 1 minute, until the butter is melted and you can just smell the garlic. Tie the sprigs of rosemary together at the stems to make a brush.
2. Prepare the grill: Set your grill up for cooking at direct medium-high heat, with a section set up for indirect heat. For my Weber Summit, this means turning all the burners to high, and letting the grill preheat for fifteen minutes. Then I turn the burners down to medium-high, brush the grates clean, and wipe them with a paper towel dipped in vegetable oil.
3. Grill the chops: Put the chops on the grill. If cooking on a gas grill, keep the lid closed while cooking; if using charcoal, keep the lid open. Grill the chops for 3 minutes, or until you have good grill marks on the bottom, and the chops release easily from the grate. Rotate the chops 90 degrees, and cook for another 3 minutes, until the bottom side is well browned. Flip the chops, and cook for another 3 minutes, then rotate 90 degrees. Baste the chops with the agrodolce glaze, let them cook for one minute, then flip and baste with the glaze again and cook for one more minute. At this point, the chops should be done; their internal temperature should be 140*F measured at the thickest part with an instant read thermometer. Remove the chops to a platter, baste them one more time with the glaze, then let them rest for ten minutes before serving.
| | |
| --- | --- |
| | |
Variations:
*Add some heat: The fresh cracked pepper gives these chops a bit of heat; if you want more, add ¼ teaspoon of red pepper flakes to the glaze.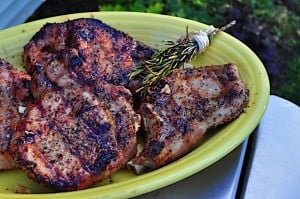 Notes:
*For a quick weeknight meal, serve these chops with grilled peppers and onions, a salad, and orzo pilaf topped with grated pecorino romano.
What do you think? Questions? Other ideas? Leave them in the comments section below.
Related Posts:
Grilled boneless pork chops, brined and honey glazed
Grilled thin pork chops, soy brinerated
Adapted from:
Adapted From: Sweet and Sour Glazed Pork Chops, Saveur magazine [saveur.com]
*Enjoyed this post? Want to help out DadCooksDinner? Subscribe using your RSS reader or by Email, recommend DadCooksDinner to your friends, or buy something from Amazon.com through the links on this site. Thank you!