In this part of the blog I'm supposed have a witty story, where I tell a few jokes.  I should explain why the recipe has some special meaning to me, and why it should have special meaning to you.
This is a recipe for grilled boneless pork loin chops.
And... after that, I've got nothing.
I've already told you about modern pork being bred so lean that almost all the taste is gone.  Pork loin is a bland, innocuous protein that is easily overcooked.  It shouldn't be cooked past medium or it dries out.
I've told you how to season pork - you should brine it to get it some flavor and give it a bit of a cushion from overcooking.
What does that leave me with?
Boneless pork loin is boring.  But if you know that going in, you can help it out.  Use it as a neutral base to build on.  Give it a brine full of flavor, so it's seasoned all the way through.  Cook it carefully, so it doesn't dry out, but it does get a good sear.  Baste it with a honey glaze, so it gains an extra layer of seasoning at the end.  Layers of flavor are the key to a good pork loin chop.
Pork loin may be bland, but maybe...it just needs a little love.
*I may be a blockhead, but I can cook a good pork chop.
Recipe: Grilled Boneless Pork Loin Chops, Brined and Honey Glazed

Cook time: 12 minutes
Equipment:
Ingredients:
3 lbs pork loin roast, (or 3 lbs of pork chops, cut 1 inch thick)
Brine
1 quart water
¼ cup table salt
2 tablespoon sugar
Honey Glaze
4 tablespoon honey
2 tablespoon cider vinegar
1 teaspoon thyme
pinch black pepper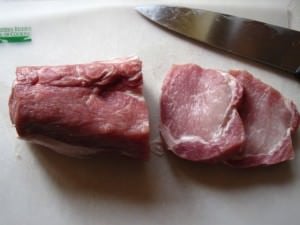 Chops sliced from the roast, 1 inch thick
Directions:
1. Prep and Brine the pork chops: Combine the brine ingredients in a 2 quart or larger container.  Stir until the salt and sugar dissolve in the brine.  If you bought the whole loin, cut it crosswise into 1" thick chops (you should get about eight).  Put the pork chops in the brine, and let sit at room temperature for 30 minutes while you prepare the grill.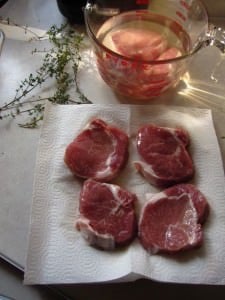 Patting brined chops dry on paper towels
2. Prepare the honey glaze: Combine the honey glaze ingredients in a small bowl, and stir until the honey dissolves.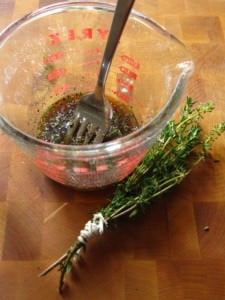 3. Prepare the grill Set your grill up for cooking at medium heat. For my Weber Summit, this means turning all the burners to high and preheating for 10 minutes, then turning the burners down to medium.


4. Cook the pork chops: Remove the pork chops from the brine, and pat dry with paper towels.  (Wet pork won't brown well, and you need the browning for flavor).  Place the pork chops on the grill, angled at about 45 degrees (pointing "northeast") and cook for 3 minutes.  (If you are cooking on a gas grill, keep the lid closed while cooking; if on charcoal, keep it open.)  Rotate the chops 90 degrees (now pointing "northwest"), and cook for another 3 minutes. Flip the chops, brush with the honey glaze, and cook for another 3 minutes.  Check the chops - you want to cook them to an internal temperature of 140*F.  They're probably done now, but if they haven't reached 140*F, rotate them 90 degrees, brush with the glaze, and cook until they're done, probably another 1-3 minutes.  Remove to a serving platter, and brush again with the honey glaze.
*Your timings may vary depending on how hot your grill gets.  You want to have good, brown markings on the chops before you rotate them, and you want it to be well browned on the first side before you flip it.  Don't worry about the second side browning; remove it from the grill when it's done, and serve with the browned side up on the plate.


5. Serve the chops: Let the chops rest for 10 minutes, then serve.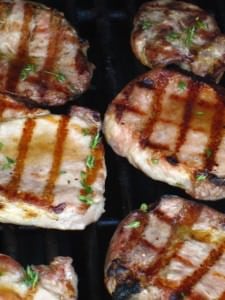 Variations:
*A barbecue rub on the chops is another nice touch: try my quick rub.
*You can also replace the honey glaze with barbecue sauce.
Notes:
*I prefer to buy a whole pork loin, and cut it into chops myself.  When I buy pre-cut chops, they tend to be uneven in thickness, and a little too thin.  It only takes a couple more minutes to cut them myself, and it is usually less expensive, because pork loin roasts tend to be cheaper than pork chops at my local grocery store.
*I picked this trick up from Pam Anderson in "How to Cook Without a Book
."
Questions? Comments? Other ideas? Leave them in the comments section below.
Related Posts:
Click here for my Grilled Korean short ribs recipe.
Click here for my Grilled Flank Steak with Chimichurri recipe.
Inspired by:

*Enjoyed this post?  Want to help out DadCooksDinner?  Subscribe to DadCooksDinner using the RSS or Email options on the right, link to this post from your blog, recommend DadCooksDinner to your friends, or buy something from Amazon.com
through the links on this site.  Thank you!