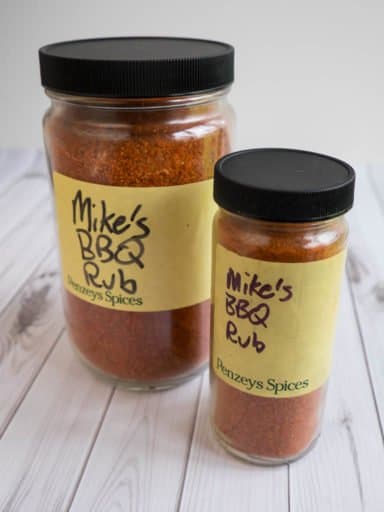 I use this homemade barbecue rub on anything I want to have a barbecue flavor. Sure, barbecue sauce is nice, but the rub is where the flavor is. Now, If I was a real barbecue pitmaster, I would have to guard this recipe with my life.*
*You know - the old Keyser Soze routine: "If I told you, I'd have to kill you. And your family. And everone who's ever met you. By the time I'm done, they'll have to post signs off the coastline, warning people away from the continent you live on for the next thousand years."
But I'm not a real pitmaster. And, as you can probably tell, I can't keep my mouth shut when it comes to food. I gave away containers of this rub as christmas presents to friends and family, so if they want to refill they'll need the recipe.
Recipe: Homemade Barbecue Rub
Print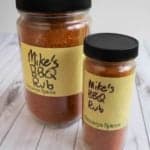 Homemade Barbecue Rub
---
Description
Homemade barbecue rub - why buy it from the store when you can mix up a batch and call it your own?
---
4 tablespoons

paprika

4 tablespoons

brown sugar

2 tablespoons

chili powder

1 tablespoon

ground black pepper

2 teaspoons

garlic powder

2 teaspoons

onion powder

1 teaspoon

dried thyme
---
Instructions
Mix everything Put everything in a medium bowl, and stir until completely blended, breaking up any clumps of brown sugar with your fingers. Store in an airtight container.
Prep Time:

15 minutes

Category:

Barbecue

Cuisine:

American
Notes
This rub is best on chicken, pork or fish. I use about 1-2 teaspoon per pound, but I usually just sprinkle it on until it looks right.
It's a little sweet for beef; If I know I'm going to barbecue beef, that's OK, but I wouldn't use this as a rub on a steak. That being said, I'm usually a purist when it comes to steak - salt and pepper is all I really want on it.
There is NO salt in this rub. I usually salt my food separately, either by brining it or pre-salting it, so I don't put any salt in the rub. Make sure you salt the food before you add the rub, or it's going to be very bland. If you would rather have a "one can covers all" rub, add 1-2 tablespoon salt to the recipe.
If your brown sugar is wet or clumpy2 then it won't mix well with the other ingredients. In my experience, that's how it always is, and it will never mix well with the other ingredients. To fix this, I put the brown sugar in my food processor and run it until it is finely powdered, usually about 30 seconds. Then I add the other ingredients, and pulse it a few times until they are well mixed.
Buy your spices in bulk. It's much cheaper that way. I get them from Penzeys Spices, or from the Frontier Spices bulk section at my local grocery store.
This recipe makes more than enough for one use. I usually quadruple the recipe - 16 tablespoon equals 1 cup of paprika and brown sugar, 8 tablespoon chili powder equals ½ cup, etc... I have a big container of it in the back of my spice cabinet, and I keep a small Shaker Jar where I can get at it quickly, that I refill whenever necessary. I make a new batch every 3 to 6 months.
Now I know that I said that "this is where the flavor is", and I stand by that - lots of times I make barbecued chicken with just this rub. But a little barbecue sauce never hurts as well.
Questions? Comments? Other Ideas? Leave them in the comments, below.