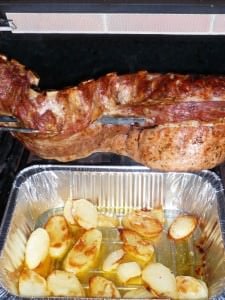 The following statement is going to be blasphemy to some of you. The best way to cook baby back ribs is on a rotisserie*.
It does wonders for giving you ribs that have a crispy crust on the outside, and tender, juicy meat on the inside. I like to think of it as pork candy. Mmmm.
You can commence stoning me for culinary heresy any time you'd like - as long as I get you to try these ribs first.***
*Yes, I'm doing a lot of rotisserie recipes. I'm finding that those recipes actually get me some readers through Google search**. But that's not the reason for this recipe. It really does give you better baby back ribs than low and slow does.
**OK, you got me. I also get to play with my grill more. "The difference between a man and a boy is the cost of his toys."
***I also love barbecued ribs, cooked low and slow. That is, when they're spare ribs. I think baby backs come out better on the rotisserie - they're a little too lean to cook low and slow; the higher heat on the rotisserie crisps them up before the meat dries out.

Recipe: Rotisserie Baby Back Ribs

Cook time: 60 minutes
Equipment:
Grill with Rotisserie attachment (I used a Weber Summit 650 with an infrared rotisserie burner. Here it is.)
Aluminum foil drip pan (9"x11", or whatever fits your grill)
Ingredients:
1 slab baby back ribs
2 teaspoon kosher salt
Rub:
1 teaspoon herbes de provence
1 teaspoon smoked Spanish paprika (or sweet paprika)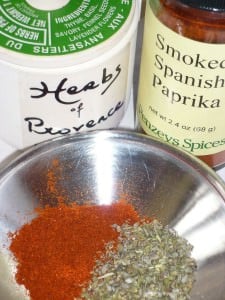 Directions:
1. Prep the ribs: Remove the membrane on the bone side of the rib. Loosen it by running a butter knife between it and one of the bones on the end of the rib, then pull it off. Sprinkle each side of each rack with 1 teaspoon kosher salt, ½ teaspoon of herbes de provence, and ½ teaspoon Spanish paprika. Let rest at least one hour, and up to 48 hours (keep in the refrigerator if resting for over a couple of hours).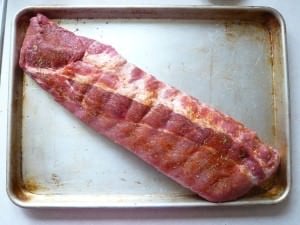 2. Skewer the ribs:Every three bones, poke a hole in the middle of the meat (between the bones) with a paring knife. Then, weave the ribs onto the skewer through the holes.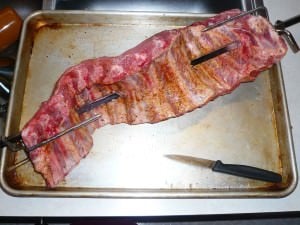 Ribs on rotisserie spit
3. Prepare the grill: Set your grill up for rotisserie cooking at indirect medium heat. For my Weber Summit, this means turning the two outer burners (burners 1 and 6) to medium, and turning the infrared burner to medium. I want an internal grill temperature of 325*F to 350*F. Then I put my drip pan in the middle, over the unlit burners. (See My Rotisserie Basic Technique Post for more rotisserie setup details.)
*Note: If you have any sugar in your rub, you should set the grill up for medium-low heat, about 300*F. Sugar will burn quickly under the high heat of the grill.
4. Cook the ribs: Put the skewer of ribs on the rotisserie, and start it spinning. Cook with the lid closed for about an hour and a half, depending on the heat of your rotisserie (mine took about an hour and 15 minutes). You're done when the ribs are nicely browned, and the meat has pulled back from the bones on the end by ½".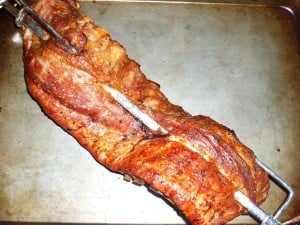 5. Serve: Remove the ribs from the spit, and let rest for 10-15 minutes. Cut the ribs into serving size portions (I cut between every second bone), and serve.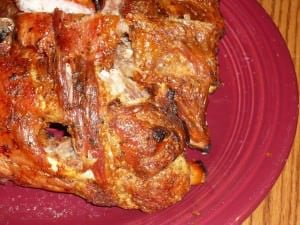 Variations:
*Memphis style dry ribs: Substitute barbecue rub for the herbes de provence and paprika, and reduce the heat to medium, and increase the cooking time to 1 to 1.5 hours.
*Wet ribs: Use the Memphis style variation, above, then: once ribs are cooked, brush them with your favorite barbecue sauce and cook for another five minutes, or until the sauce is starting to brown into a nice, sticky glaze. (Watch the ribs on this step - there's a lot of sugar in barbecue sauce, and if your rotisserie is hot, you can go from glazed to burnt very quickly!) Remove from the rotisserie, brush with another coating of sauce, then let rest before cutting to serve
(Or, check out my Rotisserie BBQ Baby Back Ribs post)
*Provencal ribs: Skip the smoked paprika. After salting the ribs, rub them with about 1tsp of Dijon mustard. (You want a very thin coating of mustard on the ribs), then sprinkle on the herbes de provence.
Notes:
*You can cook 1 or 2 slabs of ribs at a time, depending on the size of your rotisserie skewer. In the pictures I only cooked one slab, because I was just feeding me and the kids. I can fit two easily on the big skewer for my Weber summit grill, and could probably squeeze three on if I tried.
*The weaving is the hard part; the thicker your skewer, the harder it is to fit it between the bones. But, really, it's not THAT hard, and the results are worth it. Give it a try!
Questions? Comments? Other ideas? Leave them in the comments section below.
Related Posts:
Click here for my Rotisserie Spare Ribs with Dry Rub recipe.
Click here for my other rotisserie recipes.
Inspired by:
Steven Raichlen How To Grill
---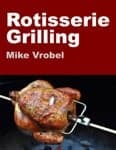 Check out my cookbook, Rotisserie Grilling.

Everything you could ask about the rotisserie,
plus 50 (mostly) new recipes to get you cooking.

It's a Kindle e-book, so you can download it and start reading immediately!
---
*Enjoyed this post? Want to help out DadCooksDinner? Subscribe to DadCooksDinner using the RSS or Email options on the right, link to this post from your blog, recommend DadCooksDinner to your friends, or buy something from Amazon.com
through the links on this site. (Like my Rotisserie Grilling cookbook...)