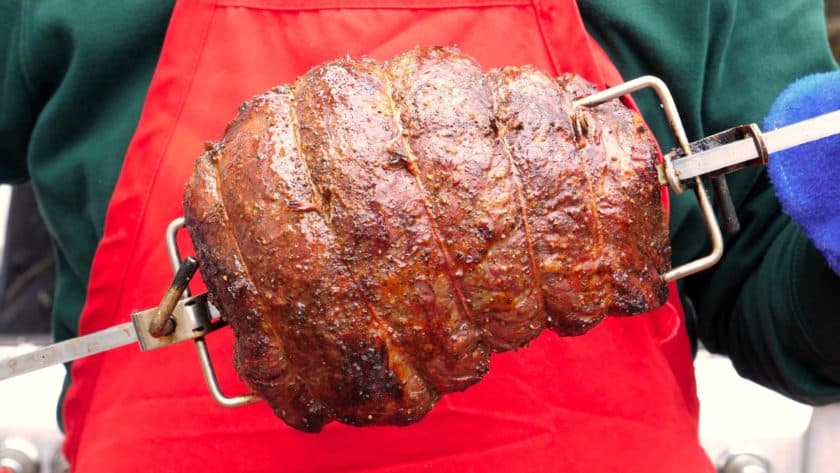 ---
Thank you to my friends at Certified Angus Beef® Brand for sponsoring DadCooksDinner. Please check hashtags #BestAngusBeef and #Steakholder for more beef recipes, and visit them at the Certified Angus Beef Kitchen Community on Facebook. Thank you!
---
Guys, I just realized - I don't have a rotisserie Sirloin Roast post!
I love a big roast for the holidays, and in my humble1 opinion, a sirloin roast is the best value. It is more tender than an inexpensive eye of round roast, can be cut into thick slabs, and is not as expensive as a rib roast. Also, it is boneless - easy to carve into beautiful, thick slices of juicy beef.
My favorite cut of sirloin is the center cut top sirloin roast. It weighs about 6 pounds and comes from a large muscle in the middle of the top sirloin. It is an evenly shaped roast, about a foot long and 6 inches wide, easy to truss and cook on the rotisserie. I ask for it at my grocery store meat counter; they usually have smaller roasts in the case, but I want the whole center cut top sirloin roast for this recipe. (That said, there are a lot of different cuts of sirloin, and almost any of them will work with this technique.)
Keys to a fantastic holiday roast:
Rotisserie! The roast self-bastes in its juices as it spins, and giving it a beautiful, browned crust. Nothing looks like a rotisserie roast. (And that crust…)
Cook to temperature, not time! (And add in carry-over cooking.) I aim for 120°F, measured in the thickest part of the roast, for medium-rare. A large roast holds a lot of heat; it will continue to cook after it comes off the grill, and the final temperature winds up in the low 130's, right where I want it for medium-rare. (Cook to 110°F to 115°F for rare, 125°F to 130°F for medium…and beyond that, I don't want to know.)
Also, cooking times are an estimate. (Not just my cooking times - all recipe cooking times. But that's a rant for another day.) If you care about doneness, you need a good instant-read thermometer. (Or a great one.) Cooking times have too many variables when you're aiming for medium-rare. If the roast is straight out of the refrigerator, or a little thicker, or today is cold and windy, or the grill runs hot… All sorts of things can affect the time. So, take temperatures early and often.
Salt early! (If you can) If you have time, salt (and pepper) the roast the night before. Refrigerate it overnight, uncovered, on a rack over a rimmed baking sheet (or in a baking dish). Salting early seasons the roast more thoroughly, because the salt has time to penetrate deep into the roast. Also, the refrigerator acts as a dehumidifier, drying the outside of the roast - a dry roast browns better.
Video: Rotisserie Sirloin Roast (5:35)
Video: Rotisserie Sirloin Roast [YouTube.com]
Print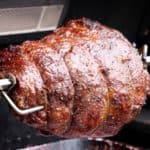 Rotisserie Sirloin Roast
---
Author:

Mike Vrobel

Total Time:

1 hour 30 minutes

Yield:

12

-

16

servings

1

x
Description
Rotisserie Sirloin Roast - a spit-roasted center cut top sirloin makes an awesome (and affordable) main course for a holiday meal.
---
6

Pound Center Cut Top Sirloin Roast

1 tablespoon

kosher salt

1 tablespoon

coarse ground black pepper
---
Instructions
Truss, season, and spit the roast: Truss the roast into a tight cylinder with butcher's twine, tying it about every inch and a half. Mix the salt and pepper and sprinkle them evenly over the roast. (If you have the time, truss and season this the night before cooking. Rest the seasoned roast in the refrigerator, uncovered. Salting early dry brines the roast, seasoning it more thoroughly.) Put the first spit fork on the roast, run the spit through the center of the roast, and secure the roast to the spit with the second spit fork. Let the roast rest at room temperature until the grill is ready.
Set the grill for rotisserie cooking with indirect medium-high heat (425°F): For my Weber Summit, this means removing the grates, turning the two outer burners (burners 1 and 6) to high, and turning the infrared burner to high. Then I put my drip pan in the middle, over the unlit burners, and let the grill preheat for ten to fifteen minutes. (For a kettle grill, I light a Weber charcoal chimney ¾ full of charcoal, and divide it into two piles on the sides of the grill.)
Rotisserie the roast: Put the spit on the rotisserie and start it spinning. (Close the lid and cook with the lid closed as much as possible.) After 30 minutes, check the roast - it should be browning well - and cut the heat back to medium-low, about 300°F. (On my Summit, I turn off my infrared rotisserie burner - the two outer burners on high give me about 300°F. On a charcoal kettle, don't do anything - let charcoal burn-down take care of dropping the heat.) Continue to cook on medium-low with the lid closed, checking the temperature of the roast every 15 minutes. The roast is done when it reaches an internal temperature of 120°F for medium-rare, about 60 minutes of total cooking time. (Cook to 110°F to 115°F for rare, 125°F to 135°F for medium. If you want to go higher than that, don't tell me; I don't want to know.)
Rest, carve, and serve: Remove the spit from the grill. Be careful – the spit is branding-iron hot. Remove the roast from the spit and immediately remove the trussing twine. Cover the roast with aluminum foil and let it rest for 15 to 30 minutes. Carve the roast, serve, and enjoy!
Notes
Smaller roast: the whole center cut top sirloin roast weighs 4 to 7 pounds. Cooking time depends on how thick the roast is, and they're all about the same thickness, so the cooking time doesn't change much for a smaller roast. My 6-pound test roasts took about 60 minutes total cooking time. On the low end, a 4-pound roast will take roughly 50 minutes. On the high end, a 7-pound roast will go for about 70 minutes. But these are just estimates…
Please, please, please cook to internal temperature, not by cooking time. When you're aiming for a medium-rare roast, an instant read thermometer is your best friend.
High-low cooking: I start at med-high heat, then cut back to med-low heat to even out the cooking. Starting at high heat gets the roast browning, and finishing with low heat cooks the roast evenly. If your grill doesn't brown as well as my infrared burner does, you may have to stay at medium-high for the whole cooking time to get a good crust. That's OK - the crust is the best part of rotisserie - but start checking the temperature earlier, because it will cook faster. (How much faster? It depends. See "cook to internal temperature" above.)
Tools
Prep Time:

30 minutes

Cook Time:

1 hour

Category:

Sunday Dinner

Method:

Rotisserie

Cuisine:

American
What do you think?
Questions? Other ideas? Leave them in the comments section below.
Related Posts
---
---
Enjoyed this post? Want to help out DadCooksDinner? Subscribe to DadCooksDinner via eMail and share this post with your friends. Want to contribute directly? Donate to my Tip Jar, or buy something from Amazon.com through the links on this site. Thank you.
Not so humble ↩