Beef tenderloin is tender, buttery, and…bland. Uninteresting. Spineless.2OK, I had to throw that last one in there, because it actually is spineless. The tenderloin is cut away from the spine, resulting in the boneless piece of meat we all know.
I realized – I'm overly harsh to tenderloin. Sure, it doesn't have the big, beefy flavor that some other cuts have.3Look to the ribeye for big beef flavor. But it does give a mild, beefy base for other flavors…like horseradish. I love beef and horseradish, and I love beef tenderloin with horseradish most of all.
I saw the bottle of horseradish Dijon mustard at my grocery store, and thought "what a perfect idea for a beef tenderloin crust." I grasped my wallet firmly and headed off to my butcher to grab a tenderloin.4Thanks to Mike and Mauri at Sherman Provision Meat Market for this beautiful piece of meat.
Of course, I'm cooking it on my rotisserie, turning5Get it? Turning? Thank you, thank you, I'll be here all week. the horseradish mustard, garlic, and herbs into a delicious crust on the outside of the tenderloin.
Looking for a show-stopper recipe for the holidays? Look no further – Rotisserie beef tenderloin with horseradish mustard crust is the one you're looking for.
Video:
Recipe: Rotisserie Beef Tenderloin with Horseradish Mustard Crust
Equipment:
Print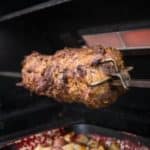 Rotisserie Beef Tenderloin with Horseradish Mustard Crust
---
Author:

Mike Vrobel

Prep Time:

12 hours

Cook Time:

45 minutes

Total Time:

12 hours 45 minutes

Yield:

8

–

12

1

x
Description
Rotisserie Beef Tenderloin with Horseradish Mustard Crust recipe. Take a beef tenderloin for a spin.
---
5

pound trimmed beef tenderloin (fat and chain removed, about

7

pounds untrimmed)

1 1/2 tablespoons

Diamond Crystal kosher salt or

1 tablespoon

fine sea salt

2 teaspoons

fresh ground black pepper
Horseradish Mustard Crust
1/4 cup

horseradish Dijon mustard

4

cloves of garlic, minced

1 tablespoon

fresh thyme leaves, minced
---
Instructions
Dry brine the beef: Season the roast evenly with the salt and pepper. Refrigerate overnight, or for up to 48 hours.
Truss and spit the beef, then coat with mustard: One hour before cooking, remove the tenderloin from the refrigerator. Fold the tail of the tenderloin over and truss it to even out the thickness on the thin end of the roast. Cut the roast in half, truss the two pieces together, then skewer on the rotisserie spit, running the spit between the pieces of tenderloin and securing them with the spit forks. Whisk the mustard, garlic and thyme, then brush all over the trussed tenderloin. Let the beef rest at room temperature until it is time to grill. 6
Set up the grill for indirect high heat (450°F+): Set up the grill for indirect high heat (450°F or higher). On my Weber Summit, I remove the grill grates and preheat the grill with all burners on high for 15 minutes. Then I turn off all but the outer burners – burners 1 and 6 – and turn on the rotisserie burner to high.
Rotisserie the beef tenderloin: Put the spit on the grill, start the motor spinning, and make sure the drip pan is centered beneath the tenderloin. Close the lid and cook with the lid closed as much as possible. (If you have an infrared rotisserie burner, turn it off after the beef is browning well, about 30 minutes, and let the burners in the main body of the grill finish cooking the beef.) The tenderloin is done when it reaches 120°F in its thickest part for medium rare, about 45 minutes. (Cook to 115°F for rare, 130 ° F for medium.)
Serve: Remove the tenderloin from the rotisserie spit and immediately remove the trussing twine. (Be careful – the spit and forks are blazing hot.) Let the tenderloin rest for 15 minutes, then slice and serve.
Category:

Rotisserie

Cuisine:

American
Notes
No rotisserie? No worries. Set your grill up for indirect high heat as directed. Then, instead of rotisserie cooking, put the grill grate back in and cook the roast over indirect heat. Flip the roast after 30 minutes to even out the browning, and expect it to take a little longer – say, 50 minutes? To get to medium-rare.
Wood smoke is always a good idea with beef – I love oak or pecan wood with beef. Add a fist-sized chunk of wood to the coals (if cooking with charcoal) or one cup of wood chips (if cooking with gas.)
Not enough horseradish for you? See my Rotisserie Beef Tenderloin with Shallot-Herb Butter and Horseradish Sauce recipe for a quick horseradish sauce.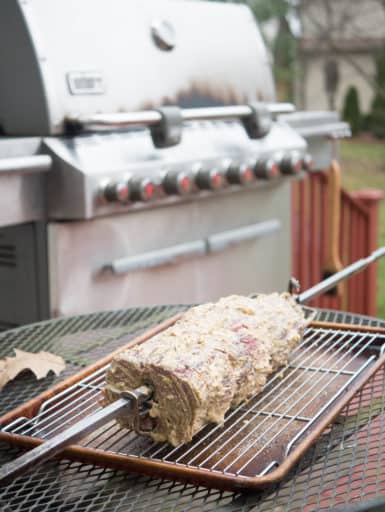 What do you think?
Questions? Other ideas? Leave them in the comments section below.
Related Posts
Rotisserie Beef Tenderloin with Shallot-Herb Butter and Horseradish Sauce
Rotisserie Boneless Ribeye Roast with Garlic Crust
My list of Rotisserie Recipes
Enjoyed this post? Want to help out DadCooksDinner? Subscribe to DadCooksDinner via eMail or RSS reader, recommend DadCooksDinner to your friends, and buy something from Amazon.com through the links on this site. Thank you.