---
Special thanks to my friends at Certified Angus Beef® Brand for sponsoring DadCooksDinner. I was already planning this recipe for the holiday season - and then they sent me a Ribeye roast for Christmas. It was fate!
Please check them out at the hashtag #BestBeef, download the Roast Perfect app for holiday roast ideas on your phone, or visit them at the Certified Angus Beef Kitchen Community on Facebook. Thank you!
---
Do you want to cook the best beef roast? One that a prime rib house would be proud to serve? This is how I get a gorgeous slice of beef at home. Take a rib roast - about 4 bones worth - and cut away the bone to get a big piece of boneless ribeye.3Or, ask your butcher for a ribeye roast, if you want to take the easy way out. Rub the roast with salt, pepper, and a lot of minced herbs. Cook it on the rotisserie until it has a crisp brown crust and a perfectly medium-rare interior. (As much as I love gnawing on a rib bone, the advantage to a boneless roast is that crust - all the way around the outside of the roast.) Let it rest for a few minutes, then slice and serve. Easy peasy.
The key to perfect beef (medium-rare, thank you very much) is internal temperature. This big hunk of beef needs to come off the grill at 120°F internal temperature. Less than that (say, 110°F to 115°F) is rare - which is good, if you like your roast to "moo" when you poke it with a fork. More than that (say, 125°F to 135°F) is medium - pink in the middle, but bordering on the danger zone. Get above 135°F, and you're looking at disaster - also known as medium-well beef. Or worse.4Thinks about a gorgeous ribeye roast, cooked to well done. Runs screaming from the room The key is an instant read thermometer - cooking by time is just asking for trouble.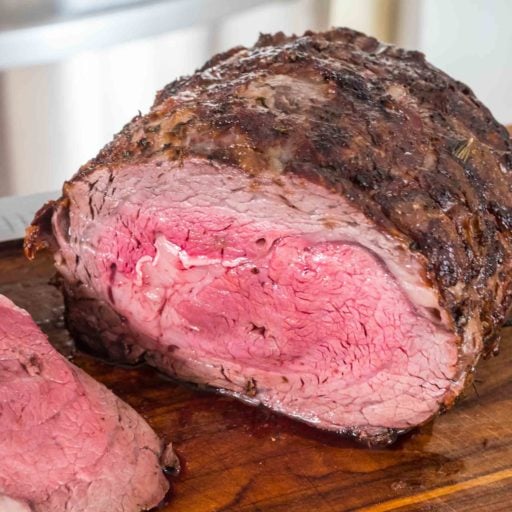 The other key to this roast is the beautiful, browned crust on the outside. That's where the rotisserie comes in. The spinning rotisserie bastes the roast in its own juices as it cooks. The result is the best crust on a roast you will ever see. The herbs add another layer of flavor to the brown, crispy goodness. My wife demands asks for the end of the roast - she doesn't care about medium-rare, she just wants as much crust as possible.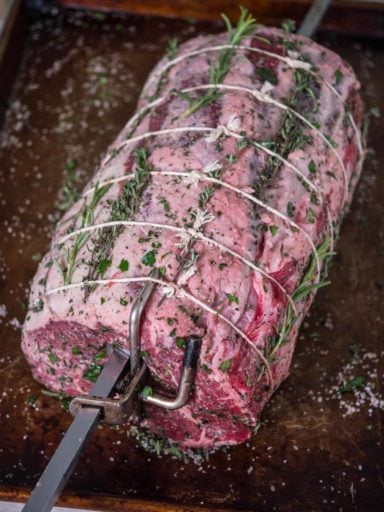 This is a big roast - assume a half pound of beef per person - so, you can serve 12 dedicated carnivores with this 6 pound roast. If you have beef dilettantes, you can get away with serving 14 to 16 people. In my family, this roast is good for 8 beef loving adults, plus a gaggle of young kids…but we love our beef.
(And, if you want to cheat, reach for the spinalis dorsi. What's the spinalis? It's the ribeye cap - the crescent of beef on top of the eye of fat in the roast. I look for the slices cut with the widest piece of spinalis. It is my favorite cut of beef, which is saying a lot. When I share a slice of beef with the kids, I make sure to take the spinalis, and leave the rest for them. I'm not proud…but I'm not changing.)
Recipe: Rotisserie Ribeye Roast with Herb Crust
Video
Video: Rotisserie Ribeye Roast with Herb Crust [YouTube.com]
Equipment
Print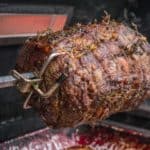 Rotisserie Ribeye Roast with Herb Crust
---
Author:

Mike Vrobel

Total Time:

1 hour 45 minutes

Yield:

6

pound beef roast

1

x
Description
Rotisserie Ribeye Roast with Herb Crust recipe. The best beef ribeye roast - a big piece of boneless roast, medium-rare on the inside, with a beautiful browned crust thanks to the rotisserie.
---
6

Pound Boneless Beef Ribeye Roast

1 ½ tablespoons

kosher salt

1 ½ teaspoons

fresh ground black pepper

1 tablespoon

minced parsley leaves

2 teaspoons

minced thyme

1 teaspoon

minced rosemary
Extra thyme and rosemary sprigs to stuff under the trussing twine (optional)
---
Instructions
Truss, Season, and Spit the roast: Truss the roast into a tight cylinder with butcher's twine, tying it about every inch and a half. (My roast was 10 inches long; I trussed it with 6 pieces of twine.) Mix the salt, pepper, and minced herbs; sprinkle them evenly over the roast, patting to help them stick. If you have extra sprigs of thyme and rosemary, tuck them under the trussing twine to add a little extra flavor. (This is not essential - but I figure, if I have the extra sprigs, I'll put them to use.) Let the roast rest at room temperature until the grill is ready. (If you have the time, do this the night before cooking, and rest the seasoned roast in the refrigerator. This will dry brine the roast, seasoning it more thoroughly. )
Prepare the grill: Set the grill up for rotisserie cooking at medium-high heat, about 400°F. For my Weber Summit, this means removing the grates, turning the two outer burners (burners 1 and 6) to high, and turning the infrared burner to high. Then I put my drip pan in the middle, over the unlit burners, and let the grill preheat for ten to fifteen minutes.
Cook the roast: Put the spit on the rotisserie and start it spinning. Cook with the lid closed until the roast reaches an internal temperature of 120°F for medium rare, about 75 minutes. (Cook to 110°F to 115°F for rare, 125°F to 135°F for medium. If you want to go higher than that, don't tell me; I don't want to know.) Start checking the temperature after 30 minutes of cooking time, and every 10 to 15 minutes after that, depending on how close to done you are.
Rest, carve and serve: Remove the spit from the grill. Be careful - the spit is hot. Remove the roast from the spit, transfer to a platter, remove the twine and any whole herb sprigs that stick to the roast. Let the roast rest for 10 to 15 minutes before carving into ½" thick slices. Serve and enjoy!
Prep Time:

30 minutes

Cook Time:

1 hour 15 minutes

Category:

Rotisserie

Cuisine:

American
Nutrition
Serving Size:

½ pound per serving
What do you think?
Questions? Other ideas? Leave them in the comments section below. Unless the comments are about well done beef. That's what my mute button is for, you monsters.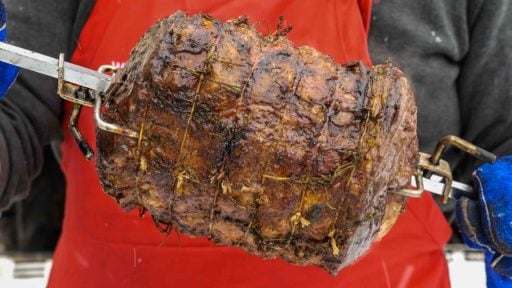 Related Posts
Rotisserie Beef Prime Rib Roast
Rotisserie Beef Tenderloin with Horseradish Mustard Crust
Rotisserie Eye of Round Roast, Baltimore Pit Beef Style
My other Rotisserie Recipes
Enjoyed this post? Want to help out DadCooksDinner? Subscribe to DadCooksDinner via eMail or RSS reader, recommend DadCooksDinner to your friends, and buy something from Amazon.com through the links on this site. Thank you.