I'm a fan of beef ribs cut off of a rib roast; I eat them as my cook's treat when I make a rib roast. I'm also a big fan of pork ribs, cooked low and slow. So, whenever I made beef ribs on their own, without the roast, I would cook them low and slow. The beef ribs were good, but not great; I would always prefer pork ribs. I couldn't figure out why the same low and slow technique you use with pork ribs didn't work as well with beef ribs.
Finally, it dawned on me - I liked the ribs cut from the roast better because they were roasted. I wasn't cooking them at a high enough temperature to get a nice, crispy crust on them, and I was drying them out with the long cooking time. Why not cook them the same way I cooked my rotisserie baby back ribs, which always turned out with a wonderful, crisp crust? And, voila! My new favorite rib recipe was born.
These ribs are huge. My kids were calling them dinosaur ribs, because each one is about twice the length of a pork rib.
*Actually, they picked the "dinosaur ribs" up from me. They've never seen The Flintstones. I was flabbergasted when I realized this - they're kids, and they have no idea who Fred and Barney are. I'm getting old...



When I eat pork ribs, I need about half a slab to be full.* For beef ribs, I only need about three of them, so adjust your meat purchase accordingly.
*Unfortunately for my waistline, I rarely stop at a half a slab.
Recipe: Rotisserie Beef Ribs

Equipment:
Ingredients:
4 lbs beef ribs
3 teaspoon kosher salt
2 teaspoon freshly ground pepper
Directions:
1. Pre-Salt the Ribs: Two to four hours before grilling, sprinkle the ribs evenly with the salt and pepper, then refrigerate. One hour before cooking, remove the ribs from the refrigerator and let rest at room temperature, and put the wood chunk in water to soak.


2. Skewer the ribs: Weave the ribs onto your spit, poking the spit through the ribs every two bones and alternating sides. (See the picture, below.)
3. Prepare the grill: Prepare your rotisserie for cooking on indirect medium heat (see details My Rotisserie Basic Technique Post) and add the wood chunk to the coals. For my Weber kettle, I light a chimney starter* half-full of charcoal, wait for it to be covered with ash, then pour it in two equal piles on the sides of the grill, and put the drip pan in the middle, between the piles. Then I put the wood chunk on one of the piles.
*I highly recommend the Weber Chimney Starter
, because it is larger than most chimney starters. It holds 5 quarts of charcoal, which exactly the right size for cooking this recipe.
4. Cook the ribs: Put the skewer on the rotisserie, and cook with the lid closed for 1 ½ hours, or until the ribs are well cooked and the meat has pulled about ½" down from the bones on the end. You want to maintain a temperature of about 300*F to 350*F. On a charcoal grill, add 16 coals (8 to each pile) after the first hour of cooking to keep the heat going.


5. Serve: Remove the ribs from the grill, and let rest 10-15 minutes. Cut between each bone and serve.
Variations:
*Rotisserie barbecued beef ribs, dry rub style: Use a barbecue rub on the ribs when salting them, then give them one more even sprinkle of rub when they come off the grill.
*Rotisserie barbecued beef ribs, wet style: Use a barbecue rub on the ribs when salting them. Then, baste them with barbecue sauce with about ten minutes left in the cooking time. This will give them a good glazing of barbecue sauce. Give them one more basting with sauce when they come off the grill.
Notes:
*As you can see in the pictures, I had two smaller slabs of ribs instead of one big one; this was harder to work with, but it's how the ribs come from my local market. The one slab only had three ribs, and I wasn't able to weave it on, so I ran my fork through it to hold it in place.
*To get good ribs, you need meat on them. Check the ribs before you buy them - you don't want to see much of the bone exposed, and ideally the bones will be completely covered with meat.
*Ribs that have the meat cut down to the bone are called "shiners", and are something you should try to avoid. Even worse - sometimes my grocery store sells ribs with the meat cut out between the bones. I don't understand who would buy them. You need some meat on the bones to eat, don't you?
What do you think? Questions? Comments? Other ideas? Leave them in the comments section below.
Related Posts:
Click here for my rotisserie baby back ribs recipe
Click here for my rotisserie beef rib roast recipe
Click here for my other rotisserie recipes.
---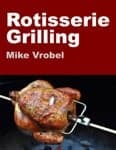 Check out my cookbook, Rotisserie Grilling.

Everything you could ask about the rotisserie,
plus 50 (mostly) new recipes to get you cooking.

It's a Kindle e-book, so you can download it and start reading immediately!
---
*Enjoyed this post? Want to help out DadCooksDinner? Subscribe to DadCooksDinner using the RSS or Email options on the right, link to this post from your blog, recommend DadCooksDinner to your friends, or buy something from Amazon.com
through the links on this site. (Like my Rotisserie Grilling cookbook...)