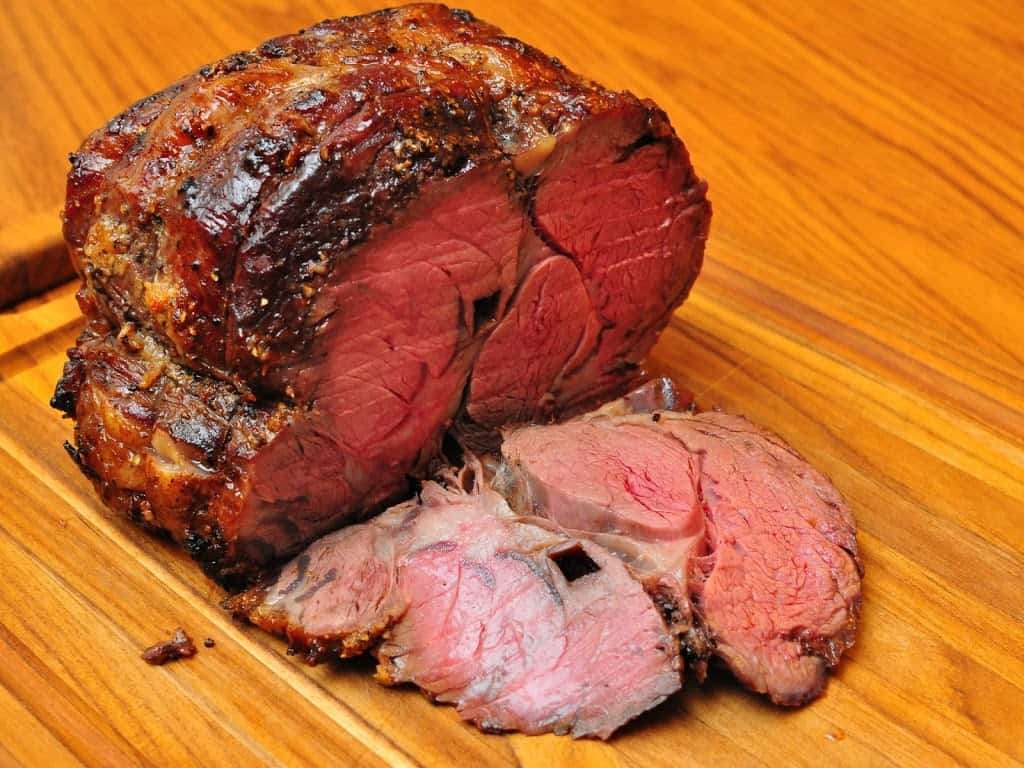 Christmas is here; time for the roast beast!
I'm trying something new with my Christmas roast - boneless Ribeye.
My favorite part of a beef roast is the bones. Unfortunately, my guests won't gnaw on rib bones at the Christmas table. This is awkward; I'm not letting something minor (like table manners) get between me and ribs. I'm hunched over my plate, elbows on the table, ripping hunks of meat from the bone…and they're looking at me like I'm Henry VIII reincarnated.2In my mind's eye, I'm wearing a floppy hat with a feather, have rings on every finger, and am talking with my mouth full while waving a bone around for emphasis. Maybe the Henry VII thing is just my imagination…but there sure are a lot of ribs left over for me to eat while the table is cleared.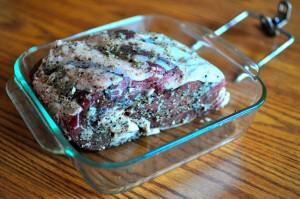 I figured I'd try a boneless ribeye roast, to see if I could improve my manners and still get my favorite cut of beef. Ribeye roast is a prime rib with the bones cut off. I love the big, meaty flavor of ribeye, and I was curious how it would turn out without the bones.
The boneless ribeye has some advantages over the bone-in prime rib. The best part of a rotisserie roast is the perfect browned crust. With a bone-in roast, that crust only goes halfway around; cutting the bones off takes the crust with them. A boneless roast is ringed with a perfect crust. Carving is the second advantage; no bones to worry about, just slice and serve.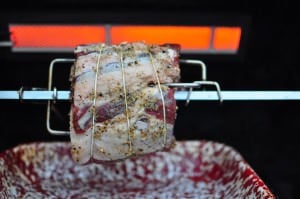 Now, don't get me wrong. I'm not giving up on rotisserie prime rib. There is something primeval about a roast with bones sticking out of it. It speaks to me. But boneless ribeye is another a good cut of meat for the rotisserie.
Recipe: Rotisserie Boneless Ribeye Roast with Garlic Crust
Equipment:
Print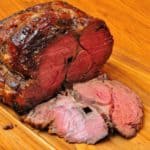 Rotisserie Boneless Ribeye Roast with Garlic Crust
---
Description
Rotisserie Ribeye - my favorite boneless cut of beef - with a garlic crust
---
3 ½

pound Boneless Beef Rib Roast (

4

inches wide)

1 tablespoon

Diamond Crystal kosher salt or

2 teaspoons

Mortons kosher salt

1 teaspoon

coarse ground black pepper

6

cloves garlic, minced
Blue Cheese and Caper Sauce
½ cup

sour cream

¼ cup

crumbled blue cheese

1 tablespoon

capers, drained and minced
---
Instructions
Season the roast, prepare the sauce: Two hours before cooking, season the roast with the salt and pepper, then rub with the garlic. Work the garlic into the roast as deep as possible, using the natural seams in the meat and around the fat. Let the roast rest at room temperature until it is time to cook. Whisk the blue cheese and caper sauce ingredients in a small bowl, cover with plastic wrap, and refrigerate until it is time to serve.
Prepare the grill: Set the grill up for rotisserie cooking at high heat. For my Weber Summit, this means removing the grates, turning the two outer burners (burners 1 and 6) to high, and turning the infrared burner to high. Then I put my drip pan in the middle, over the unlit burners, and let the grill preheat for ten to fifteen minutes.
Spit the roast: While the grill is pre-heating, truss and spit the roast. Truss the roast into a tight cylinder with butcher's twine, tying it about every inch and a half. (My roast was 4 inches wide; I trussed it ½ inch from each end, then added a single truss in the middle.)
Cook the roast: Put the spit on the rotisserie and start it spinning. Cook with the lid closed until the roast reaches an internal temperature of 120* F to 125* F for medium rare, about an hour.
(Cook to 115* F for rare, 130* F to 135* F for medium. If you want to go higher than that, don't tell me; I don't want to know.)
Rest, carve and serve: Remove the spit from the grill. Be careful - the spit is hot. Remove the roast from the spit, transfer to a platter, remove the twine, and cover with foil. Let the roast rest for 15 to 30 minutes before carving into ½" thick slices. Serve with the blue cheese and caper sauce on the side.
Prep Time:

2 hours

Cook Time:

1 hour

Category:

Rotisserie

Cuisine:

American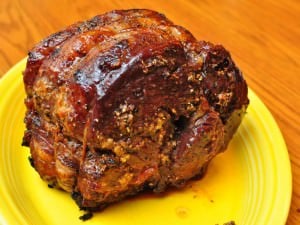 Notes:
*Use an instant read thermometer to tell if the roast is done. Otherwise, you'll have to cook it for an hour and hope for the best.
*Normally, I make horseradish sauce with rotisserie beef. I was out of prepared horseradish, so I whipped up this blue cheese and caper sauce. And, you know, it's as good as horseradish sauce on beef…and even better spread on baked potatoes.
*Cooking time depends on the width of the roast more than the weight. A larger ribeye roast is longer, not thicker. In other words, a bigger roast will only take a little longer to cook. I would guess an extra 15 to 30 minutes at most, but check it a little before the hour mark just to make sure it's not cooking too quickly, and every 15 minutes after that.
What do you think? Questions? Other ideas? Leave them in the comments section below.
Related Posts:
Rotisserie Prime Rib
Rotisserie Beef Tenderloin with Shallot Herb Butter and Horseradish Sauce
Rotisserie Strip Loin Roast
Click here for my other rotisserie recipes.
---
Everything you could ask about the rotisserie,
plus 50 (mostly) new recipes to get you cooking.
It's a Kindle e-book, so you can download it and start reading immediately!
---
*Enjoyed this post? Want to help out DadCooksDinner? Subscribe to DadCooksDinner using the RSS or Email options on the right, link to this post from your blog, recommend DadCooksDinner to your friends, or buy something from Amazon.com
through the links on this site. (Like my Rotisserie Grilling cookbook...)