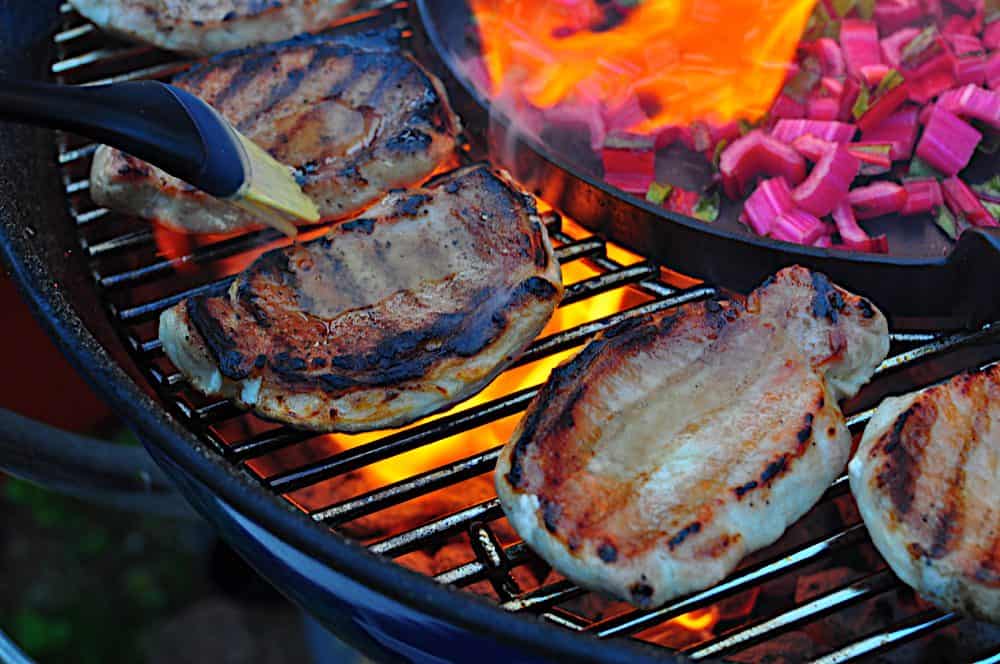 I know boneless pork loin is bland. But when it's on sale, I can't help myself - I grab a package from my local megamart. "What a deal!" I think...until it is time to cook it. Then I start to kick myself . What was I thinking? What can I do to make boring pork loin something I want to eat? Couldn't I at least have bought bone-in pork chops? (No, they weren't on sale.) Then, inspiration crawled out of the bottle. Bourbon pork chops suddenly sounded delicious.
*In fact, I'd rather have this bottle in front of me than a frontal lobotomy! Hahahaha...ahem. Sorry. My inner 13 year old got loose again.
I added bourbon to my brine, then basted the pork chops with a mix of bourbon, butter, and brown sugar. The bourbon adds a smoky, complex flavor to an otherwise straightforward recipe.
I didn't realize how alliterative this recipe was until just now. There sure are a lot of "B"s in there...
Now, I always hesitate to cook with something I would rather drink straight up.*
*The biggest disappointment was a recipe for chicken with a margarita marinade. I used two cups of alcohol, and the results were boring. I should have skipped the marinade and made a margarita to drink with the chicken.
This is not the time to get the top shelf bourbon out - don't use your Pappy Van Winkle for this one. My mom is a Jim Beam loyalist (the Manhattan is her drink of choice), so I always have some on hand.
Recipe: Grilled Pork Chops with Bourbon Brine and Baste

Cook time: 10 minutes
Equipment:
Ingredients:
6 boneless pork loin chops (¾" thick)
¼ teaspoon fresh ground black pepper
Brine
1 quart water
¼ cup bourbon (Jim Beam, according to my mom)
¼ cup Kosher salt (or 2 tablespoons table salt)
2 tablespoons packed brown sugar
Bourbon Baste
2 tablespoon butter
1 tablespoon bourbon
1 teaspoon kosher salt
1 teaspoon brown sugar
Directions:
1. Brine the pork chops: Stir brine ingredients until the salt and sugar dissolve, then add the pork chops. Brine for at least 30 minutes and up to 2 hours.
2. Prepare the grill: Prepare the grill for cooking on medium-high heat, then clean with a grill brush. For my Weber kettle, I light a chimney starter* ¾ full of charcoal, wait for it to be covered with ash, then pour it evenly over one half of the grill grate. This gives me half the grill on medium-high heat, and half off the heat.
*I highly recommend the Weber Chimney Starter
, because it is larger than most chimney starters. It holds 5 quarts of charcoal, which exactly the right size for cooking this recipe.
3. Prepare the bourbon baste: While the grill heats up, put the bourbon baste ingredients in a small bowl. Microwave on high until the butter has melted and the ingredients are bubbling, then stir to combine. (Or, put the ingredients in a grill safe pot or cup, and bring them to a simmer on the grill while cooking the pork chops.)
| | |
| --- | --- |
| Ready for the grill | Browned on one side, ready to flip |
| Grilling side two | Bourbon baste |
4. Cook the pork chops: Remove the pork chops from the brine, pat dry with paper towels, then sprinkle evenly with the ¼ teaspoon black pepper. Put the pork chops on the grill over medium-high heat. Cook uncovered for 2-3 minutes, until the pork chops are starting to brown a little. Rotate the chops 90 degrees (don't flip yet), moving them around if some are browning quicker than others due to hot spots on the grill, and cook for another 2-3 minutes, until well browned. Flip the chops and cook for 2-3 more minutes. The chops should be cooked to medium-rare, with an internal temperature of 135*F at this point. Brush the chops with the bourbon baste, flip them, and immediately brush the other side. (Move them around on the grill if there are flareups while you baste.) Remove the chops to a serving platter, brush with the baste one last time, let rest for ten minutes, then serve.
Variations:
*Non-alcoholic version: Substitute apple juice, apple cider, or apple cider vinegar for the bourbon.
Notes:
*The baste will cause impressive flare-ups. (Alcohol, butter, and sugar make a remarkably flammable combination, especially when they drip onto lit charcoal.) Make sure there is room on your grill to move the chops around, to get them out of the flames.
*You can see the swiss chard I was cooking in the new Weber Gourmet BBQ System griddle
. But that's a recipe and a review for another day...
What do you think? Questions? Other ideas? Leave them in the comments section below.
Related Posts:
Grilled Thin Pork Chops, Quick Brinerated
Grilled Pork Chops, Brined and Honey Basted
Grilled Pork Chops Agrodolce
*Enjoyed this post? Want to help out DadCooksDinner? Subscribe using your RSS reader or by Email, recommend DadCooksDinner to your friends, or buy something from Amazon.com through the links on this site. Thank you!