It hit me when I was reading my old Rotisserie Poultry Basic Technique post. I link to two different methods for trussing poultry in that post, but I don't use either of them.  With Thanksgiving coming up, I decided to share my trussing technique. Besides, how can you do the rotisserie turkey recipe I'll be posting tomorrow if you don't know how to truss your turkey?
Now, this is how I truss all different types of poultry.  I use this technique on turkey, chicken, duck, and cornish game hens.  They all have the same layout - wings, drumsticks, breast and backbone - but it is easier to show with a turkey because of the large scale.
What do you think? Questions? Other ideas? Leave them in the comments section below.
Related Posts:
Rotisserie Poultry Basic Technique
Simple Rotisserie Turkey
Rotisserie Turkey, Dry Brined with Orange and Spices (Coming Thursday)
Click here for my other rotisserie recipes.
---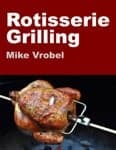 Check out my cookbook, Rotisserie Grilling.Everything you could ask about the rotisserie,
plus 50 (mostly) new recipes to get you cooking.It's a Kindle e-book, so you can download it and start reading immediately!
---
*Enjoyed this post? Want to help out DadCooksDinner? Subscribe to DadCooksDinner using the RSS or Email options on the right, link to this post from your blog, recommend DadCooksDinner to your friends, or buy something from Amazon.com
through the links on this site. (Like my Rotisserie Grilling cookbook...)