According to Michael Symon, Cleveland is the clambake capital of the world. Cleveland sells more clambakes than anywhere outside of New England. Don't ask me why, but we love them.
No, really, don't ask me, I don't know.
Well, OK, I might know why clambakes are so popular around here. They're perfect for a party. Everything comes out of a single pot - you can serve a crowd, and all the prep work happens ahead of time. Bring the big pot to a boil, drink a few beers, open the pot, and serve with lots of napkins.
*And melted butter. And bread. And more beer. And wine. And cups for the delicious, delicious broth.
Sure, you can buy clambakes pre-assembled from the grocery store or fish market. But why? They are easy to put together, and are much cheaper that way. Even better, you can add your own ingredients - my clambake has sausage, mussels and chicken in it.
*But, if you want to buy one at the store, that's OK too. A store-bought clambake is better than no clambake at all, I say. Especially if you get it from a good fishmonger - I've had excellent clambakes from Euclid Fish in the Cleveland area and BayLobster Fish Market in the Akron area.
I believe the broth is the best part of the clambake. The clams give up their juices while cooking, leaving liquid gold at the bottom of the pot. Now, most clambakes are boils, with a lot of water in the pot to start, so the broth is very…brothy.
*"Brothy" is a word, right? Right.
My clambake is more of a steam - I don't use much liquid. And, to add extra flavor, the liquid I use is white wine. The result is a heavier broth than usual - perfect for serving as a soup, or dipping hunks of bread.
*Note: This recipe makes a lot of food - it serves twelve big eaters, or sixteen normal people. (I fit into the big eater category, and we still had a lot of leftovers...)
Print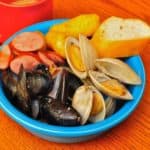 Indoor Clambake
---
Author:

Mike Vrobel

Total Time:

55 minutes

Yield:

8

-

12

servings

1

x
---
3

pounds kielbasa sausage, cut into

½

inch thick rounds

3

pounds new potatoes (I used fingerling potatoes)

72

littleneck clams

6

pounds mussels

8

ears of corn, shucked

1

chicken, split in half

1 teaspoon

kosher salt

1 cup

white wine

1 cup

water
Serve with
2

loaves french bread, cut into

1

-inch slices

½

pound butter, melted
lots of napkins
---
Instructions
Layer the ingredients in the pot: Build the clambake in layers. First the kielbasa, on the bottom of the pot. Then a layer of new potatoes, then clams and mussels, then corn, then chicken. Sprinkle the kosher salt evenly on the chicken. Pour the white wine and water over everything, then put the lid on the pot.
Steam the clambake: Bring the pot to a boil over high heat. Reduce the heat to medium-high and steam for 30 to 40 minutes, until the chicken is 160*F in the thickest part of the breast.
Brown the chicken: Remove the clambake from the heat. Remove the chicken and arrange it in a single layer on a roasting pan. Slide the roasting pan under the broiler and broil the chicken until the skin is nicely browned. This will take 5 to 15 minutes, depending on your broiler.
Serve: While the chicken is broiling, move the corn to a platter. Remove each of the remaining layers to their own bowl or platter with a slotted spoon.Pour the clam broth into a large pitcher, or ladle into individual mugs for serving. Cut the chicken into eight pieces - drumsticks, thighs, breasts, wings. Give your guests large bowls and turn them loose. Serve with melted butter for dipping clams and mussels, and bread for dunking in the broth. And napkins, lots and lots of napkins.
Notes
There is barely any seasoning in this recipe. A little Kosher salt on the chicken, and that's it. The saltiness of the clam brine will season everything in the pot.
What wine should I use in the pot? I prefer a dry white wine, non-oaked and cheap. I look for sauvignon blanc or pinot grigio. Or I ask the wine person at the store to recommend "A dry white wine with no oak. I'm using most of it for cooking, so I want it cheap, but drinkable" Then I buy whatever they suggest, and I pick up a few more bottles of sauvignon blanc, and dry French-style Rose for drinking. Oh, and beer. Lots of beer.
Most fish markets will sell you clams wrapped in cheesecloth, about a dozen a package, because it is a convenient serving size. I cook the clams in those bags, then cut half the bags open and dump the clams on my serving platter with the mussels. That way, my guests can mix and match their shellfish. I go heavy on the mussels, with a few clams for variety.
Variations
Add up to four 1.25 pound lobsters on top of the pot. Steam them for 20 minutes, then remove them from the pot so they don't overcook. (Keep cooking everything else.) Make sure the pot is big enough; I'd use a 24-quart pot if I add a layer of lobsters.
More clams or mussels: I like a 50/50 mix; if you prefer one or the other, replace each dozen clams with a pound of mussels, or vice versa.
If you can find petite sweet potatoes, use them in place of the new potatoes.
This recipe can be halved. It will fit in a 12-quart pot and will serve six to eight people.
Tools
Really big stock pot, 19 quarts or larger. (I use a massive granitware pot. Bonus points if you have a picture of a lobster on your pot.)
Prep Time:

15 minutes

Cook Time:

40 minutes

Category:

Sunday Dinner

Method:

Boiling

Cuisine:

American
What do you think? Questions? Other ideas? Leave them in the comments section below.
Related Posts:
Mussels with Spanish Chorizo
Grilled Paella with Shellfish, Chorizo and Chicken
Adapted from:
Mark Bittman The Minimalist Entertains; the Clambake, Minus the Beach

*Enjoyed this post? Want to help out DadCooksDinner? Subscribe using your RSS reader or by Email, recommend DadCooksDinner to your friends, or buy something from Amazon.com through the links on this site. Thank you!