Instant Pot Meatballs with Tomato Sauce. Why simmer meatballs for hours when you can pressure cook them in minutes?
To brown, or not to brown, that is the question:
Wether 'tis nobler to brown the meatball
and build a deeper sauce,
Or to take the easy way out
and drop the meatballs straight in the sauce
uncooked.

Apologies to William Shakespeare
Jump to:
I am converting my meatball recipe to work with my Instant Pot. (I'm surprised it took me this long.) I did my usual research, googling around to get times and techniques from other recipes…and was surprised that most Instant Pot meatball recipes don't have a browning step.
I can just throw the meatballs in the pot? Well, sure…but…they taste better browned…don't they?
I made a few batches of meatballs, some browned, some not. The differences were a lot more subtle than I expected. The browned meatballs had a little more flavor, and the un-browned meatballs were more tender. My testing panel said they enjoyed both…but I think my kids just like meatballs.
In the end, there wasn't enough of a difference for me to insist on the extra step of browning. (The meatballs actually got a little browned from sitting on the bottom of the pot). So, in this recipe, I made browning the meatballs an optional step. If you want to build a little extra flavor, check the notes section for browning instruction; otherwise, drop the uncooked meatballs straight into the pot.
Inspired by: CookSmart by Pam Anderson
Print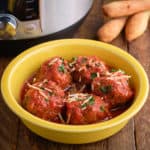 Instant Pot Meatballs with Tomato Sauce
---
Author:

Mike Vrobel

Total Time:

1 hour 15 minutes

Yield:

16

meatballs and tomato sauce

1

x
Description
Instant Pot Meatballs with Tomato Sauce. Why simmer meatballs for hours when you can pressure cook them in minutes?
---
Meatballs
1½

pounds meatloaf mix (

1

pound ground beef,

½

pound ground pork)

1

small onion, grated or finely minced

2

large garlic cloves, grated or finely minced

1½ teaspoons

fine sea salt

½ teaspoon

fresh ground black pepper

2 teaspoons

dried Italian herb mix

½ teaspoon

red pepper flakes (optional)

1

egg, beaten

½ cup

(

2oz

) finely grated pecorino Romano cheese

¾ cup

Italian style bread crumbs
Tomato Sauce
2 tablespoons

olive oil

1

large onion, diced

1

stalk celery, diced

1

large carrot, peeled and diced

3

cloves garlic, crushed

1 teaspoon

dried Italian Seasoning

½ teaspoon

fine sea salt

¼ teaspoon

crushed red pepper flakes

½ cup

red wine (or broth or water)

1 cup

chicken broth, preferably homemade, or water

1

(28-ounce) can crushed tomatoes

1 teaspoon

fresh ground black pepper
Garnish
More grated pecorino Romano cheese
---
Instructions
Shape the meatballs: In a large bowl, break up the beef and pork. Sprinkle the bread crumbs, cheese, onion, garlic, salt, pepper, herbs, and red pepper flakes over the meat, then work the dry ingredients into the meat. Once everything is evenly mixed, put the egg on top and work it into the meat. Roll the meat mix into 16 golf-ball sized meatballs, each about 2 inches in diameter.

Sauté

 the soffritto:

Heat the olive oil an Instant Pot set to sauté mode until the oil starts shimmering. (Use medium heat on a stovetop PC). Add the onion, celery, carrot, and garlic to the pot. Sprinkle with the Italian herb mix, crushed red pepper flakes, and fine sea salt, then sauté, stirring occasionally, until the onions soften, about 5 minutes.

Simmer the wine: Pour the wine into the pot and stir, scraping any stuck bits of onion loose from the bottom. Simmer the wine for 1 minute to boil off some of the alcohol.
Everything in the pot: Stir in the chicken broth, then add the meatballs to the pot, trying for a single layer of meatballs. (I usually wind up with one that has to sit on top of the others). Pour the crushed tomatoes over the meatballs.
Pressure Cook for 15 minutes with a Natural Release: Lock the lid and pressure cook at high pressure for 15 minutes (Use "Manual" or "Pressure Cook" mode in an Instant Pot), or for 13 minutes if using a stovetop pressure cooker. Let the pressure to come down naturally, about 20 minutes. (If you're in a hurry, let the pressure come down for 15 minutes then quick release any remaining pressure.)
Serve: Scoop the meatballs out of the pot with a slotted spoon. Stir the fresh ground black pepper into the tomato sauce in the pot. Pour a few ladles of sauce over the meatballs, then sprinkle with some more pecorino romano cheese. Use the rest of the tomato sauce with dinner - it's enough to sauce a pound of pasta. Serve and enjoy.
Notes
Browning the Meatballs: In the "Fry the soffritto" step, after heating the olive oil: Add the meatballs and brown on two sides, about 3 minutes a side. Remove the meatballs from the pot with a slotted spoon, set them aside, and continue with sautéing the onions and other aromatics. The browned meatballs go back in the pot when the recipe says to add them.
Soffritto is Italian for "fried slowly". It is the slowly sautéed mix of minced onions, carrots, and celery that form the backbone of most Italian recipes.
I make 16 meatballs by shaping the mixed meat into an even-shaped log. Then I break the meat in half, and break each half in half, giving me 4 pieces. I break each of those pieces into 4 equal pieces, and I have 16 roughly even size pieces of meat, each one ready to roll into a meatball.
Frozen: Because all the work in this recipe is in making the meatballs, I save time by making a double batch, and freezing half of it. (I put the meatballs on a sheet pan in the freezer overnight, then transfer the frozen meatballs to a zip-top bag.) The frozen meatballs go straight from the freezer into the Instant Pot; cooking from frozen adds 5 minutes to the pressure cooking time. (In other words, pressure cook at high pressure for 20 minutes, or 18 minutes in a stovetop PC).
Tools
Prep Time:

30 minutes

Cook Time:

45 minutes

Category:

Weeknight Dinner

Method:

Pressure Cooker

Cuisine:

Italian
Keywords: Instant Pot Meatballs with Tomato Sauce; Pressure Cooker Meatballs with Tomato Sauce
What do you think?
Questions? Other ideas? Leave them in the comments section below.
Related Posts
Instant Pot Meatball Soup
Pressure Cooker Italian Meat Sauce
Pressure Cooker Quick Tomato Sauce
Pressure Cooker Baked Ziti
Instant Pot BBQ Meatballs
Instant Pot Spanish Meatballs (Albondigas)
My other Instant Pot Pressure Cooker Recipes

Enjoyed this post? Want to help out DadCooksDinner? Subscribe to DadCooksDinner via email and share this post with your friends. Want to contribute directly? Donate to my Tip Jar, or buy something from Amazon.com through the links on this site. Thank you.