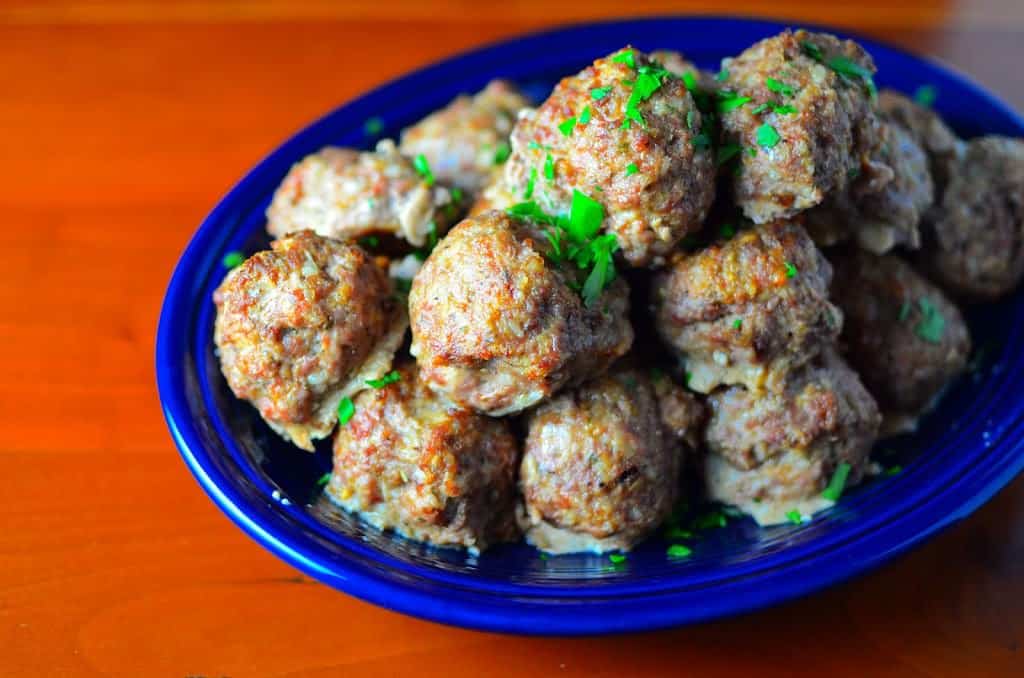 My Grandmother made the most amazing meatballs. They were huge, about the size of a baseball. (Or so they seemed back when I was 10 years old.) One meatball on top of spaghetti with some tomato sauce, and I was set for dinner.
My Grandmother wasn't Italian. I don't know where she got her recipe. And, unfortunately, she passed away long before I learned to cook. I asked around the family; no one knew the recipe, or where they came from.
Pam Anderson to the rescue.
My recipe is based on Pam's recipe in CookSmart, with an assist by Alton Brown for the baking instructions.
Now that I'm older, a baseball sized meatball seems a little too extravagant.
*Sigh. Being a grownup is no fun. It's all about portion control. 

I make my meatballs golf ball sized. A large cookie scoop helps me size properly - when I do them entirely by hand, they wind up between ping pong ball and golf ball sized.
Recipe: Baked Italian Meatballs

Adapted From: Pam Anderson CookSmart
Cooking time: 25 minutes
Ingredients:
2 ½ pounds meatloaf mix (1 ½ pounds ground beef, 1 pound ground pork)
½ cup bread crumbs (I use panko style bread crumbs)
½ cup grated Parmesan cheese
1 medium onion, grated or finely minced
3 large cloves garlic, grated or finely minced
3 eggs, beaten
1 tablespoon kosher salt (1 ½ teaspoons table salt)
1 teaspoon fresh ground black pepper
1 tablespoon dried Italian herb mix (or 1 teaspoon dried basil, 1 teaspoon dried oregano, and 1 teaspoon dried thyme, or ¼ cup minced fresh parsley and 1 teaspoon minced fresh rosemary)
1 teaspoon red pepper flakes (optional)
Directions:
1. Mix and shape the meatballs
Preheat the oven to 400°F. Stir all the ingredients in a large bowl until everything is evenly mixed. Roll the mix into golf ball sized meatballs, each about ¼ cup. I make my meatballs with a heaping 3 tablespoon scoop, and get about 20 meatballs. Spread the meatballs evenly on a half sheet pan (a 13 by 18 inch baking pan with a rim).
2. Bake meatballs
When the oven is up to temperature, put the pan of meatballs in the oven and cook until they reach an internal temperature of 155°F, about 25 minutes. Remove the pan from the oven and let the meatballs rest on the pan for ten minutes, then serve.
Notes:
What do you think? Questions? Other ideas? Leave them in the comments section below.
Related Posts:
Weeknight Tomato Sauce
Slow Cooker Bolognese Ragu
Instant Pot Meatballs with Tomato Sauce
Instant Pot BBQ Meatballs
*Enjoyed this post? Want to help out DadCooksDinner? Subscribe to DadCooksDinner using the RSS or Email options on the right, link to this post from your blog, recommend DadCooksDinner to your friends, or buy something from Amazon.com
through the links on this site. Thank you.