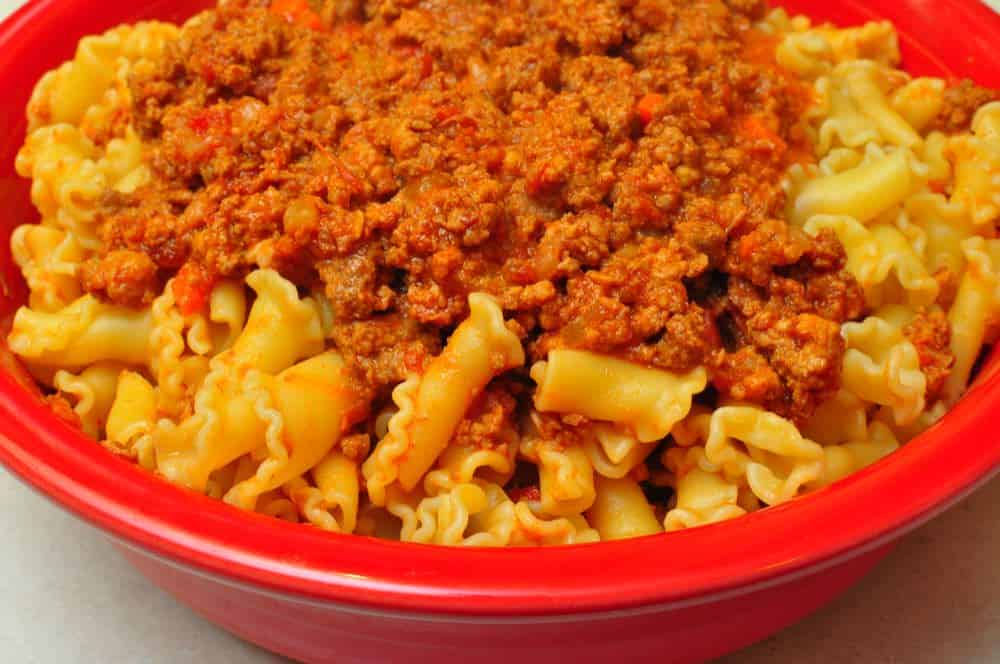 Bolognese sauce, the mostly meat sauce from Bologna, Italy, simmers for hours and hours. What better recipe for my new slow cooker's first meal?
*Aren't Christmas presents wonderful?
My problem with slow cooker Bolognese sauce has always been too much liquid. Traditional recipes assume the sauce will be simmering all day, and lose a lot of liquid to evaporation. In a slow cooker, the lid traps all that evaporating liquid, resulting in ground meat swimming in juice. I cut back on the wine, milk, and tomatoes, and finally had the thick, meaty sauce I was looking for.
This recipe is a make-ahead gold mine. The recipe makes three quarts of Bolognese sauce, enough to coat three pounds of pasta. I use one third of the sauce, then freeze the sauce in 1 quart containers. With  Bolognese sauce in the freezer, dinner is a snap. Boil some pasta, reheat the sauce, and dinner's ready!
Sure, you could cut the recipe by ⅔rds and only make one night's dinner. But why would you? It doesn't add more than a couple extra minutes to the cooking time to make a big batch, and there's nothing quite like having some frozen assets waiting for you at the end of a long day.
*Get it? "Frozen" assets? Hahahaha! I kill myself.
Recipe: Slow Cooker Bolognese Sauce (Ragu Bolognese)

Adapted from: Slow Cooker Beef Bolognese Williams-Sonoma.com
Cook time: 10 hours
Equipment:
Ingredients:
1 tablespoon butter
1 tablespoon olive oil
4 oz prosciutto, cut into thin strips and separated (or diced pancetta)
1 large onion, diced
1 large carrot, peeled and diced
1 celery rib, diced
½ teaspoon kosher salt
4 cloves garlic, crushed
⅓ cup tomato paste (half of a 6 oz can)
1 ½ lbs ground beef
1 ½ lbs ground pork
1 teaspoon kosher salt
½ teaspoon fresh ground black pepper
1 cup white wine
1 cup milk
28oz can crushed tomatoes
2 bay leaves
2 by 3 inch piece of Parmesan rind (optional)
1 pound pasta, cooked (tagliatelle is traditional, but use your favorite pasta)
Directions:
1. Saute the meat and aromatics: Heat the oil, butter, and prosciutto in a large pot over medium-high heat, and saute until the prosciutto starts to crisp up, about 3 minutes. Add the onion, carrot, celery, and ½ teaspoon kosher salt, and saute until the onion is softened, about 4 minutes. Stir in the garlic and tomato paste and saute until the tomato paste darkens, about 2 minutes. Add the ground beef and pork, sprinkle with the 1 teaspoon salt and ½ teaspoon pepper, and saute until the meat just loses its pink color. Increase the heat to high, add the wine, and bring to a boil. Stir in the milk, tomatoes, bay leaves, and Parmesan rind, and bring to a simmer.
| | |
| --- | --- |
| Prosciutto getting crispy | Stirring in the tomato paste |
| Adding the milk | Bay leaves and Parmesan rind |
2. Slow cook the Bolognese sauce: Transfer the ingredients to the slow cooker, cover, and cook on low heat for 8-10 hours or high heat for 4-5 hours.
| | |
| --- | --- |
| Ready, set...go!  Um...slowly. | Done |
3. Serve: Discard the bay leaves and Parmesan rind. Toss 1 pound of cooked pasta with 1 cup of the Bolognese sauce, then pour 3 more cups on top of the pasta. (Or - use the 3 cups of sauce to top individual servings of pasta - see the picture below.) Freeze the rest of the sauce in 1 quart containers for later use.
| | |
| --- | --- |
| Tossed with 1 cup of sauce | Topped with a good helping of sauce |
Variations:
*Substitute meatloaf mix for the beef and pork. I had a couple of pounds of grass fed hamburger from my local farmers market in my freezer, so I picked up a pound of ground pork at my local store to fill it out.
Notes:
*Tagliatelle vs regular noodles. Tagliatelle, long, medium-width egg noodles are the traditional pasta used in Bologna. I couldn't find tagliatelle in my local store, so I let the kids pick the shape. They surprised me by picking Campanelle
, which worked out great. The trumpet shape traps the little bits of meat in the sauce.
Later, I figured out that egg fettuccine, usually sold in nests
, is just about the same thing - slightly narrower, but a good substitute.
*If possible, for the last hour of cooking, increase the heat on the slow cooker to high and remove the lid. This thickens up the sauce a bit. In their recipe, Cooks Country Magazine
recommends cooking the whole thing uncovered on high, but that makes me nervous - what if the slow cooker runs a little cold?
*If you're paying attention to the pictures, you can see I'm preparing the ingredients in the slow cooker insert. I'm loving the cast aluminum, stovetop safe insert.  One pot slow cooking, even with a lot of extra steps!  My only issue is: the insert is nonstick.  It wasn't a problem with this recipe.  But if I want browned fond on my pan, to help build the sauce, this insert won't help.  I'll have to pull out my stainless steel pans.  All-Clad, I know everyone wants nonstick nowadays, but how about an anodized aluminum insert next time?
What do you think? Questions? Other ideas? Leave them in the comments section below.
Related Posts:
Slow Cooker Pork Pot Roast
Slow Cooker Turkey Thighs with Beer and Onions
*Enjoyed this post?  Want to help out DadCooksDinner?  Subscribe using your RSS reader or by Email, recommend DadCooksDinner to your friends, or buy something from Amazon.com through the links on this site.  Thank you!