Instant Pot BBQ Meatballs take the taste of barbecue and roll it into bite-sized meatballs, ready to eat in about 30 minutes thanks to pressure cooking.
BBQ meatballs are a potluck classic. But the version everyone knows, with "only three ingredients!" of frozen meatballs, grape jelly, and barbecue sauce? It needed help. I mean, I can roll my own meatballs, thankyouverymuch.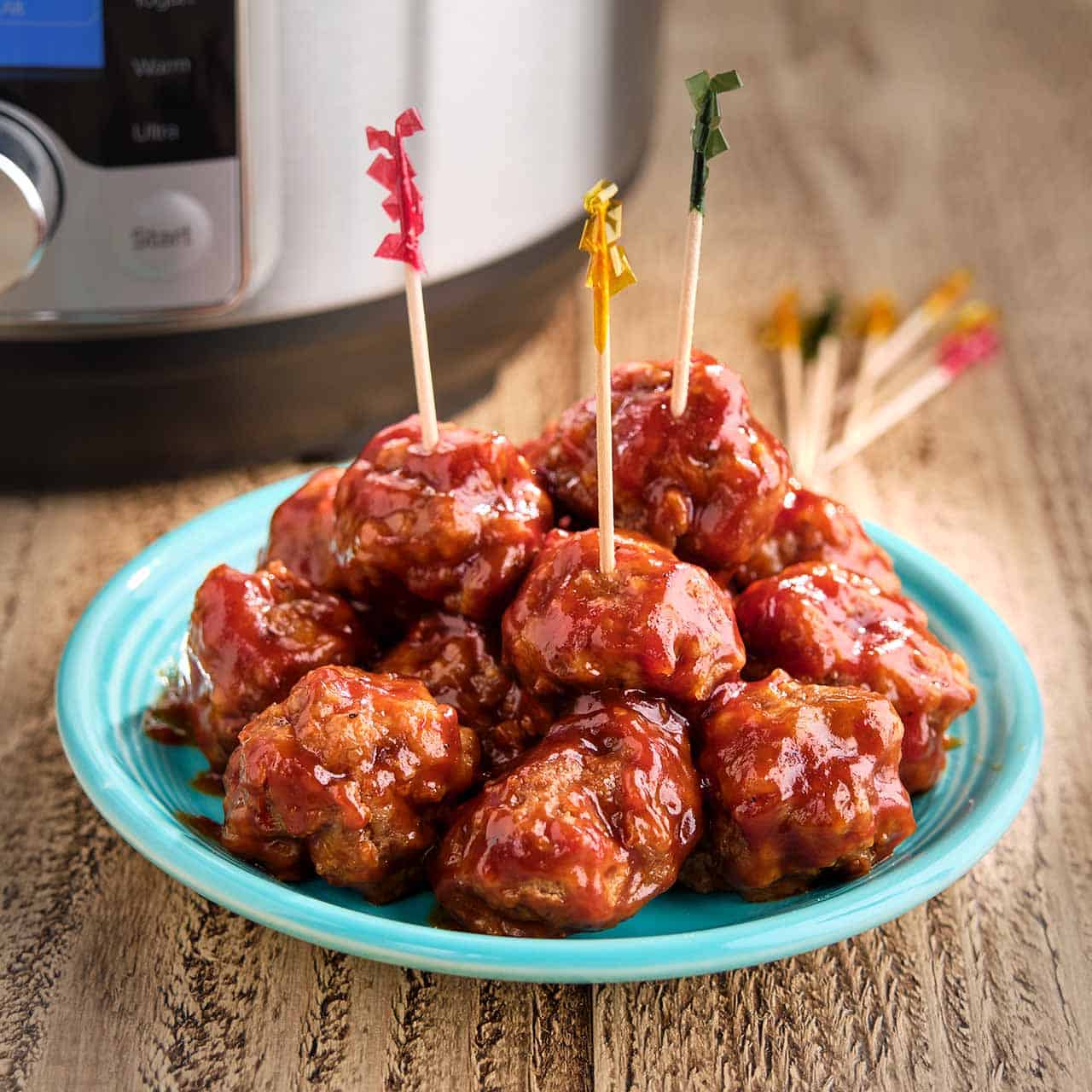 Jump to:
(Am I surprised that the original recipe is from Welch's, the grape jelly people? No. I'm not.)
I'm taking this recipe closer to the authentic flavors of barbecue with my homemade bbq rub and homemade easy bbq sauce. (That said, while there's no grape jelly in this recipe, it will turn out great with store-bought BBQ Rub and BBQ Sauce.)
🥫Ingredients
Meatloaf mix (Ground beef and pork)
Plain bread crumbs
BBQ Rub


fine sea salt
Paprika
Brown sugar
Chili powder
Black pepper
Garlic powder
Onion powder

Egg
Liquid smoke
BBQ sauce


Ketchup
Brown sugar
Cider vinegar
Dijon mustard
Soy sauce
See the recipe card for quantities.
🥘 Substitutions
Store-bought rubs and sauce: The quickest way to simplify this recipe is to buy the BBQ rub and BBQ sauce instead of making them yourself.
Sauce alternatives: Want to use a mustard-based BBQ sauce? Or hot wing sauce? Go for it; they'll taste great.
Meatball meats: You don't have to get meatloaf mix; you can use all ground beef or all ground pork. Or, substitute ground turkey. I don't recommend using ground chicken; it is too soft for this recipe, and the meatballs collapse into a meatloaf instead of coming out as individual bites.
Frozen meatballs. I'd rather not, but you're an adult and can make your own decisions. If you cook from frozen, buy smaller meatballs, and increase the cooking time at High Pressure to 8 minutes. Skip the BBQ rub (it will just bounce off frozen meatballs), and toss them with the BBQ sauce when they're done cooking.
Liquid Smoke: If liquid smoke is too weird for you, it's optional. Go ahead and skip it. But try it at least once. The hint of smoke flavor adds depth to the meatballs, and I think you'll like it. And, speaking of liquid smoke:

What is liquid smoke?
Liquid Smoke is made by burning wood in a low-oxygen environment and distilling the water vapor that is produced. That's right; liquid smoke is condensed wood smoke. It's a side effect of making charcoal, and "wood vinegar," as everyone else calls it, has been around for centuries. (Pliny the Elder mentions it back in Ancient Rome. See, Latin class was worth something!)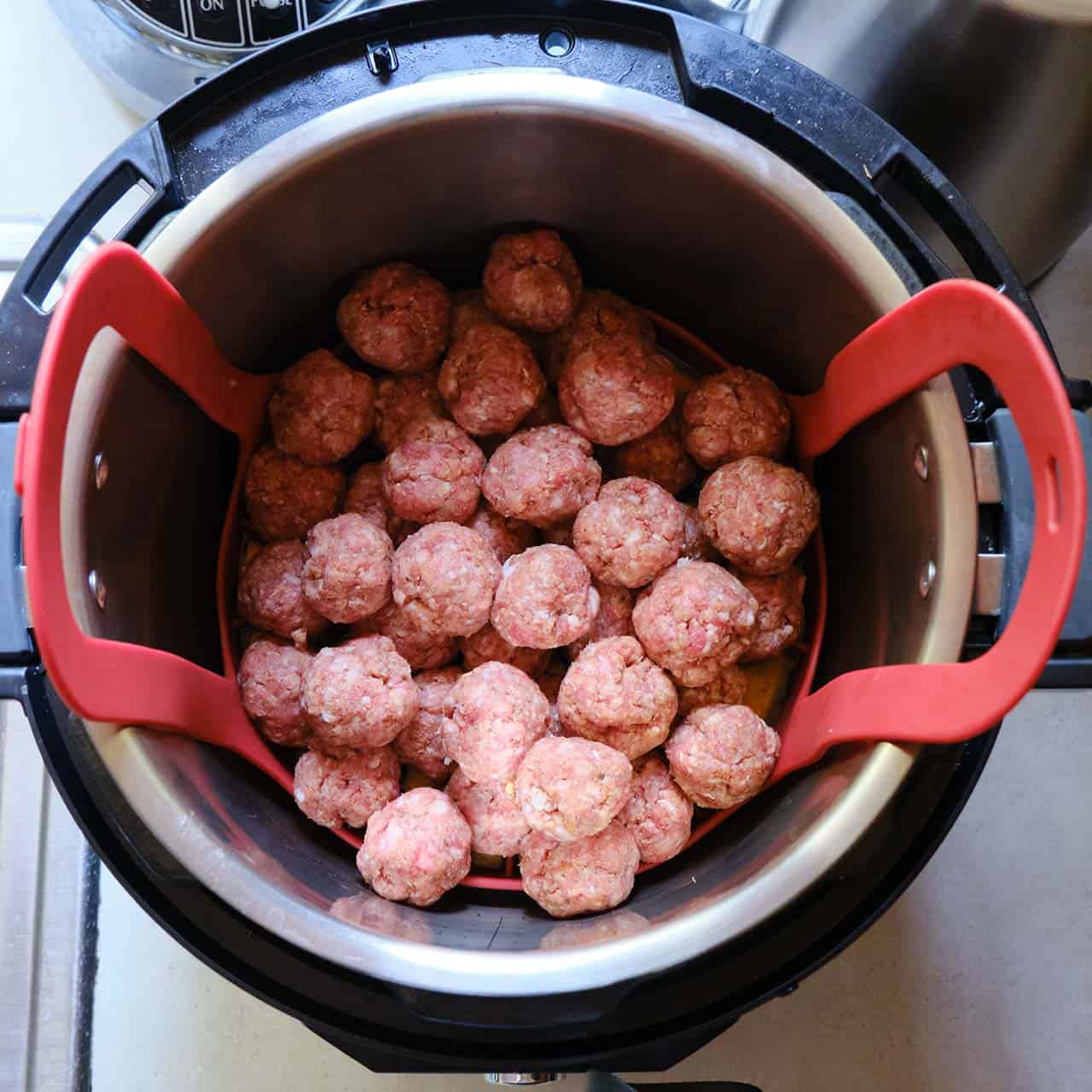 How to make Instant Pot BBQ Meatballs
Make the BBQ Rub: In a small bowl, mix the BBQ rub ingredients. (See recipe for list).
Make the BBQ Sauce: In a medium bowl, whisk the BBQ sauce ingredients. (See recipe for list.)
Mix and shape the meatballs: Mix the ground beef and pork with the bread crumbs, onion, garlic, parsley, salt, paprika, oregano, and a beaten egg. Shape into 1 tablespoon wide meatballs.
Add a cup of water and a tablespoon of liquid smoke to the Instant Pot or other pressure cooker, then add the rack or a pressure cooker baking sling.
Stack the meatballs in two layers on the rack.
Lock the lid and pressure cook on High Pressure for 5 minutes with a Natural P

🛠 Equipment
A 6-quart pressure cooker and a pressure cooker rack. (I use this fancy silicone baking sling, but the rack that came with your pressure cooker will also work.) A small cookie scoop (1 tablespoon) helps shape the meatballs. For the luxury appetizer experience, use toothpicks to make them easy to eat one-handed. (Especially if you use frilly toothpicks as I do in the picture.)
📏Scaling
This recipe doubles easily in a 6-quart pressure cooker. Cut all the ingredients in half, and this recipe will fit in a 3-quart pressure cooker. Only use one cup of water either way because the pressure cooker needs that much to come up to pressure and steam the meatballs. The cooking time does not change; it takes the same time to cook a single meatball, no matter how many are in the pot.
☃️ Storage
Don't sauce the meatballs If you want to serve them later or freeze them. They'll keep in the refrigerator for a few days or in the freezer for up to six months. Reheat them in the oven, then toss them with the BBQ sauce.
💡Tips and Tricks
Cookie scoops are my meatball secret weapon. I use a small, 1 tablespoon cookie scoop for these appetizer-sized meatballs. It makes it easy to portion and dish out the meatballs, and they come out mostly formed, only needing a little shaping.
Larger meatballs: Use a medium-sized cookie scoop, 3 tablespoon size, for the meatballs. They should come out about 2 inches in diameter. Increase the cooking time to 15 minutes at High Pressure.
My pressure cooker bakeware sling has a rim around the bottom and convenient handles. So, when I'm feeling adventurous, I lift the entire sling full of cooked meatballs out of the pot and onto a platter. (I have never bumped my elbow on the cooker's lid and dumped them all over my counter and sink, oh no, not me.)

What to Serve with BBQ Meatballs
BBQ Meatballs are a great appetizer. Or, if you make them larger, they can be the main course for a smaller gathering. I serve them with what I think of as the Barbecue Side dishes: Cole slaw,potato salad, baked beans, and pickles.
Print
🔪🔪Recipe🔪🔪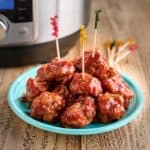 Instant Pot BBQ Meatballs
---
Author:

Mike Vrobel

Total Time:

40 minutes

Yield:

40

meatballs

1

x
Description
Instant Pot BBQ Meatballs take the taste of barbecue and roll it into bite-sized meatballs, ready to eat in about 30 minutes thanks to pressure cooking.
---
1½

pounds meatloaf mix (

1

pound ground beef,

½

pound ground pork)

¾ cup

plain bread crumbs

1 tablespoon

BBQ Rub (see below)

1

egg, beaten

1 cup

water

1 tablespoon

liquid smoke

1 cup

BBQ sauce (see below)
BBQ Rub (1 tablespoon of my Homemade Barbecue Rub), or use your favorite store-bought rub
1 teaspoon

fine sea salt (or

1½ teaspoons

kosher salt)

½ teaspoon

paprika

½ teaspoon

brown sugar

½ teaspoon

chili powder

¼ teaspoon

ground black pepper

¼ teaspoon

garlic powder

¼ teaspoon

onion powder
Barbecue sauce (1 cup of my Easy BBQ Sauce), or use your favorite store-bought sauce
¾ cup

ketchup

2 tablespoons

brown sugar

2 tablespoons

cider vinegar

1 teaspoon

Dijon mustard (or cheap yellow mustard)

½ teaspoon

soy sauce
---
Instructions
Make the BBQ rub: In a small bowl, stir the barbecue rub ingredients: Fine sea salt, paprika, brown sugar, chili powder, ground black pepper, garlic powder, and onion powder. Stir and mix until thoroughly combined, breaking up any clumps of brown sugar with your fingers. Set aside for later. (Or, use a tablespoon of store-bought BBQ rub)
Make the BBQ sauce: In a medium bowl, whisk the barbecue sauce ingredients: ketchup, brown sugar, cider vinegar, dijon mustard, and soy sauce. Whisk until smooth. Refrigerate for later. (Or, use a cup of store-bought BBQ sauce.)
Mix and shape the meatballs: In a large bowl, break up the ground beef and pork. Sprinkle the bread crumbs and tablespoon of BBQ rub over the meat, then work the dry ingredients into the meat. Once everything is evenly mixed, add the beaten egg, and work it into the meat. Scoop the mix out 1 tablespoon at a time and roll into meatballs; I got about 40 meatballs from this batch of mix, each about 1½ inches in diameter.
Everything in the pot: Put a pressure cooker baking sling or pressure cooker rack in the cooker, then pour in 1 cup of water and 1 tablespoon of liquid smoke. Stack the meatballs on the baking sling in 2 layers.
Pressure Cook for 5 minutes with a Natural Release: Lock the lid and pressure cook at high pressure for 5 minutes (Use "Manual" or "Pressure Cook" mode in an Instant Pot) for both electric and stovetop pressure cookers. Let the pressure come down naturally, about 15 minutes. (If you're in a hurry, let the pressure come down for 10 minutes, then quick release any remaining pressure.)
Serve: Gently lift the meatballs out of the pot with tongs or a slotted spoon and into a large bowl. (I use tongs because the meatballs tend to stick together.) Drizzle the sauce over the meatballs in the bowl and gently fold until the meatballs are coated with sauce. Transfer to a platter and serve; If you want to be fancy, poke a toothpick into each meatball to make them easy to grab.
Prep Time:

20 minutes

Cook Time:

20 minutes

Category:

Appetizers and Drinks

Method:

Pressure Cooker

Cuisine:

American
Keywords: Instant Pot BBQ Meatballs, Pressure Cooker BBQ Meatballs
🤝 Related Posts
Instant Pot Spare Ribs with BBQ Rub and Sauce
Instant Pot Crispy Brisket Bites
Instant Pot Pork Belly Burnt Ends
My other Instant Pot and Pressure Cooker Recipes

Enjoyed this post? Want to help out DadCooksDinner? Subscribe to DadCooksDinner via email and share this post with your friends. Want to contribute directly? Donate to my Tip Jar, or buy something from Amazon.com through the links on this site. Thank you.