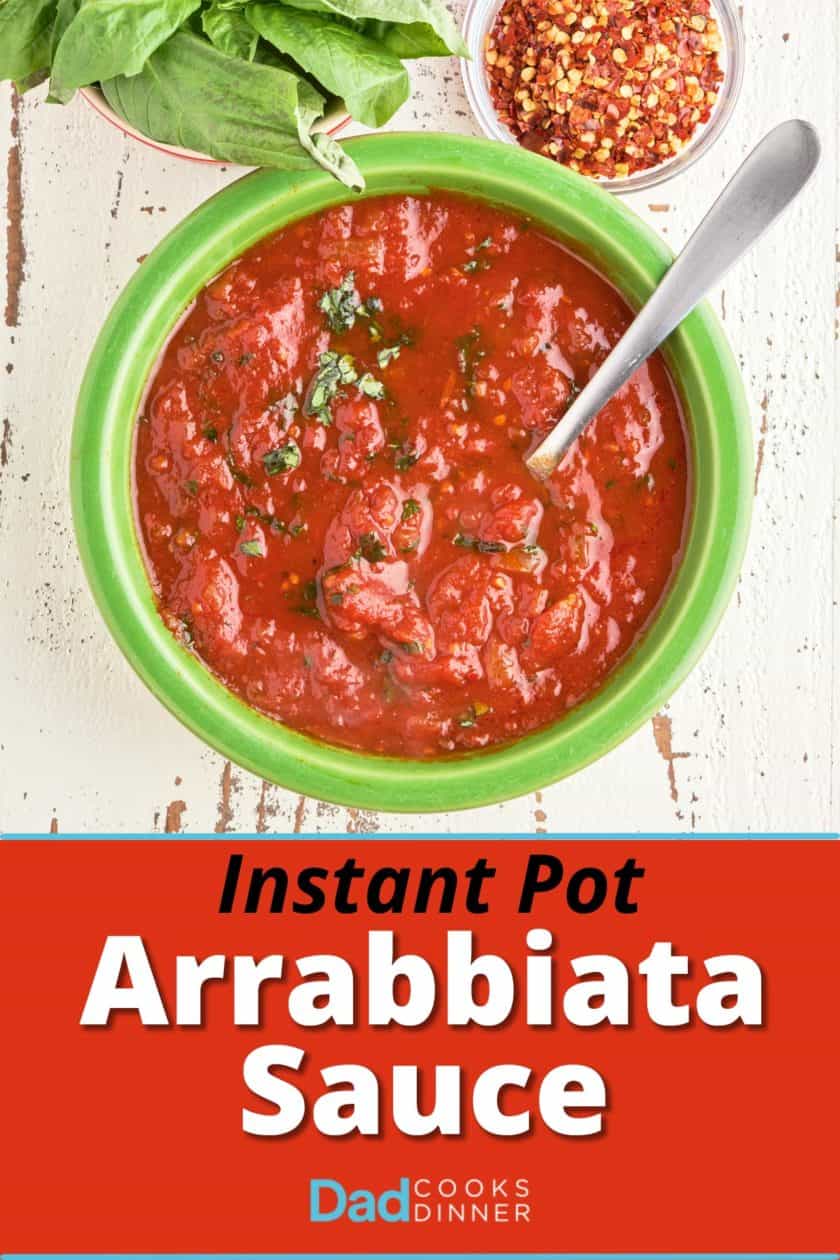 Instant Pot Arrabbiata Sauce. Spicy Italian tomato sauce from the pressure cooker, loaded with crushed red pepper, with all day simmered flavor in under an hour.
Hey Dad, is that the angry sauce?
Arrabbiata means angry in Italian. (Why am I making angry sauce this week? Oh, no reason, why do you ask?)
My son is addicted to red pepper flakes, and this recipe is for him. It's a simple Italian tomato sauce, traditionally served with penne pasta in Penne al'Arrabbiata. The "Angry" part is the load of red pepper flakes – enough that I have to be careful while they sauté with the onions in my Instant Pot. I made the mistake of taking a deep breath over the pot, to smell how the garlic was doing…and I pepper sprayed myself.
This is a simple recipe, so the quality of the ingredients matter, especially the tomatoes. Hunts tomatoes are fine, and the recipe is good with them, but I go out of my way to find cans of San Marzano tomatoes for this sauce.
Speaking of canned tomatoes: While I was working on this recipe, I found out something interesting. When I used Italian San Marzano tomatoes, I had to add more salt or the sauce tasted kind of flat. Turns out, Italian brands add a lot less salt to their cans than American brands do. When you make the recipe, check the nutrition information for the amount of sodium per serving. If the tomatoes have 50 mg or less, add a teaspoon of salt to the pot. If they have 170 mg or more, add ½ teaspoon of salt to the pot.
One last note about this recipe – pressure cooking tomatoes is always a fraught experience. I tested this recipe with multiple Instant Pots. I never got a burn warning, but it still makes me nervous. Tomatoes have a tendency to stick to the bottom of the pot and scorch. If you get burn warnings, add ½ cup of water (or even better, red wine) at the end of the "Sauté the onion and pepper flakes" section, to act as a buffer between the tomatoes and the bottom of the pan. I'm not adding that step to the recipe because I don't think you'll need it – again, in all my testing, it never happened – but I'm putting this here just in case your cooker runs hotter than the three I used to test.
Recipe: Instant Pot Arrabbiata Sauce
Print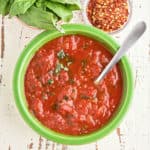 Instant Pot Arrabbiata Sauce
---
Author:

Mike Vrobel

Prep Time:

5 minutes

Cook Time:

1 hour

Total Time:

1 hour 5 minutes

Yield:

Sauce to cover 1 pound of pasta
Description
Instant Pot Arrabbiata Sauce. Spicy Italian tomato sauce from the pressure cooker, loaded with crushed red pepper, with all day simmered flavor in under an hour.
---
Scale
Ingredients
2 tablespoons

olive oil

1 tablespoon

crushed red pepper flakes

1

medium onion, diced

4

large cloves garlic, crushed

2

(28-ounce) cans whole plum tomatoes (preferably San Marzano) and their juices

½ teaspoon

fine sea salt (

1 teaspoon

if using low-salt tomatoes, like San Marzano)

½ teaspoon

fresh ground black pepper

¼ cup

minced fresh basil
Accompaniments
Penne pasta, cooked according to package directions
Grated parmesan cheese (the real stuff) for serving
More minced fresh basil for serving
---
Instructions
Sauté the crushed pepper and onions: Set the Instant Pot for Sauté mode (medium heat in a stovetop PC) and add the olive oil to the pot. When the oil starts shimmering, stir the red pepper flakes into the oil. Then stir in the onion and garlic and sprinkle with ½ teaspoon of salt. Sauté, stirring often, until the onions soften, about 5 minutes.
Add and crush the tomatoes: Add the cans of whole tomatoes, and break them up with a wooden spoon. Sprinkle with ½ teaspoon of salt (if using American tomatoes – add 1 teaspoon of salt if using Italian tomatoes – see notes)
Pressure cook for 30 minutes with a natural pressure release: Pressure cook on high pressure for 30 minutes in an Instant Pot or electric pressure cooker ("Manual" or "Pressure Cook" mode), or for 24 minutes in a stovetop pressure cooker. Let the pressure come down naturally, about 15 minutes.
Serve: Open the pot, tilting the lid away from you to avoid the hot steam. Give the sauce a vigorous stir, and break up any remaining chunks of tomatoes. Stir in the minced basil and fresh ground black pepper. Serve (traditionally with penne pasta and a sprinkle of parmesan) and enjoy!
Notes
Like I said in the header: Check the amount of sodium on the tomato's nutrition label. If the canned tomatoes have less than 50 mg of sodium per serving (that is, they're from Italy), add 1 teaspoon of sea salt. If they have more than 170 mg of sodium (that is, they're from America), only add ½ teaspoon of sea salt. (I couldn't find any tomatoes that were between those two numbers; if you manage to get some, use ¾ teaspoon of sea salt)
Tools
6 quart or larger pressure cooker (I love my Instant Pot 6-Quart Pressure Cooker)
Category:

Weeknight Dinner

Method:

Pressure Cooker

Cuisine:

Italian
Keywords: Instant Pot Arrabbiata Sauce, Pressure Cooker Arrabbiata Sauce
What do you think?
Questions? Other ideas? Leave them in the comments section below.
Related Posts
Instant Pot Marcella Hazan Tomato Sauce
Instant Pot Meatballs with Tomato Sauce
Pressure Cooker Italian Meat Sauce
My other Instant Pot and Pressure Cooker Recipes
Enjoyed this post? Want to help out DadCooksDinner? Subscribe to DadCooksDinner via email and share this post with your friends. Want to contribute directly? Donate to my Tip Jar, or buy something from Amazon.com through the links on this site. Thank you.