I missed Victoria Granof's Pasta con Ceci as it went around the internet a few years ago. Pitched as a five-ingredient, one-pot dinner, it took on a life of its own. I stumbled across it looking for a way to use a bag of dried garbanzo beans from Rancho Gordo. So, here's my take on Instant Pot Pasta con Ceci.
Why was it such a sensation? Because it is more of a concept than a recipe, simple comfort food from the south of Italy. The basic recipe can be summed up in one sentence: "Sauté olive oil, garlic, and tomato paste, stir in drained chickpeas, ditalini pasta, and boiling water, and simmer until cooked through."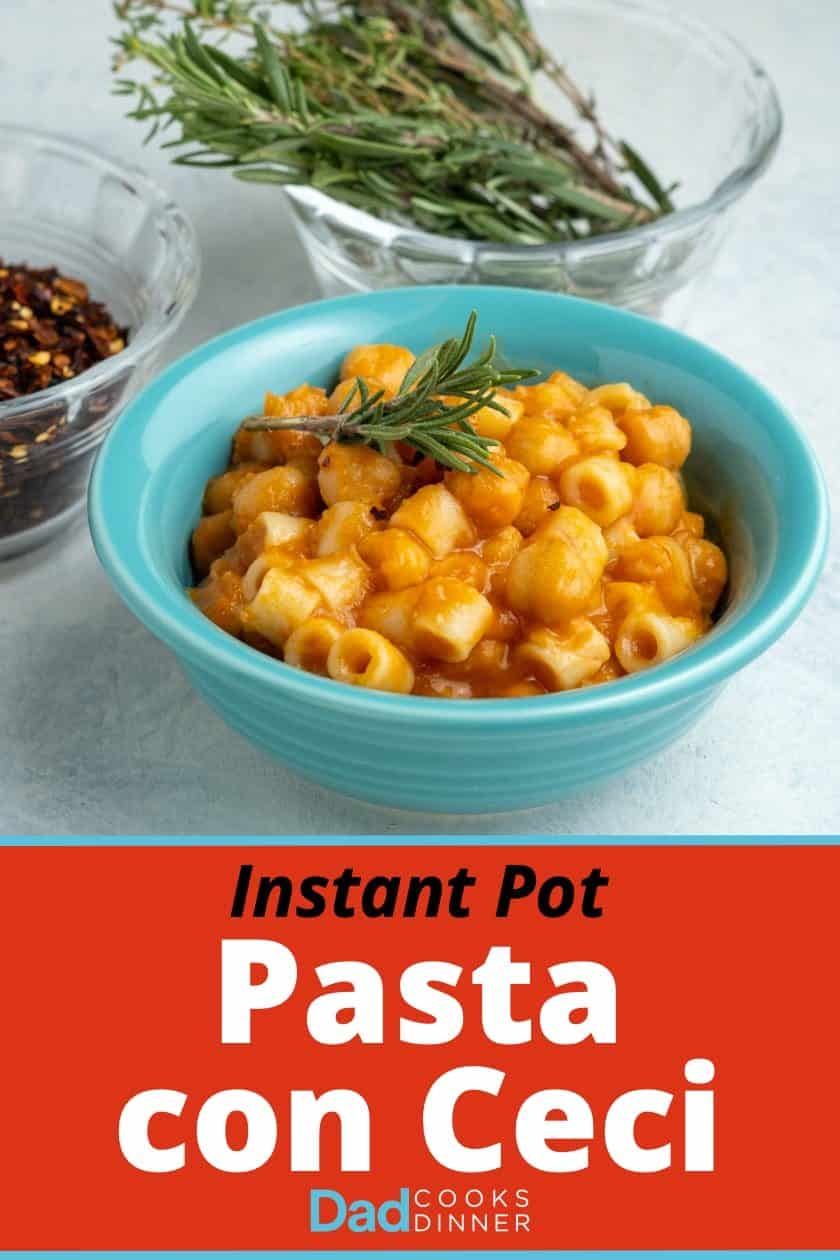 How do I make such a simple recipe better? Home-cooked chickpeas. Behold, the magic of pressure cooker beans! Instant Pot chickpeas are ready in about an hour, and the rest of the recipe is as easy as everyone said.
Looking for a quick taste of Southern Italy? Try this Pasta con Ceci recipe. You won't leave hungry.
Jump to:
🥫Ingredients
Dried Chickpeas
Garlic
Fresh rosemary
Baking Soda
Fine sea salt
Olive oil
Tomato paste
Red pepper flakes
Ditalini pasta
See recipe card for quantities.
🥘 Substitutions
Chickpeas are also called Garbanzos in Spanish, or Ceci in Italian.
Canned chickpeas: if you must, you must. Rinse and drain 2 (15-ounce) cans of chickpeas, substitute vegetable or chicken broth for the bean broth, and continue with step 2.
I add unpeeled garlic and rosemary to the beans to add a little flavor; half and onion and a dried bay leaf are good substitutes. Or skip either if you don't have them - they add a subtle flavor to the chickpeas, but there is enough other stuff going on that you won't miss them.
The baking soda helps keep the beans tender in case of hard water. (Hard water is acidic, and baking soda helps counter that.) I add it to all my bean recipes as insurance…when I remember. You can skip it if you want, but if you're having problems with beans not cooking all the way through, give it a try.
You can substitute vegetable oil (or grapeseeed oil) for the olive oil. They don't have the same flavor that olive oil does, but again, it is a subtle flavor with all the other flavors in this dish, and not absolutely necessary.
3 ounces of tomato paste is half of a 6-ounce can, or about 4 tablespoons.
To cut the heat out of the dish for picky eaters, skip the red pepper flakes. You can pass them at the table if you have diners with a range of heat tolerance.
Ditalini pasta is a small, tube-shaped pasta. You can use any small pasta shape in this recipe.
🛠 Equipment
A 6-quart pressure cooker. (Though it will fit in a 3-quart pressure cooker).
Pressure cooker dried beans are one of the reasons I became a pressure cooker convert. Try them - you'll never go back to canned beans. (OK, maybe you will, for convenience - but see the Storage section for tips on make ahead freezer beans.)
📏Scaling
This recipe scales down easily - cut everything in half if you don't need as many beans, or have a 3-quart pressure cooker. Scaling up runs into space issues. If you have an 8-quart pressure cooker, you can double this recipe, but it's too much to fit in a 6-quart pressure cooker.
🤨 Soaking chickpeas?
I get the "to soak, or not to soak?" question all the the time. I don't soak my chickpeas in this basic recipe. They don't need an overnight soak, and cook to tenderness with 45 minutes at high pressure.
That doesn't mean you can't soak the beans. They turn out fine. Soaked beans cook much quicker, 20 minutes at high pressure. I use that when I'm cooking the beans with other ingredients, where the shorter cooking time keeps me from overcooking the whole dish just to get the beans tender. Since the chickpeas cook alone in this recipe, I don't bother with soaking
Sorting Beans
Beans are an agricultural product, and stuff tends to creep in when they are processed. Beans should always be sorted and rinsed before using, to get rid of any twigs, stones, clumps of dirt, or broken beans.
To sort the beans, I pour them out on one side of a rimmed baking sheet (a half-sheet pan), to keep the beans from escaping. Then I slowly run my fingers through the pile of beans, pulling them towards me on the sheet. I watch the beans as they move, looking for anything that doesn't seem right. If I see something, I poke around in the beans until I find what caught my eye, and discard it. I repeat this a couple of times, until I'm satisfied everything is out of the beans.
Then I dump the beans into a fine mesh strainer and rinse them under cold running water, to wash off any dirt or dust still on the beans.
Now the beans are sorted, rinsed, and ready for soaking or cooking.
💡Tips and Tricks
Salt your bean water! "Salt toughens beans" is a myth. Salting before cooking helps season the beans all the way through as they cook.
If your beans are still tough when the cooking time is over, especially any "floaters" at the top of the pot, give the beans a stir, lock the lid, and pressure cook for another five minutes. Older beans take longer to cook, and if the beans have been sitting in the shelf at your store for a while, they may need extra time.
Make ahead beans - I cook chickpeas by the pound, freeze them in 2-cup containers, and then I have homemade chickpeas ready for recipes like this one. I thaw them in the microwave (about 5 minutes), then continue with the drying and roasting steps.
Adapted from: Chickpeas by Victoria Granof by way of Smitten Kitchen and Food52:
Print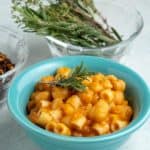 Instant Pot Pasta e Ceci Recipe
---
Author:

Mike Vrobel

Total Time:

1 hour 25 minutes

Yield:

8

servings

1

x
Description
Instant Pot Pasta con Ceci. Pasta with homemade chickpeas, comfort food from the south of Italy. Inspired by the recipe by Victorian Granof.
---
Chickpeas and Bean Broth
½

pound dried chickpeas, sorted and rinsed (about

1 cup

)

2

cloves garlic, unpeeled

1

sprig rosemary

4 cups

water

¼ teaspoon

 

baking soda (optional)

½ teaspoon

fine sea salt
Pasta con Ceci
4 tablespoons

olive oil

4

cloves garlic, peeled and sliced thin

3 ounces

tomato paste (half of a 6-ounce can, about

4 tablespoons

)
Pinch of red pepper flakes

1

batch of Chickpeas and Broth

1 teaspoon

fine sea salt

1 cup

ditalini pasta (or other small pasta shape)
More red pepper flakes for sprinkling
---
Instructions
Sort, rinse and pressure cook the chickpeas for 45 minutes with a quick pressure release: Sort the chickpeas, removing broken beans, stones, and any other non-bean material. Rinse the beans and add to the Instant Pot (or another pressure cooker). Add the garlic and rosemary, then pour in the 4 cups of water, and sprinkle with the ¼ teaspoon baking soda and ½ teaspoon fine sea salt. Lock the lid on the pot and Pressure cook on high pressure for 45 minutes in an electric pressure cooker ("Manual" or "Pressure Cook" mode in an Instant Pot), or 40 minutes in a stovetop PC. Quick release the pressure in the pot. Discard the rosemary and garlic cloves, and then pour the beans and their cooking liquid into a bowl, and wipe out the inner pot. (Or, if you have a spare Instant Pot inner pot, lift the inner pot full of beans out, set it aside, and replace it with the clean one.)
Saute the garlic and tomato paste: Put the 4 tablespoons of olive oil, garlic cloves, tomato paste, and red pepper flakes in the Instant Pot, then turn on sauté mode adjusted to high. Sauté, stirring often and breaking up the tomato paste, until the garlic is sizzling and just starting to brown, about 3 minutes.
Cook the pasta with the beans: Stir the beans and their cooking liquid from step 1 into the pot, and add 1 teaspoon of fine sea salt. Cover the Instant Pot (but don't lock the lid - use the non-pressure lid if you have it.) Bring the pot to a boil, stir in the pasta, replace the lid, and adjust the heat to sauté mode set to low (medium-low heat). Cover again, and simmer the pasta for 8 minutes, or for the time listed on the pasta package. Serve, sprinkling with more red pepper flakes if you want to kick up the heat.
Prep Time:

10 minutes

Cook Time:

75 minutes

Category:

Weeknight Dinner

Method:

Pressure Cooker

Cuisine:

Italian
Keywords: Instant Pot Pasta con Ceci, Instant Pot Pasta with Chickpeas, Pressure Cooker Pasta con Ceci, Pressure Cooker Pasta with Chickpeas
☃️ Storage
Make ahead: The chickpeas can be cooked ahead of time, and stored in 2-cup containers in their cooking liquid. They'll last for 3 days in the refrigerator, or can be frozen for up to 6 months. Thaw the chickpeas, then add them and their liquid to the recipe.
Pasta con Ceci will last for a couple of days in the refrigerator.
🤝 Related Posts
Pressure Cooker Venetian Pasta and Beans (Pasta e Fagioli alla Veneta)
Pressure Cooker and Oven Roasted Chickpeas
Pressure Cooker Pasta and Bean Soup (Pasta e Fagioli, AKA Pasta Fazool)
Instant Pot Chicken and Rice (Arroz con Pollo)
My other Instant Pot Pressure Cooker Recipes
Enjoyed this post? Want to help out DadCooksDinner? Subscribe to DadCooksDinner via email and share this post with your friends. Want to contribute directly? Donate to my Tip Jar, or buy something from Amazon.com through the links on this site. Thank you.