Oven roasted crispy chickpeas are a tasty appetizer and a fantastic snack. Crunchy on the outside, creamy in the middle, with a zing of spices. We made a batch for New Year's Eve, and they were long gone when we toasted in the New Year.
What could make them better? Homemade chickpeas. Canned chickpeas are good, but…try homemade chickpeas, at least once. You'll be surprised by the difference.
Jump to:
This recipe is an example of using the right tool for the job. Not everything is a one-pot meal, y'know? The pressure cooker is my bean-cooking secret weapon, making pressure cooker chickpeas in a little over an hour. Then I turn the job over to my oven for roasting.
(Is it still a secret weapon when I can't stop talking about it on the internet? Now, where was I? Oh, right, crispy chickpeas.)
And yes, when I talk about chick"peas", I'm talking about beans. Chickpeas are a Mediterranean bean, often called garbanzo beans because "Garbanzo" is Spanish for chickpeas.
For the spices, I keep coming back to this Western Mediterranean flavor profile: smoked Spanish paprika, cumin, coriander, and garlic. (I add cayenne for a spicy kick, but that's optional.)
🥫Ingredients
Dried Chickpeas
Baking soda
Extra virgin olive oil
Smoked paprika
Fresh ground pepper
Cumin
Coriander
Garlic Powder
Cayenne pepper
See recipe card for quantities.
🥘 Substitutions
Chickpeas are also called Garbanzos in Spanish, or Ceci in Italian.

Canned chickpeas: if you must, you must. Rinse and drain 2 (15-ounce) cans of chickpeas, and continue with step 2.
The baking soda helps keep the beans tender in case of hard water. (Hard water is acidic, and baking soda helps counter that.)
If you want to cut the heat, skip the cayenne pepper. The other spices just add flavor; the cayenne brings the heat.
Other spices: Feeling Tex-Mex? Sub in ancho chile powder for the paprika and chipotle powder for the cayenne. How about Middle Eastern? Replace the salt and spices with a sprinkle of Zatar seasoning. The only limit is your imagination and the contents of your spice rack.

🛠 Equipment
A 6-quart pressure cooker. (Though it will fit in a 3-quart pressure cooker).
Pressure cooker dried beans are one of the reasons I became a pressure cooker convert. Try them - you'll never go back to canned beans. (OK, maybe you will, for convenience - but see the Storage section for tips on make ahead freezer beans.)

A rimmed baking sheet for roasting. I use half-sheet pans for a bunch of things in my kitchen, including sorting the beans. In this recipe I actually use them for their original use - roasting in the oven.
📏Scaling
This recipe scales down easily - cut everything in half if you don't need as many beans. You can double this recipe in a 6-quart pressure cooker, but use 2 half-sheet pans for roasting. (I sized the recipe to fit in a half-sheet pan without crowding, so the chickpeas crisp better in the oven.)
Tools
🤨 Soaking chickpeas?
I get the "to soak, or not to soak?" question all the the time. I don't soak my chickpeas in this basic recipe. They don't need an overnight soak, and cook to tenderness with 45 minutes at high pressure.

That doesn't mean you can't soak the beans. They turn out fine. Soaked beans cook much quicker, 20 minutes at high pressure. I use that when I'm cooking the beans with other ingredients, where the shorter cooking time keeps me from overcooking the whole dish just to get the beans tender. Since the chickpeas cook alone in this recipe, I don't bother with soaking
Sorting Beans
Beans are an agricultural product, and stuff tends to creep in when they are processed. Beans should always be sorted and rinsed before using, to get rid of any twigs, stones, clumps of dirt, or broken beans.
To sort the beans, I pour them out on one side of a rimmed baking sheet (a half-sheet pan), to keep the beans from escaping. Then I slowly run my fingers through the pile of beans, pulling them towards me on the sheet. I watch the beans as they move, looking for anything that doesn't seem right. If I see something, I poke around in the beans until I find what caught my eye, and discard it. I repeat this a couple of times, until I'm satisfied everything is out of the beans.
Then I dump the beans into a fine mesh strainer and rinse them under cold running water, to wash off any dirt or dust still on the beans.
Now the beans are sorted, rinsed, and ready for soaking or cooking.
🎬Video: Pressure Cooker Oven Roasted Chickpeas (2:31)
Video:
Pressure Cooker Oven Roasted Chickpeas
[YouTube.com]
💡Tips and Tricks
Salt your bean water! "Salt toughens beans" is a myth. Salting before cooking helps season the beans all the way through as they cook.
If your beans are still tough when the cooking time is over, especially any "floaters" at the top of the pot, give the beans a stir, lock the lid, and pressure cook for another five minutes. Older beans take longer to cook, and if the beans have been sitting in the shelf at your store for a while, they may need extra time.
Make ahead beans - I cook chickpeas by the pound, freeze them in 2-cup containers, and then I have homemade chickpeas ready for recipes like this one. I thaw them in the microwave (about 5 minutes), then continue with the drying and roasting steps.
Print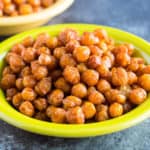 Pressure Cooker and Oven Roasted Chickpeas
---
Author:

Mike Vrobel

Total Time:

1 hour 25 minutes

Yield:

2 cups

crispy chickpeas

1

x
Description
Pressure Cooker and Oven Roasted Chickpeas. A spicy, crispy treat that starts with pressure cooker chickpeas.
---
Pressure Cooker Chickpeas
1 cup

dried chickpeas, sorted and rinsed

4 cups

water

¼ teaspoon

baking soda (optional)

½ teaspoon

fine sea salt
Oven Roasted Chickpeas
2 tablespoons

extra virgin olive oil

¾ teaspoon

fine sea salt

1 teaspoon

smoked paprika (Spanish pimenton de la vera, or use regular paprika)

½ teaspoon

fresh ground black pepper

¼ teaspoon

ground cumin

¼ teaspoon

ground coriander

¼ teaspoon

garlic powder

¼ teaspoon

cayenne pepper (optional, for heat)
---
Instructions
Pressure cook the chickpeas for 45 minutes with a natural pressure release: Put the dried chickpeas, 4 cups of water, ¼ teaspoon baking soda, and ½ teaspoon of salt in your pressure cooker. Lock the lid and cook at high pressure for 45 minutes in an electric pressure cooker (or 40 minutes in a stovetop PC). Let the pressure come down naturally, about 20 minutes. (If you're impatient, let the pressure come down naturally for at least 10 minutes, then quick release any remaining pressure.)
Dry the chickpeas and toss with oil and spices: Set the oven to 450°F. Drain the chickpeas, then gently pat dry with paper towels. Spread the chickpeas out on a rimmed baking sheet, drizzle with the olive oil, and toss to coat. Sprinkle with the salt, paprika, cumin, coriander, garlic powder, and cayenne, then toss again to coat. Spread the chickpeas out into a single loose layer.
Oven Roast the Chickpeas at 450°F until crispy (30 minutes): Roast the chickpeas in the oven until crispy on the outside, about 30 minutes. Serve hot or at room temperature.
Prep Time:

10 minutes

Cook Time:

1 hour 15 minutes
Keywords: Pressure Cooker and Oven Roasted Chickpeas, Instant Pot and Oven Roasted Chickpeas
☃️ Storage
You can make the chickpeas ahead, and store them in a 2-cup container in their liquid. They'll last in the refrigerator for a few days, and freeze for up to 6 months. Thaw them out if they're frozen, then continue with the recipe.
Roasted crispy chickpeas will last for a few days at room temperature, or a week in the refrigerator...but they'll lose some of their crunch, especially in the refrigerator.
🤝 Related Posts
Basic Recipe: Pressure Cooker Chickpeas
Pressure Cooker Hummus
Pressure Cooker Chickpeas with Toasted Parmesan Bread Crumb Crust
My other Pressure Cooker Recipes
My other Pressure Cooker Time Lapse Videos
Enjoyed this post? Want to help out DadCooksDinner? Subscribe to DadCooksDinner via eMail and share this post with your friends. Want to contribute directly? Donate to my Tip Jar, or buy something from Amazon.com through the links on this site. Thank you.