When I say "Italy," what starch pops into your head? Pasta, of course. But, as I found out on my trip to Venice, Italy is much more diverse than the "pizza, pasta, and meatballs" I grew up with. Northern Italy is all about rice. Milan, in Northwest Italy, is famous for fashion – it's from Milan, dahling – and for bright yellow Risotto alla Milanese, rice colored with a pinch of saffron, the world's most expensive spice.
Saffron is made of the stigmas of the saffron crocus flower, three tiny threads in the center of the bulb. These threads must be harvested by hand, and roughly 5,000 flowers yield one ounce of dried saffron threads. The half-gram jar of Saffron I bought for this recipe cost $10.
(That's right – it's even more expensive than movie theater popcorn.)
How did Milan become famous for saffron risotto? Well, there's a great story:
The legend of Risotto alla Milanese
In the 1600s, Mastro Valerio of Flanders led a team of workmen, creating stained glass windows for the cathedral of Milan. Valerio nicknamed one of his workers "Saffron" because he added a pinch of saffron to the pigments used to color the stained glass. After years of this nickname, Saffron got even. At Valerio's daughter's wedding, he convinced the chef to add a little saffron to the risotto. The wedding party thought the mound of bright yellow risotto was a joke – and they were right. But they tried it anyhow, and rice was a hit. The idea spread, and risotto "alla Milanese" was born.
Is this legend true? Probably not – saffron has been used in cooking throughout Eurasia for centuries; nearby Spain uses it in paella, and Bouillabaisse a la Marseillaise demands it. But it's such a great story. I had to share.
Now, on to cooking the risotto. Of course I'm using my Instant Pot – pressure cooker risotto was one of the first "killer recipes" I learned when I got my stovetop PC years ago. No carefully stirring in ladles of broth – cooking under pressure releases the starch in the rice, thickening up the dish nicely. And quickly, of course – it's done with only five minutes under pressure.
Print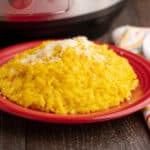 Instant Pot Risotto Milanese
---
Author:

Mike Vrobel

Prep Time:

10 minutes

Cook Time:

25 minutes

Total Time:

35 minutes

Yield:

6 cups

of rice

1

x
Description
Instant Pot Risotto Milanese. The classic: a bright yellow Milanese risotto, seasoned with butter, cheese, and saffron, the world's most expensive spice.
---
4 cups

homemade chicken broth (or store-bought low-sodium broth)
a

2

-finger pinch of saffron threads

2 tablespoons

butter

1

small onion, minced

1/2 teaspoon

fine sea salt

2 cups

Italian medium grain rice (Carnaroli, Arborio, or Vial

one

Nano)

1/2 teaspoon

fine sea salt (skip if using store-bought low-sodium broth)

4 tablespoons

butter, cut into

1 tablespoon

pieces

1/4 cup

(

1 ounce

) grated pecorino Romano cheese

1/2 teaspoon

fresh ground black pepper
More grated pecorino Romano cheese for garnish
---
Instructions
Steep the saffron in the broth: Warm the chicken broth in the microwave. Stir the saffron threads into the chicken broth and let them soak while mincing and sautéing the onion.

Sauté the onions and rice:

 Heat the butter in the pressure cooker pot over medium heat (sauté mode in an Instant Pot) until the butter stops foaming, about 3 minutes. Add the onions to the pot and sprinkle with 1/2 teaspoon salt. Sauté, stirring often, until the onions soften, about 3 minutes. Stir in the rice and cook, stirring occasionally, until it the rice turns translucent at the edges, about 5 minutes.

Pressure Cook the risotto for 5 minutes with a Quick Pressure Release:

 Stir in the chicken broth steeped with saffron, and then the ½ teaspoon salt. Lock the lid on the pressure cooker. Cook at high pressure for 5 minutes in an electric pressure cooker (Manual Mode or Pressure Cook for an Instant Pot) or stovetop pressure cooker. Quick release the pressure. Carefully remove the lid, tilting it away from you to avoid the scalding hot steam.

Stir in butter and cheese:

 Stir the 4 tablespoons of butter into the rice until it melts, then stir in the grated cheese and fresh ground pepper. Serve, sprinkling with a little extra grated cheese, and enjoy!
Notes
If you use store-bought broth, watch out for "regular" chicken broth – it's loaded with salt. If you can't find low-sodium chicken broth, use water.
You can skip the saffron – it won't be authentic Risotto alla Milanese, but it will still be a good, simple risotto.
I prefer Carnaroli rice, if I can find it – it is supposed to stand up to overcooking better than Arborio or Vialone Nano, and I don't mind having a little extra cushion when I'm pressure cooking. That said, I have made many a pressure cooker risotto with Arborio, and they've all turned out fine, so if that's all you can find, go ahead and use it.
Osso Bucco is the traditional Milanese main dish to serve with Risotto alla Milanese – check out the recipe below.
Tools
Category:

Side Dish

Method:

Pressure Cooker

Cuisine:

Italian
Keywords: Instant Pot Risotto Milanese, Pressure Cooker Risotto Milanese
What do you think?
Questions? Other ideas? Leave them in the comments section below.
Related Posts
Pressure Cooker Asparagus Risotto – DadCooksDinner
Pressure Cooker Risotto with Edamame – DadCooksDinner
Pressure Cooker Beef Shank (Osso Bucco) – DadCooksDinner
My other Pressure Cooker Recipes
Enjoyed this post? Want to help out DadCooksDinner? Subscribe to DadCooksDinner via email and share this post with your friends. Want to contribute directly? Donate to my Tip Jar, or buy something from Amazon.com through the links on this site. Thank you.