Instant Pot Rotisserie Chicken Risotto. A loaded main dish risotto, using a store-bought rotisserie chicken for both the broth and the shredded meat.
This recipe is inspired by the Roasted Chicken Risotto at Cooper's Hawk Winery and Restaurant. It's a main dish risotto, overloaded with ingredients, and I loved it.
My version of the recipe is a mashup of two basic techniques - Instant Pot Rotisserie Chicken Broth and Instant Pot Risotto. I need broth and cooked chicken for the risotto, so why not cheat and get a store-bought rotisserie chicken?
It's also a streamlined version of the restaurant recipe. I don't have a team of prep chefs so I can also add shiitake mushrooms and roasted peppers, and candied bacon. But that's OK, this version is still loaded with a variety of ingredients and flavors.
Jump to:
🥫Ingredients
Rotisserie chicken
Onion
Carrot
Celery
Bay Leaf
Arborio rice
White wine
Sun-dried tomatoes
Butter
Petite frozen peas
Fresh mozzarella
See recipe card for quantities.
🥘 Substitutions
If you have a leftover roast chicken carcass, substitute it for the rotisserie chicken. Pick as much meat off the bones as you can, then pressure cook the broth with the bones and any skin or clinging meat that's left.
You can substitute leftover chicken and store-bought low sodium chicken broth - but please, try making our own pressure cooker broth at some point. You'll be surprised by the difference.
Arborio rice is my default for risottos, because it is the easiest one to find at my local grocery stores. Carnaroli rice is supposed to be better for pressure cooking, because it stands up to overcooking a bit better than Arborio but I've made plenty of good risotto with standard Arborio rice. Vialone Nano is another good option, and is traditional in the Veneto region. If you're desperate, any medium grain white rice will work in this recipe.
You can make this a vegetarian risotto by skipping the chicken broth and the chicken, but if you're vegetarian, I'd recommend my Mushroom Risotto instead. (And, unfortunately, risotto is not vegan. Too much butter and cheese.)
The white wine is optional - it's traditional in risotto, but you can leave it out if you are avoiding alcohol.
I use pinot grigio in my risottos - it's a dry Italian white, so it feels appropriate - but use whatever white wine you have on hand.
Oil packed sun dried tomatoes or dry packed? Either work in this recipe. The dried ones will hydrate while they cook. I usually find julienne cut oil-packed sun-dried tomatoes at my local grocery store, so that's what I use.
I use petite frozen peas in my risotto, because I like the smaller pea size. If all you have are "regular" frozen peas, they will work fine in this recipe.
Fresh mozzarella: You can sprinkle some shredded regular mozzarella over the risotto right before serving if that's all you have.
🛠 Equipment
A 6-quart pressure cooker. Pressure Cooker risotto converts a lot of people to pressure cooking - no tedious stirring needed, just a few minutes under pressure.
📏Scaling
This recipe doubles easily in a 6-quart pressure cooker. Cut all the ingredients in half and this recipe will fit in a 3-quart pressure cooker.
💡Tips and Tricks
Pressure cooking is the key to easy risotto. No need to stir for 30 minutes, carefully ladling broth into the pot. I can lock the lid on my Instant Pot, set it to cook for 5 minutes, and have a fantastic risotto without all the extra work.
Pressure cooker broth is my other PC killer application. (I'm borrowing the killer app phrase from my years working in the computer industry.) I started using my pressure cooker on a regular basis because of the awesome chicken broth it makes. Want to take your risotto to the next level? Use homemade chicken broth.
That said, you don't have to make homemade broth specifically for this recipe. I make a big batch of broth a few times a month, freeze it in 2-cup storage containers, then thaw it out for use in recipes. That way, if I have some leftover chicken I can shred, I can skip making the broth and go straight to the risotto part of the recipe.
I'm tricking you into extra homemade broth with this recipe - a whole rotisserie chicken will make 8 cups of broth, but you only need 4 cups for this recipe. Refrigerate the leftover broth for up to 3 days, or freeze it for up to 6 months, and you can make a second batch of risotto whenever you're ready.
Print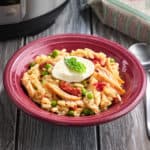 Instant Pot Rotisserie Chicken Risotto
---
Author:

Mike Vrobel

Total Time:

1 hour 55 minutes

Yield:

6

servings

1

x
Description
Instant Pot Rotisserie Chicken Risotto. A loaded main dish risotto, using a store-bought rotisserie chicken for both the broth and the shredded meat.
---
Rotisserie Chicken Broth
1

(2- to 4-pound) rotisserie chicken, breast meat removed and saved for later
Juices from the rotisserie chicken container

1

onion, peeled and halved

1

carrot, scrubbed and cut in half (or

4oz

baby carrots)

1

stalk celery, cut in half

2

bay leaves

1 teaspoon

fine sea salt

8 cups

water
Rotisserie Chicken Risotto
2 tablespoons

butter

1

small onion, minced

½ teaspoon

fine sea salt

2 cups

Arborio rice (Or Carnaroli or Vial

one

Nano rice)

¼ cup

white wine (optional)

4 cups

Rotisserie chicken broth (from above, or use store-bought low-sodium broth)

1 teaspoon

fine sea salt (skip if using store-bought broth)

4 ounces

(

½ cup

by volume) julienned sliced sun-dried tomatoes (drained if oil packed)

2

shredded cooked chicken breasts (from the rotisserie chicken, above)

2 tablespoons

butter, cut into

1 tablespoon

pieces

6 ounces

petite frozen peas (about

1 ½ cups

by volume), rinsed to remove any ice

6 ounces

fresh mozzarella, sliced
Slivered basil for garnish
---
Instructions
Pressure cook the broth for 60 minutes with a Natural Release: Cut the chicken breast meat off of the rotisserie chicken and set aside for later. Add the rotisserie chicken carcass, onion, carrot, celery, bay leaves, and salt to the Instant Pot or pressure cooker, then add the 8 cups of water. (It should just cover the rotisserie chicken – it's OK if the knobs of the drumsticks are poking up.) Lock the lid and pressure cook on high pressure for 60 minutes in an Instant Pot or other electric PC (Manual or Pressure Cook mode in an Instant Pot) or for 50 minutes in a stovetop PC. Let the pressure come down naturally – about 30 minutes. (It takes a long time for all that water to cool off.) If you're in a hurry, let the pressure come down naturally for 20 minutes, then quick release the remaining pressure. Scoop the chicken carcass and vegetables out of the pot with a slotted spoon and discard; they've given their all to the broth. Strain the broth through a fine mesh strainer, and set 4 cups aside for the risotto. (Refrigerate or freeze the extra broth for another meal - or a second batch of risotto.) If you're reusing the Instant Pot liner, wipe it out with a paper towel before continuing.
Sauté the onion and rice: Melt the 2 tablespoons butter in an Instant Pot set to sauté mode (medium heat in a stovetop pressure cooker). Add the onion and sprinkle with ½ teaspoon salt. Sauté until the onion softens, about 3 minutes. Stir in the rice and cook, stirring and scraping the bottom of the pot occasionally to make sure nothing is sticking, until it the rice turns translucent at the edges, about 5 more minutes.
Simmer the wine (optional): Pour the wine into the pot, bring it to a simmer, and simmer for 1 minute, scraping the bottom of the pot with a flat-edged wooden spoon to make sure the rice isn't sticking.
Load up the the pot: Pour in the broth. Stir in 1 teaspoon salt, the sun dried tomatoes, and half of the shredded chicken breast.
Pressure Cook the risotto for 5 minutes with a Quick Release: Lock the lid, and cook at high pressure for 5 minutes in an Instant Pot, electric pressure cooker, or stovetop pressure cooker. (Use Manual Mode or Pressure Cook for an Instant Pot). Quick release the pressure, then carefully remove the lid, tilting it away from you to avoid the scalding hot steam.
Stir in butter, steam the chicken and peas: Leave the pot in keep warm mode (or put a stovetop pressure cooker over low heat.) Stir the butter, frozen peas, and rest of the shredded chicken into the rice. Cover the pot (but don't lock the lid) and let the residual heat steam the chicken and peas until they are heated through, about five minutes.
Serve: Scoop the risotto into bowls, and top each bowl with a slice of fresh mozzarella (which will start to melt from the heat of the risotto), and a sprinkling of slivered basil. Enjoy!
Notes
If you use store-bought broth, watch out for "regular" chicken broth – it's loaded with salt. If you can't find low-sodium vegetable or chicken broth, use water.
Prep Time:

1 hour 30 minutes

Cook Time:

25 minutes

Category:

Sunday Dinner

Method:

Pressure Cooker

Cuisine:

Italian
Keywords: Instant Pot Rotisserie Chicken Risotto, Pressure Cooker Rotisserie Chicken Risotto
☃️ Storage
The broth can be made ahead and refrigerated for up to 3 days, or frozen for up to 6 months. I freeze the broth in 2-cup containers, so I always have frozen assets on hand.
According to the USDA, Leftover risotto is good for up to three days in the refrigerator, or three months in the freezer, as long as it is refrigerated (or frozen) within an hour of cooking. (I portion out my rice in 2-cup containers before I put it in the fridge or freezer.) Also, be sure to reheat the rice all the way through - to be precise, an instant read thermometer should read 165°F in the middle of the rice.
🤝 Related Posts
Instant Pot Risotto with Pork and Cinnamon (Risotto All'Isolana)
Instant Pot Mushroom Risotto (Risotto ai Funghi)
Instant Pot Risotto Milanese (Risotto alla Milanese)
My other Instant Pot and Pressure Cooker Recipes
Enjoyed this post? Want to help out DadCooksDinner? Subscribe to DadCooksDinner via email and share this post with your friends. Want to contribute directly? Donate to my Tip Jar, or buy something from Amazon.com through the links on this site. Thank you.