Instant Pot Mushroom Risotto. Risotto is so easy in the pressure cooker; here's a classic Italian Risotto ai Funghi, which can be vegetarian if you make it with vegetable broth.
David Rosengarten sold me on pressure cooking. He was one of the original presenters on Food Network, and a huge influence on my becoming a food fanatic. His late, lamented Rosengarten Report newsletter introduced me to the pressure cooker; he spent an issue singing the praises of (stovetop) pressure cookers, especially risotto under pressure. No more stirring! Done with five minutes under pressure! For him, Risotto was pressure cooking's killer app, and his enthusiasm convinced me to buy my first pressure cooker.
Jump to:
Thanks to David, I have a soft spot for pressure cooker risotto. So, a few weeks ago, when I needed a vegetarian side dish with some heft to it, risotto popped into my head.
This recipe is my take on the Italian classic, risotto ai fungi. Like most classic Italian recipes, its beauty lies in simplicity - there's not much to this recipe. Rice, garlic, butter, mushrooms, broth, and cheese, and I'm done. I sauté the mushrooms, and keep some of them to stir in at the last minute
Now, risotto is not vegan - too much butter and cheese - and to keep it vegetarian I have to use vegetable broth. When I'm not feeding vegetarians, I go with chicken broth - because keep extra homemade chicken broth in the freezer, in case of a broth emergency. It makes a quick batch of risotto an easy weeknight side dish, or a fancy side dish for a party at the drop of a hat.
Try pressure cooker risotto - and, like David Rosengarten, you'll find it's one of pressure cooking's killer apps.
🥫Ingredients
Olive Oil
Baby Portobello Mushrooms
Butter
Garlic
Arborio rice
White wine
Vegetable Broth
Grated Parmesan
See recipe card for quantities.
🥘 Substitutions
Arborio rice is my default for risottos, because it is the easiest one to find at my local grocery stores. I prefer Carnaroli rice for pressure cooker risotto, when I can find it. It stands up to cooking a little better than Arborio or Vialone Nano, and I don't mind having a little extra cushion when I'm pressure cooking.
If you use store-bought broth, watch out for "regular" vegetable broth – it's loaded with salt. If you can't find low-sodium vegetable broth, use water.
But, please, try homemade vegetable broth. If you have an Instant Pot, you will love it.
If you're not looking for a vegetarian version of the recipe, homemade chicken broth is even richer.
The white wine is optional - it's traditional in risotto, but you can leave it out if you are avoiding alcohol. I use pinot grigio in my risottos - it's a dry Italian white, so it feels appropriate - but use whatever white wine you have on hand.
I use grated parmesan, but grated pecorino Romano a good (and less expensive) substitute.
🛠 Equipment
A 6-quart pressure cooker. Pressure Cooker risotto converts a lot of people to pressure cooking - no tedious stirring needed, just a few minutes under pressure.
📏Scaling
This recipe doubles easily in a 6-quart pressure cooker. Cut all the ingredients in half and this recipe will fit in a 3-quart pressure cooker.
💡Tips and Tricks
Pressure cooking is the key to easy risotto. No need to stir for 30 minutes, carefully ladling broth into the pot. I can lock the lid on my Instant Pot, set it to cook for 5 minutes, and have a fantastic risotto without all the extra work.
Homemade vegetable broth is another key to this recipe. I know, I know, it's extra work. But it is SO GOOD. Make it ahead, freeze it in 2-cup containers, and you'll always be ready to make a fantastic risotto or vegetable soup.
Print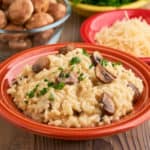 Instant Pot Mushroom Risotto (Risotto ai Funghi)
---
Author:

Mike Vrobel

Total Time:

30 minutes

Yield:

6 cups

of beans of risotto

1

x
Description
Instant Pot Mushroom Risotto. Risotto is so easy in the pressure cooker; here's a classic Italian Risotto ai Funghi, which can be vegetarian if you make it with vegetable broth
---
1 tablespoon

olive oil

8 ounces

of baby portobello mushrooms, cleaned and chopped (or substitute button mushrooms)

½ teaspoon

fine sea salt

1 tablespoon

butter

3

cloves garlic, minced

2 cups

Arborio rice (Or Carnaroli or Vial

one

Nano rice)

½ cup

white wine (or more broth)

4 cups

homemade vegetable or chicken broth (or store-bought low-sodium broth)

½ teaspoon

fine sea salt (skip if using store-bought broth)

2 tablespoons

butter

1 cup

(

4 ounces

) grated parmesan cheese
Chopped fresh parsley for garnish
---
Instructions
Sauté the mushrooms: Heat 1 tablespoon of olive oil in an Instant Pot using sauté mode adjusted to high, until the oil starts to shimmer (Medium-high heat in a stovetop pressure cooker). Add the chopped mushrooms to the pot and sprinkle with ½ teaspoon salt. Cook, stirring occasionally, until the mushrooms give up their liquid and start to brown, about 10 minutes. Move half the mushrooms to a plate with a slotted spoon, and set aside for later.
Add the garlic, rice, wine, and broth: Put 1 tablespoon of butter in the pot with the remaining mushrooms, and wait for it to melt. Add the garlic, then stir in the rice, coating it with the butter. Add the wine and scrape the bottom of the pot with a flat edged wooden spoon to loosen any browned bits of mushroom. Pour in the broth, stir in the ½ teaspoon salt (if using homemade broth), and lock the lid.
Pressure Cook the risotto for 5 minutes with a Quick Release: Cook at high pressure for 5 minutes in an Instant Pot, electric pressure cooker, or stovetop pressure cooker. (Use Manual Mode or Pressure Cook for an Instant Pot). Quick release the pressure, then carefully remove the lid, tilting it away from you to avoid the scalding hot steam.
Stir in butter, cheese, and the reserved mushrooms: Stir the 2 tablespoons of butter into the rice until it melts, then stir in the grated cheese and the sautéed mushrooms set aside earlier. Serve, sprinkling with a little extra grated cheese and some minced parsley. Enjoy!
Prep Time:

10 minutes

Cook Time:

20 minutes

Category:

Side Dish

Method:

Pressure Cooker

Cuisine:

Italian
Keywords: Instant Pot Mushroom Risotto, Risotto ai Funghi, Pressure Cooker Mushroom Risotto
☃️ Storage
According to the USDA, Leftover risotto is good for up to three days in the refrigerator, or three months in the freezer, as long as it is refrigerated (or frozen) within an hour of cooking. (I portion out my rice in 2-cup containers before I put it in the fridge or freezer.) Also, be sure to reheat the rice all the way through - to be precise, an instant read thermometer should read 165°F in the middle of the rice.
🤝 Related Posts
Pressure Cooker Asparagus Risotto
Instant Pot Risotto Milanese (Risotto alla Milanese)
Instant Pot Risotto with Pork and Cinnamon (Risotto All'Isolana)
Instant Pot Rotisserie Chicken Risotto
My other Instant Pot and Pressure Cooker Recipes
Enjoyed this post? Want to help out DadCooksDinner? Subscribe to DadCooksDinner via email and share this post with your friends. Want to contribute directly? Donate to my Tip Jar, or buy something from Amazon.com through the links on this site. Thank you.