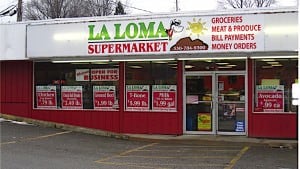 A few weeks ago, Tom at Exploring Food My Way did a review of Taqueria La Loma, a taco truck on the east side of Akron. In passing, he mentioned the truck was parked in front of a Mexican supermarket. I had to check it out; I love shopping at a good Mexican grocery store. It was even better than I had hoped!
La Loma Supermarket is well stocked, with all the staples you need if you want to cook authentic Mexican food. Even better, they have a full service Mexican butcher on the premises, with all the specialty cuts that are unique to Mexican cooking.
*The butcher gave me a sample of chicharrones to munch on while I walked through the store. Mmm…deep fried pork belly…
La Loma Supermarket
421 Darrow Rd.
Akron, OH 44305
Tel: 330-784-9300
My top five list of favorite things they sell:
1. Full service Mexican butcher:Along with the usual selection of pork, beef, chicken and seafood, they have a variety of Mexican specialty cuts. Freshly made chorizo, thin sliced pork adobo, skirt steak…even more adventurous stuff like pork feet, beef tongue, tripe (yuck), and cabrito (young goat) is available!
*That was according to a sign in the back. I'm going to buy some for Rick Bayless's Cabrito Jaliso style (Mexican Everyday
)
2. Fresh fruits and vegetables: Well stocked, with a Mexican focus. Limes, avocado and cilantro are all inexpensive compared to my local grocery store prices.
3. Spices and dried peppers: They have an impressive array of mexican spices and dried hot peppers. As I've said before, dried hot peppers are much cheaper at Mexican groceries. If you're going to use them in any quantity, you should seek out your local mexican grocery store.
4. Canned goods: Chipotles en adobo, masa harina, guava paste, mexican hot sauces, canned tomatillos, mexican chocolate…if you need it for your mexican cooking, they've got it.
5. Mexican beer: Sure, they have Corona. Doesn't everybody? They also have good mexican beer, like Pacifica, Bohemia, and my personal favorite, Negro Modelo.
*Check out this great mexican beer review by Tim Leffel, who is also the author of the Cheapest Destinations blog at travel.booklocker.com.
And don't forget to stop at their taco truck right out front, Taqueria La Loma, for a bite to eat to get you through your shopping. You won't regret it; the food is excellent.
Here's the map:

View Larger Map
Thanks again to Tom at Exploring Food My Way for letting me know about this store!
Related posts:
My list of Ethnic and Gourmet stores near Akron, Ohio.
*Enjoyed this post? Want to help out DadCooksDinner? Subscribe using your RSS reader or by Email, recommend DadCooksDinner to your friends, or buy something from Amazon.com through the links on this site. Thank you!