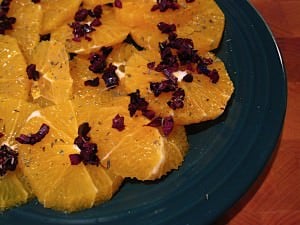 You have probably noticed a lot of citrus in my recent recipes. That's because it is citrus season. Every week in January, my local supermarket has oranges on sale. They are tasting great; juicy and sweet.
This is a recipe I picked up from Mark Bittman last year. It turns oranges into a fancy side dish for dinner. Combining orange, olive and herbs is a classic flavor pairing in the Mediterranean, and this recipe comes together in seconds.
*Yet another "so simple it's barely a recipe" post. Remember it the next time I publish a recipe that starts with the instructions"24 to 36 hours before cooking..."
Recipe: Orange and Olive Salad with Herbes De Provence

Ingredients:
2 navel oranges
¼ cup pitted kalamata olives
Herbes de Provence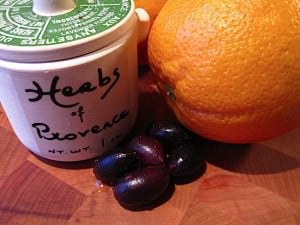 Directions:
1. Peel and slice the oranges: Cut the top and bottom off of the orange, set down on one of the cut sides, then cut the skin and pith off by cutting around the side of the orange. Then, slice the orange crosswise into thin rounds. (See picture below.) Arrange oranges on a plate.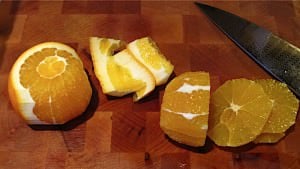 2. Compose the salad: Mince the olives, then put them on top of the oranges. Sprinkle a little herbes de provence over the top, and serve.
Variations:
*Tapenade: Substitute ¼ cup of tapenade for the minced olives
*Different herbs: Don't have Herbes de Provence? Use whatever herbs you have on hand. In the original, they used fresh thyme and fennel seeds. Coriander and fennel seeds are a combination that I'm going to try next time.
Notes:
*I skipped the olive oil from the original recipe. It adds another layer of flavor to this dish, particularly if you have a good, peppery olive oil. I was trying not to scare the kids off.
*I should have peeled and sliced another orange, and left it plain. Once they saw the black olives on the oranges, they weren't interested in trying them. Only Natalie, my adventurous eater, gave it a try. She wasn't impressed.
*I served this with my Rotisserie Leg of Lamb Provencal. It goes well with fatty or rich food. The tart, acidic, sweet taste of the oranges make it a good side dish to balance out a rich main course.
What do you think? Questions? Other ideas? Leave them in the comments section below.
Related Posts:
Fennel and Orange Salad
Rotisserie Leg of Lamb Provencal
Inspired by:
Mark Bittman - The Exalted Olive [nytimes.com]
Mark Bittman - Food Matters


*Enjoyed this post? Want to help out DadCooksDinner? Subscribe using your RSS reader or by Email, recommend DadCooksDinner to your friends, or buy something from Amazon.com through the links on this site. Thank you!