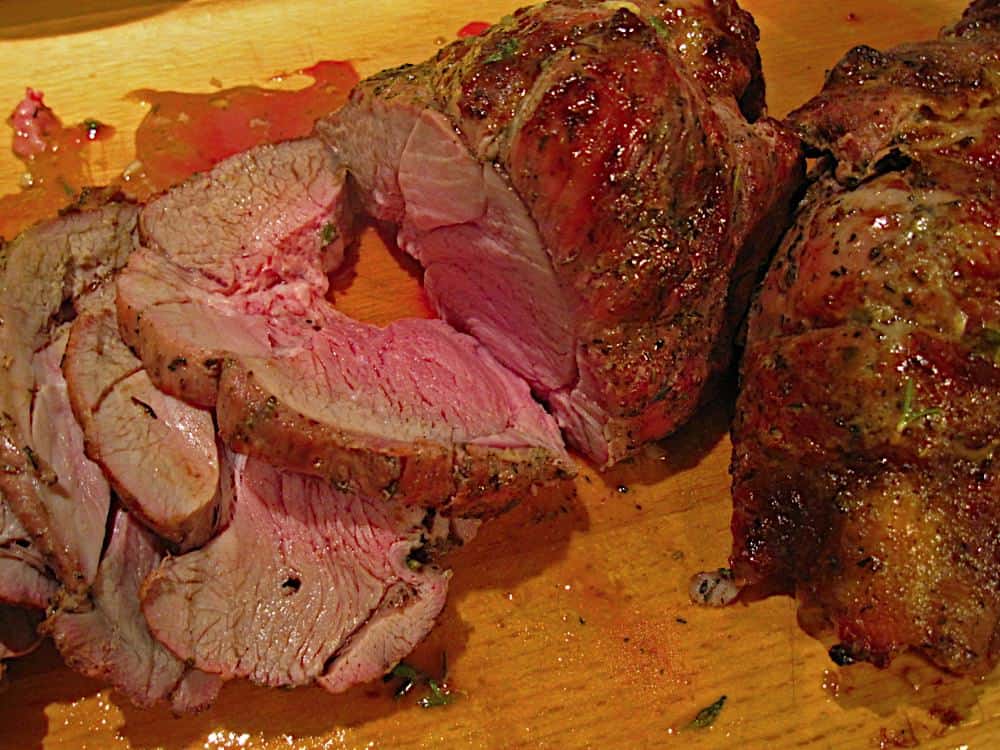 This week I'm sharing recipes inspired by my trip to the winter farmer's market in the Cuyahoga Valley National Park.
I had a pleasant surprise at the market: locally grown lamb from the Great American Lamb Company. I bought a 5 pound bone in lamb leg. Then came the fun part: when I got it home, I had to figure out what to do with it!
I decided to cook it with my rotisserie.* I've already posted recipes for rotisserie lamb leg Greek and Moroccan style. I needed to come up with something different.
*I know you're shocked, SHOCKED to hear I'm cooking it on the rotisserie.
What other leg of lamb recipes are there? Why, leg of lamb Provencal, of course!
*Have I mentioned that I spent a week at a cooking class in Provence? Not recently? Don't worry, I have a series of posts from those classes coming, so you'll get to hear all about it. Again.
I went to my cookbooks for inspiration. A few of the recipes wanted me to poke holes in the lamb with a paring knife, and stuff them with garlic, rosemary and olives. I've tried this approach before, and I've never been impressed. I know it is traditional, but it is also fussy work filling in all those little holes. And the results, while good, have never made me sit up and say, "Wow!"
It was time to go my own way. I would use a dry brine, like Judy Rodgers
 does on her lamb.* And I would baste the lamb with a lemon/mustard sauce, using a thyme and rosemary herb brush, inspired by Lulu's Provencal Kitchen
.
*Yes, I've done a lot of dry brining recently. It works, and works well.
**And, I would like to formally apologize to any linguists who read my blog. I know that "dry brine" is a contradiction in terms. But it describes what I'm doing (using salt to denature the proteins in the meat, just like a brine does), and it is what cooks seem to be calling the technique.
Recipe: Rotisserie Leg of Lamb Provencal

Cook time: 60 minutes
Equipment:
Grill with Rotisserie attachment (I used a Weber Summit 650 with an infrared rotisserie burner. Here it is.)
Aluminum foil drip pan (9"x12", or whatever fits your grill)
Butcher's twine
A few sprigs of thyme and rosemary, tied into a brush (or a basting brush)
Ingredients:
4 to 5 pound leg of lamb roast, bone in
4 to 5 teaspoon kosher salt (1 teaspoon per pound)
2 teaspoon Herbes de Provence (½ teaspoon per pound)
Lemon-mustard baste
Juice of 1 lemon (about 2 tbsp)
pinch of salt
pinch of fresh ground black pepper
1 teaspoon Herbes de Provence
2 cloves of garlic, minced or pressed through a garlic press
2 teaspoon dijon mustard
¼ cup olive oil
Directions:
1. Salt the lamb: One to three days before cooking, trim the leg of lamb by removing any fat or membrane on the outside. Sprinkle the salt and herbes de provence evenly over the lamb, cover with plastic wrap, and refrigerate.
*You want to salt the lamb at least the day before, and 2 to 3 days is better. This gives the salt enough time to dry-brine the lamb.
2. Tie the lamb, and rest at room temperature: Remove the lamb from the refrigerator 2 to 4 hours before cooking, to let it come to room temperature. Truss the lamb by tying it every 1 ½ inches, pulling it into a cylindrical shape. Find both ends of the bone, and skewer by running the spit parallel to the bone, as close to the bone as you can, through the thicker side of the lamb roast.
3. Prepare the grill: Set your grill up for rotisserie cooking at high heat. For my Weber Summit, this means removing the grates, turning the two outer burners (burners 1 and 6) to high, and turning the infrared burner to high. Then I put my drip pan in the middle, over the unlit burners, and let the grill preheat for ten to fifteen minutes. (See My Rotisserie Basic Technique Post for more rotisserie setup details.)
4. Prepare the baste: Combine all the baste ingredients in a small bowl, and whisk to combine. Tie the herb brush together.
5. Cook the lamb: Put the spit on the grill, and start the rotisserie. Cook with the lid closed. You want to cook the lamb until an instant read thermometer reads the following temperatures in the thickest part of the roast: 125*F for medium, 120*F for medium-rare, 115*F for rare. This should take 45 minutes to an hour, depending on the size of your leg of lamb. Assume roughly 15 minutes per pound of lamb, and start checking the temperature after 30 to 45 minutes, depending on how worried you are about overcooking your lamb.
With about ten minutes left to go in your cooking time, use your herb brush to baste the lamb with the lemon-mustard baste.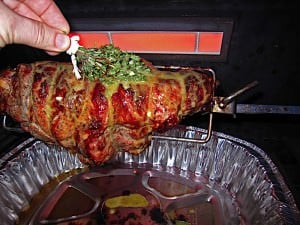 6. Rest and serve the lamb: Baste the lamb one more time, then remove it from the spit from the grill. Remember, the spit is hot, so be careful! Remove the roast from the spit, then remove the trussing string from the roast. Baste the roast one last time, then let it rest for 20 to 30 minutes before carving. Remove the lamb from the bone and slice crosswise into ¼ inch to ½ inch thick slices. Pour any juices from the resting and carving of the lamb into a gravy dish. Serve the lamb, using the juices as a sauce.
Variations:
*Poked lamb: After removing the lamb from the refrigerator for resting, poke holes roughly 1 inch apart in the lamb, and stuff with slivers of garlic, olives, and herbs (thyme or rosemary).
Notes:
*Serve with: A crusty french baguette, tapenade, goat cheese, and rotisserie pan potatoes. Good vegetable side dishes are a green salad and carottes Râpées.
*Leftovers make a delicious lamb sandwich: slice a french baguette in half, and spread the tapenade on one side and the goat cheese on the other.  Add thin sliced leftover lamb, and you're ready to eat.  Or, you can make gyros: Pita bread, tzatziki sauce, sliced cucumbers and red onions.
*The baste is a variation on my lemon herb dressing. I skipped the sugar and added mustard.
*Carving a bone-in lamb roast can be a little tricky. The easy way is to slice off pieces as everyone wants them, but I like to get a little of the crust in every piece, since that's my favorite part of a rotisseried roast.  *Diane and I tend to fight over who gets the crusty end pieces. 
To get crust on every slice, I remove the bone before carving. There is a side of the leg where the bone runs along the surface. Start with that side, running your carving knife along the bone to free it from the meat.  Then, after the bone is removed, you can carve the (now boneless) roast.
A quicker way to carve is: find the bone, then cut the lamb into two large pieces, running your knife all the way along the bone on one side, then on the other. This will leave you with some meat on the bone, which you can cut off in smaller pieces and use later in the week in your Gyros.
What do you think? Questions? Other ideas? Leave them in the comments section below.
Related Posts:
Rotisserie Leg of Lamb Moroccan Style
Rotisserie Boneless Leg of Lamb Greek Style
Rotisserie Pan Potatoes
Click here for my other rotisserie recipes.
Inspired by:
Locally grown leg of lamb from the Great American Lamb Company
Lulu's Provencal Kitchen
---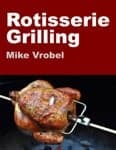 Check out my cookbook, Rotisserie Grilling.

Everything you could ask about the rotisserie,
plus 50 (mostly) new recipes to get you cooking.

It's a Kindle e-book, so you can download it and start reading immediately!
---
*Enjoyed this post? Want to help out DadCooksDinner? Subscribe to DadCooksDinner using the RSS or Email options on the right, link to this post from your blog, recommend DadCooksDinner to your friends, or buy something from Amazon.com
through the links on this site. (Like my Rotisserie Grilling cookbook...)