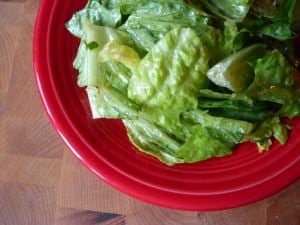 For Vinaigrette Week: This is a classic French vinaigrette*, made with red wine and Dijon mustard.
*Did I mention I took some cooking classes in Provence? And one in Paris? Stop me if I told you this one already...
This is my what I make for a quick weeknight salad when I have mild lettuce. Romaine, greenleaf, bibb, or iceberg go well with this. The mustard and vinegar give this dressing some kick, to liven up the neutral flavor of the lettuce.
Recipe: Red Wine Mustard Vinaigrette
See the Vinaigrette Basic Technique (Vinaigrette Basic Technique) for an overview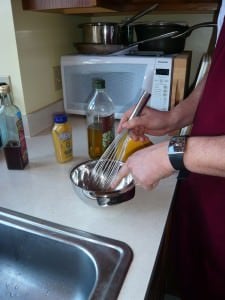 Showing off my Vinaigrette skills

Ingredients:
*For a 7oz bag of Romaine Lettuce
1 tablespoon red wine vinegar
pinch of salt
pinch of freshly ground black pepper
1 teaspoon Dijon mustard
3-4 tablespoon (scant ¼ cup) Extra Virgin Olive Oil
1 teaspoon finely minced shallot (optional)
Directions: Easy Way
1. Whisk to blend: Whisk all the ingredients in a small bowl until creamy.
OR:
Directions: With Finesse
1. Dissolve the salt: Whisk the salt, pepper and vinegar in a small bowl until the salt dissolves, usually about 10 seconds.
2. Mustard: Whisk the mustard into the vinegar
3. Add the oil slowly: Add the oil in a slow stream, whisking until creamy and emulsified.
4. Add shallot: (Optional) Whisk in the shallot.
5. Serve: Just before serving, toss the lettuce with the vinaigrette, and serve.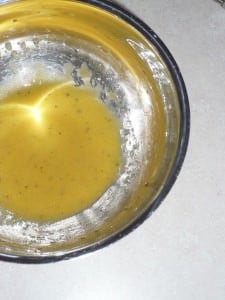 Variations:
*add 1 teaspoon finely minced tarragon. This is the big one - add about 1 teaspoon of finely minced shallot (or grate it on a Microplane Zester
). Shallot is standard with this recipe; I skipped it because I was in a hurry, and this is the dressing I make when I'm in a hurry.
*Use white wine vinegar instead of red wine. I won't tell.
Notes:
*Again - think mild lettuce for this one.
*This also goes well with steamed vegetables. Cook's Country had a steamed Broccoli tossed with Red Wine Vinaigrette recipe that I often make, using this recipe for the vinaigrette.
Inspired by:
Lots of places, but when I think of the details I learned in the technique, I tend to think of Cook's Illustrated.