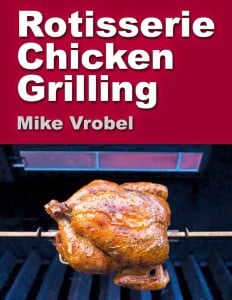 Does your grill have a rotisserie? If so, rotisserie chicken is the first thing you should cook on it.

If you are just starting out, Rotisserie Chicken Grilling will teach you the basics. How do you set up the rotisserie? What equipment do you need? How do you secure the bird on the rotisserie spit? It's all explained.

There are over 50 recipes for rotisserie chicken; from simple salt and pepper birds to elaborate barbecue sauces; from Mediterranean herb pastes to Asian glazes. There are recipes to fill up the drip pan, bathing potatoes in chicken drippings, and a section on what to do with leftover chicken, from soups to salads to my favorite, Taco Night.

The Kindle edition has full color pictures with each recipe - you are sure to find a new favorite.
Now, get outside and start grilling a chicken on your rotisserie!

About the author: Mike Vrobel is the food-obsessed author of the Rotisserie Grilling Cookbook, and writes about food on his blog, DadCooksDinner.com.
The paperback edition of Rotisserie Chicken Grilling is now available! (Yes, I'm a bit ahead of schedule - formatting the paperback was easier than I expected.)
For story behind the book, check out my post about the Kindle edition from a couple of weeks ago. For the paperback edition, I have a few things things to add:
Black and White? Seriously?
I'm sorry about the black and white pictures in the paperback. Color printing is surprisingly expensive through my on-demand printer (and every other printer I've looked into). I'd have to raise the price of the book from $9.99 to $29.99 to earn the same amount of money per copy. I love my own writing...but I can't justify that price.
So, what am I doing about it? I enrolled Rotisserie Chicken Grilling in Kindle's Matchbook program. If you buy a paperback of Rotisserie Chicken Grilling, you will be eligible to download the Kindle edition for free. That way, you can get all my pretty, full color pictures without paying an arm and a leg. Remember: you don't need Kindle hardware to read kindle books. If you're reading this post, I'll bet the free Kindle Reader app is available for your platform. As an example; I read all my kindle books on my iPad and iPhone, using the Kindle app. I don't own a Kindle, and I can't wrestle Diane's away from her.
*Note: Amazon doesn't have Matchbook connected between the two books yet. Don't worry - once they connect the two, you'll be able to get your free Kindle copy, no matter when you bought the paperback. Go to the Kindle Matchbook page and click on the "Find Your Kindle Matchbook Titles" button.
Reviews and Feedback
As I said in my earlier post, online reviews are the lifeblood of indie books. If you read and enjoy Rotisserie Chicken Grilling, please leave a review on Amazon - it is a huge help to me.
When the paperback was ready to print, I hesitated. My finger hovered over the trackpad, refusing to click the "submit" button. It took a force of will to push the button, Frank. Why? Because I'm still worried about typos and other proofreading errors. If you find anything, please let me know? I'll get it fixed as soon as possible.
Thank you again, everyone. I'm writing because you're out there reading. I hope you enjoy Rotisserie Chicken Grilling!
Rotisserie Chicken Grilling on Amazon.com
What do you think?
Questions? Other ideas? Suggestions for my next cookbook? Leave them in the comments section below.