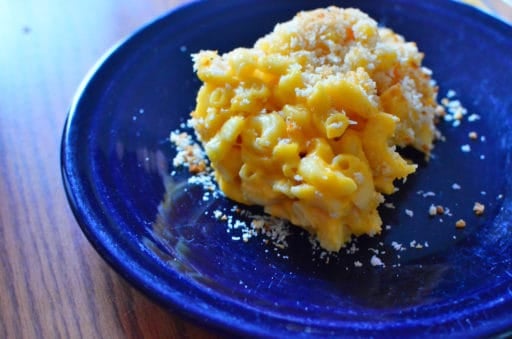 Why is it hissing and spitting so much?
It is a busy Wednesday, and I need a quick dinner, so out comes my Instant Pot for some Pressure Cooker Mac and Cheese. And then…something goes wrong. When I flip the switch to dump the pressure, instead of a blast of steam, I get a spluttering mix of steam and starch, spraying a fine white mist over my pressure cooker lid.
I gotta say, this was the first recipe of yours I've had trouble with…I could NOT get it to thicken at all. I even drained the cooking liquid…
- Commenter Rev
I wipe down the cooker, then open the lid. Normally, the noodles suck up all the water. Not today - the noodles are still covered with water. What's going on? I flash back to a comment from last week, one of the few negative remarks about my recipe. I blew it off at the time. Must be user error. (Sorry Rev.) Now I'm doubting myself. Is there something wrong with this recipe? No, it can't be. That's not possible. It's a simple ratio: 4 cups of water to 1 pound of macaroni.1Plus spices, evaporated milk, and shredded cheese. My kids love it, and I make it once a month. It's always worked before.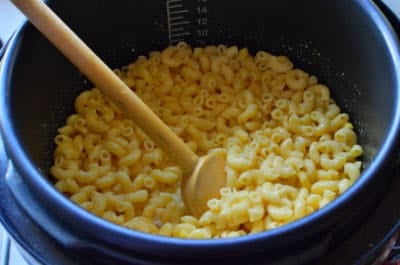 I press on with the recipe, stirring in the evaporated milk and the cheddar, hoping the noodles will suck up the liquid as the cheese melts. No luck - it is still watery. I turn the pressure cooker from warming mode to "sauté" to boil off the excess liquid. , and constantly scrape the bottom of the pan with my silicone spatula to keep the cheese from sticking and burning.
If the cheese sticks, it will burn, so I have to keep it moving. I constantly scrape the bottom of the pot with my silicone spatula, leaving plenty of time to wonder what went wrong…and beat myself up. This is one of my most popular recipes, bringing in lots of visitors every day. What if it doesn't work? Did I miss something? Five for five dollars. Am I leading my readers astray?
Wait. Back up. Five for five dollars? What does that mean. Five for…wait a minute!
I snatch the pasta box out of the garbage can, brush off the coffee grounds, and there it is. 12 ounces of "high fiber" macaroni…in the same size box as a regular, 16 ounce box of noodles. It was on sale, and I thought "Why not? Get the healthier pasta and save money." 2Ronzoni "SmartTaste(r)" With 2.5x the fiber! (And 0.75x the pasta!) No wonder the pasta didn't absorb the water - I was 25% short.
For ten more minutes I stir, as the liquid slowly reduces. I have plenty of time to grumble about deceptive box sizes. Finally, the mac and cheese is thick enough to serve.3If I was paying attention, I would have cut the water in the recipe by 25% - from 4 to 3 cups - to match the smaller box of pasta.
After all that? No one noticed. That is, until the pan was suddenly empty, and the kids were arguing about who ate more than their fair share.
You already had three helpings!
I only had two!
That's not fair!
[Dad] That's enough you two.
You're a butt.
[Dad] Hey! I said stop it!
…
No, you're a butt.
Just another home cooked meal, where every day is an adventure.
Special thanks to commenter Rev for following up - they also had a 12 ounce box of bow tie pasta. Aha!
Related Posts
Pressure Cooker Mac and Cheese
Complete list of my Pressure Cooker Recipes
Enjoyed this post? Want to help out DadCooksDinner? Subscribe to DadCooksDinner via eMail or RSS reader, recommend DadCooksDinner to your friends, and buy something from Amazon.com through the links on this site. Thank you.