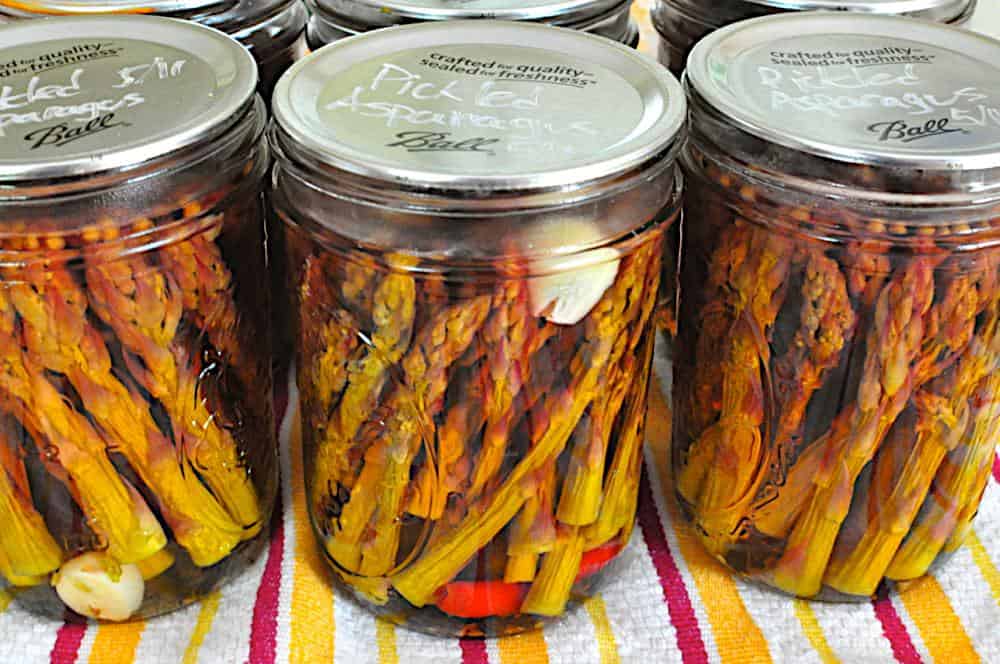 I've become a canner. Last year, I took the plunge, and canned a bunch of vegetables from my CSA. The best part of canning? Learning about all the different things you can pickle. I love pickles; salty, vinegary, sharp, cool and crunchy. A new-found favorite is pickled asparagus.
Yes, pickled asparagus sounds weird. I wondered why someone would do that to poor, defenseless asparagus. I mean, you can grill it, saute it, roast it, steam it...why bother pickling it? Two reasons. One, asparagus is perfect for pickles. The vinegar brine is a great counterpoint to the strong taste of the asparagus. The second reason is to stretch out asparagus past its late spring season. I try to buy my food seasonally; if I pickle asparagus, I still have it later in the summer. Asparagus season is so short...why not stretch it out?
Now, if canning is not your thing, don't worry. You can make refrigerator pickled asparagus. Ignore the "process in a water bath" part of the instructions, and store the pickles in the refrigerator. They'll last for about a month. Unless I come to visit; then the pickles last until I can eat my way to the bottom of the jar.
*In fact, if you want to make a small batch of these pickles, I would go the refrigerator pickle route. Canning takes extra effort; why bother with the boiling water bath to make two pints of pickles? My new rule of thumb, learned from canning last year: if I can't make four pint jars worth, it's not worth canning. In my house, three pints of pickles last less than a month. We do love our pickles.
That said, I found out why people are so into canning - it is dead easy. Picture this scenario: I am deep in the you-pick section of a farm, bag bulging with produce. I can't stop picking, it all looks so good and fresh...but I have no idea what I'm going to do with all of it. Canning is my new answer to this. Check out the Ball Blue Book Guide To Preserving
, or the National Center for Home Food Preservation to get started.
*And then move on to my favorite canning blogs: Food In Jars and Savoring the Season 
Recipe: Pickled Asparagus

Adapted From: National Center for Home Food Preservation Pickled Asparagus
Processing time: 10 minutes
Equipment:
Ingredients:
For 6 pint jars
8 pounds asparagus
6 cloves garlic
3 dried hot chiles, rinsed and halved (or ¼ teaspoon red pepper flakes per jar)
1 ½ teaspoons whole black peppercorns (¼ teaspoon times 6)
1 ½ teaspoons whole coriander seed (¼ teaspoon times 6)
4 ½ cups water
2 ¼ cups white vinegar (5%)
2 ¼ cups cider vinegar (5%)
½ cup pickling salt
Directions:
1. Prep the vegetables:Rinse the asparagus, garlic, and hot chiles. Peel the garlic, and cut the chiles in half. Trim the hard ends from the asparagus and throw away. Cut the asparagus into 4 inch pieces, measured from the tips, so it fits in the jars with a ½ inch of headroom.
Save the leftover ends of the asparagus for another meal.
Ingredients, ready to go
(Not shown - my other five bunches of asparagus)

Left to Right:
Tips for pickling; stems for later; woody stalks for garbage
2. Prep the jars: Sterilize the pint jars in a pot full of boiling water (or run them through the dishwasher). Into each jar, put 1 clove of garlic, half a chile, ¼ teaspoon of peppercorns, and ¼ teaspoon of coriander. Tightly pack the each jar with asparagus, tips pointing up. In a large saucepan, bring the water, vinegar, and pickling salt to a boil to make the brine. Carefully ladle the hot brine over the asparagus, leaving at least ½ inch of headroom in each jar.
*It's OK if the asparagus tips are a little above the brine
3. Process the jars:
For an overview of canning, see Using Boiling Water Canners and Principles of Home Canning [pdf] [uga.edu/nchfp]
Wipe the edge of the jars clean with a damp cloth, then put the lids and rings on the jars. Process the pickles in a boiling water bath for 10 minutes (more at higher altitudes). Wait 2 days before opening to let the asparagus pickle.
*This step is optional. For refrigerator pickles: seal the jars, let them cool to room temperature, then store in the refrigerator and eat within a month.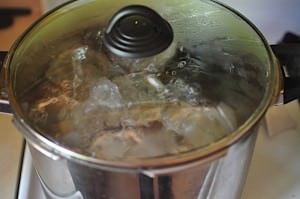 An exciting picture:
boiling water
Variations:
*First, and important safety tip: when canning, you have to be very careful - the recipes must have specific levels of acidity and salinity to work. I will play with the spice or herb mix in a recipe, but I am careful to follow the brine and vegetable proportions from published, tested recipes.
*For a "standard" pickle, replace the spices and the hot pepper with a half teaspoon of pickling spice and a half teaspoon of dill seed.
*I use a half and half mix of cider and white vinegar; you can use all of one or the other, depending on your taste. The important part is the 5% acidity.
Notes:
*Buying asparagus: at your local grocery store, a bundle of asparagus usually weighs a pound. Of course, fresh asparagus from your local farmers market is better for this. Assume a pound per pint jar, plus an extra pound or two per six jars.
*If you find taller asparagus, the leftover stems can be canned. Mine were a little on the short side, so I reserved them for later.
*I've read that tall 12 ounce jelly jars are better for canning asparagus; the tall jar results in less wasted asparagus. I prefer to use wide-mouth pint jars, to standardize all the extra canning equipment I have to buy. That way, I have a single ring and lid size.
What do you think? Questions? Other ideas? Leave them in the comments section below.
Related Posts:
Steam Sauteed Asparagus (for the leftover stems)
Spicy Pickled Carrots
Pickled Dilly Beans
Adapted from:
National Center for Home Food Preservation Pickled Asparagus
*Enjoyed this post? Want to help out DadCooksDinner? Subscribe using your RSS reader or by Email, recommend DadCooksDinner to your friends, or buy something from Amazon.com through the links on this site. Thank you!