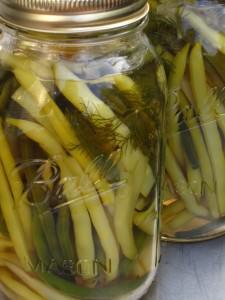 Here is the recipe that started me on my pickling kick: Dilly Beans. This recipe gives you a sweet and dill combination that goes well with the flavor of the beans. I brought my first batch to a friend's party as an appetizer.* Everyone loved them, but Diane couldn't keep away from them. We ate the whole quart jar of beans, and Diane ate at least half of them.
*Hi, Pam and Dave! Thanks again!


I saw this recipe in Cook's Country
magazine, the less uptight, younger sibling of Cook's Illustrated
. It is a good way to use up beans; as you can see in the pictures, I had a lot of beans to use up. I tripled the recipe, and made three quarts of dilly beans.*
*It's a week later, and we have a quart and a half left. Did I mention that Diane loves green beans?
Recipe: Pickled Dilly Beans
Equipment:
Ingredients:
1 pound beans, stems trimmed (I had a mix of green, yellow and tiger beans)
2 Crushed cloves of Garlic
2 Sprigs of Fresh Dill
Pickling Liquid:
0.5 cups water
1.5 cups white vinegar
0.75 cups sugar
1 teaspoon table salt
2 tablespoons dill seed
Directions:
Click here for the basic technique of pickling vegetables.
1. Prep the vegetables: Trim the stem ends off of the green beans. Put the green beans, crushed garlic and dill sprigs in your jar.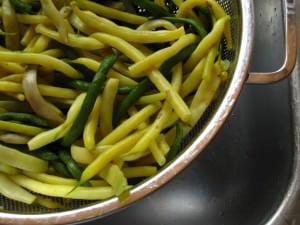 2. Make the pickling liquid: Combine the Pickling Liquid ingredients in a medium saucepan, and bring to a boil over high heat. Reduce the heat, and simmer for 5 minutes to open up the flavor of the spices.
3. Combine the liquid and the vegetables: Carefully pour the pickling liquid into the jar until the vegetables are covered. (Optionally, pour pickling liquid through a fine mesh strainer first, to strain out the herbs and spices; your pickled vegetables will look less rustic that way.)
*I pour the pickling liquid from my sauce pan into my Pyrex 2-Quart Measuring Cup
, and from there into the jar. The spout on the measuring cup makes this much less messy.
4. Refrigerate: Let cool at room temperature, close the lid on the jar, and refrigerate. It's best to refrigerate for at least one day, and preferably one week. They will last, refrigerated, for up to 3 months.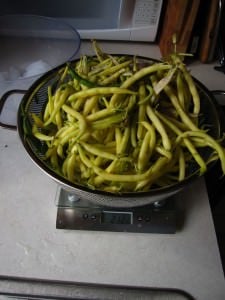 This is how I preserve 3 pounds of beans...
Variations:
*Blanch the beans to set their color. In the original recipe, they blanched the beans. Before step 1, bring a pot of salted water to a boil, then cook the beans for 3 minutes. Remove to a bowl of ice water to cool. Remove from the ice water, drain, and continue with recipe.
*Add some spices other than dill. In the original recipe, you add 1 tablespoon of mustard seeds and 1 tablespoon of peppercorns. And...I forgot to add them. The recipe turned out great regardless. Another good option would be pickling spices, a mix of spices that, well, they go well with pickling.*
*That's kind of how the got the name...


*[Update 9.12.2009] Or go with a less sweet dilly bean. See this comment on GetRichSlowly for Kris's award winning Ginger Pickled Beans. [getrichslowly.com]
Notes:
*Use as an appetizer or side dish, or as part of a vegetable salad.
*These pickles will keep for about 3 months; the vinegar acts as a pretty strong preservative. Watch out for fur or fuzz growing on top of the liquid in the jar. When you see that, it's time to throw them away.
*I had a hard time packing the beans in tight with the narrow mouth jar. I would recommend using wide mouth jars for this recipe. Or, just living with the fact that you need an extra jar.
*This recipe has a high proportion of vinegar to water (3:1 vinegar to water). Next time, I'm going to try more water, along the lines of the basic technique, just to see what happens. I'm also going to try cider vinegar, since I think it will add some flavor to the recipe. Oh, and I'm going to remember the mustard and peppercorns...
Questions? Comments? Other ideas? Leave them in the comments section below.
Related Posts:
Click here for my Pickled Vegetables basic technique.
Adapted From:
Cooks Country Magazine: Dilly Beans (June 2009 issue)
*Enjoyed this post? Want to help out DadCooksDinner? Subscribe to DadCooksDinner using the RSS or Email options on the right, link to this post from your blog, recommend DadCooksDinner to your friends, or buy something from Amazon.com
through the links on this site. Thank you!