Here is my five dollar challenge meal. I fed my family of five for $16.24, with enough leftovers for a couple of lunches later in the week.
The only problem? The kids didn't like the green stuff - the Swiss chard. They gobbled down the bacon, then picked at the beans and pasta around the chard leaves.
*Someday my kids will love vegetables. This is like saying: someday the sun is going to burn out and become a dwarf star. Sure, it's going to happen, but I'm doubt I'll be around to see it.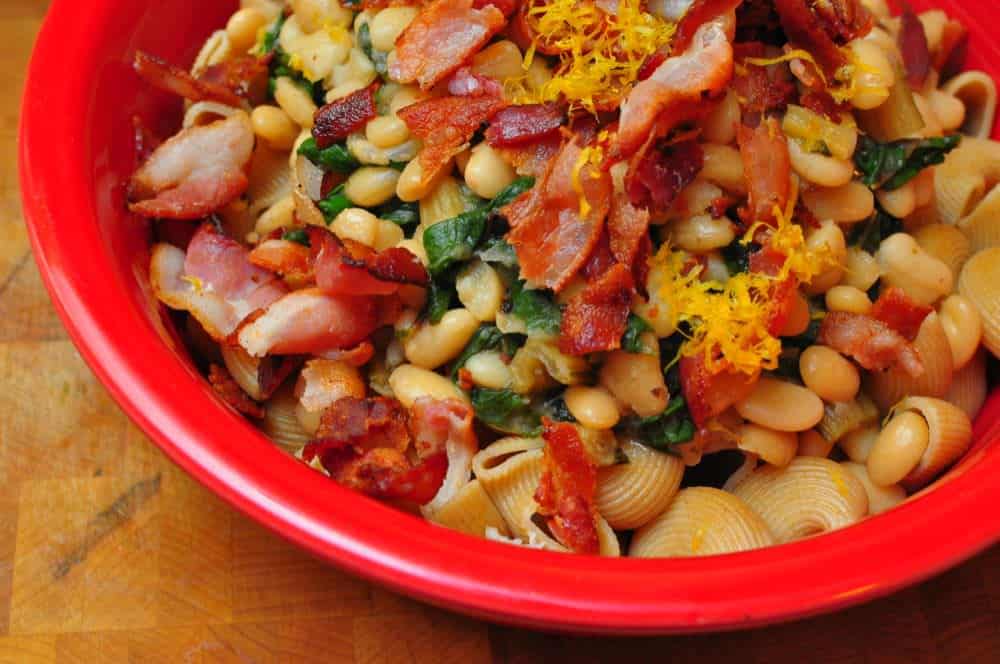 Jump to:
Why cook a five dollar challenge meal in an expensive pressure cooker?
Pressure cookers are great for cooking beans. Instead of hours, the beans are cooked through and creamy in 30 minutes. When I want a weeknight meal, like this one, 30 minute beans are critical. You don't need an expensive pressure cooker; any six quart or larger pressure cooker will do the job.

🥫Ingredients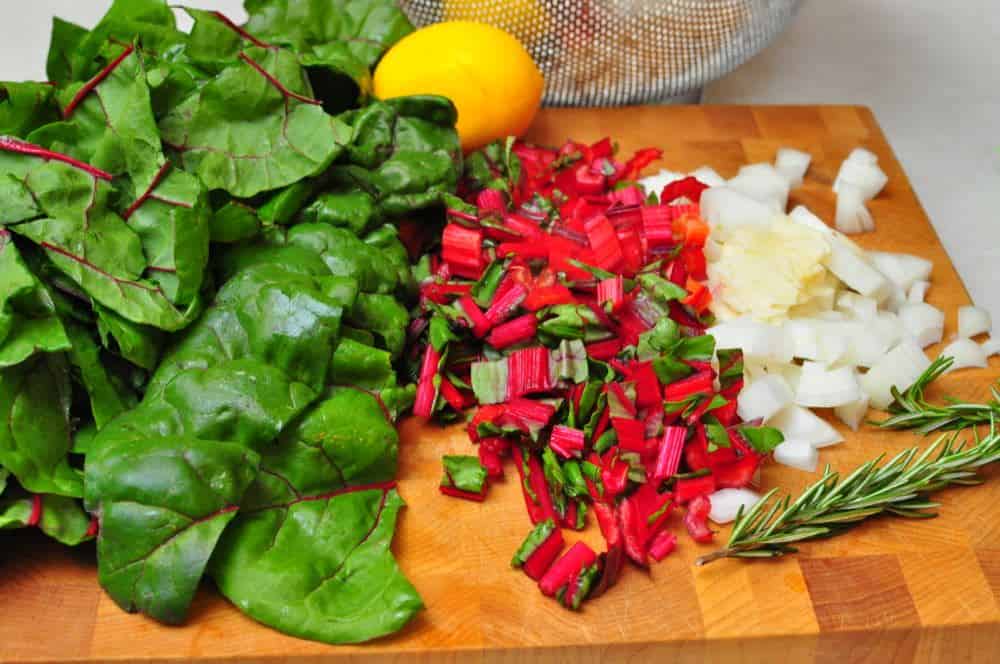 See recipe card for quantities.
🥘 Substitutions
If you can't find Cannellini beans, you can substitute great northern beans.
To make this a vegetarian recipe, skip the bacon. There's enough going on that you won't miss it.
Bacon is kind of cheating with this recipe; diced pancetta would be more authentic - but back when I wrote this recipe, it was harder to find in my local grocery stores.
Swiss chard is a tender, leafy green. Baby spinach is a good substitute.
You can substitute a teaspoon of dried Italian seasoning for the Rosemary sprig.
🛠 Equipment
A 6-quart pressure cooker. Pressure cooker dried beans are one of the key reasons I became a pressure cooker convert. I love my Instant Pot...but back when I wrote this recipe I used a massive 12-quart stovetop pressure cooker. (It's overkill, but it's what I had back then.)
📏Scaling
This recipe scales down easily - cut everything in half if you don't need as many beans, or have a 3-quart pressure cooker. Scaling up runs into space issues; if you have an 8-quart pressure cooker, you can double this recipe, but it's too much to fit in a 6-quart pressure cooker.
🤨 Soaking cannellini beans?
I get the "to soak, or not to soak?" question all the the time. I soaked my beans in this recipe, to brine them and get some salt into them. But you don't have to- they will cook to tenderness with 35 minutes at high pressure.
💡Tips and Tricks
If your beans are still tough when the cooking time is over, especially any "floaters" at the top of the pot, give the beans a stir, lock the lid, and pressure cook for another five minutes. Older beans take longer to cook, and if the beans have been sitting in the shelf at your store for a while, they may need extra time.

See my Instant Pot Cannellini Beans recipe for more bean cooking details.
Inspired by: Lorna Sass, Pressure Perfect
Print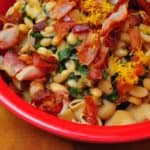 Pressure Cooker Cannellini Beans with Bacon, Swiss Chard and Pasta
---
Author:

Mike Vrobel

Total Time:

8 hours 45 minutes

Yield:

6

-8

1

x
Description
Pressure Cooker Cannellini Beans with Bacon, Swiss Chard and Pasta recipe - Italian style beans as a main course dish.
---
1

pound dried cannellini beans, sorted and rinsed
Brine
8 cups

of water

1 tablespoon

fine sea salt
Pasta
1

pound box pasta (preferably a tube shaped pasta; I used chiocciole)

1 tablespoon

fine sea salt
Remaining ingredients:
8 ounces

bacon

1

large onion, diced

1

bunch Swiss chard, stems cut into

½

-inch pieces, leaves roughly chopped

2

cloves garlic, crushed

¼ teaspoon

fine sea salt

1

sprig rosemary

6 cups

water

1

Lemon, zested and juiced
---
Instructions
Sort, rinse, and soak the beans: At least 8 hours before cooking, sort the cannellini beans, removing broken beans, stones or dirt clods. Rinse the beans, put them in a large container, cover with 2 tablespoons salt and 8 cups of water, and stir to dissolve the salt. Let the beans soak for at least 8 hours, or overnight.
Cook the pasta: Bring 2 quarts of water to a boil, add 1 tablespoon salt, and cook the pasta for the time listed on the box, then drain.
Cook the bacon and sauté the aromatics: While the water is boiling for the pasta: Put the bacon in the pressure cooker pot over low heat, and cook until has rendered its fat and is crispy and brown, about 10 minutes. Remove the bacon to a paper towel lined plate, leaving as much of the bacon fat behind as possible. (There should be 1 to 2 tablespoons of fat left in the pan; if there is a lot less, add a little vegetable oil.) Turn the heat up to medium-high, add the onion, chard stems, and garlic. Sprinkle with ¼ teaspoon salt, and sauté until the onions are softened, about 5 minutes.
Pressure cook the cannellini beans for 15 minutes with a Quick Release: Rinse the cannellini beans, drain, and add to the pressure cooker. Add the rosemary sprig, pour in the water, then stir to combine. Lock the lid on the pressure cooker. Cook at high pressure for 15 minutes in an Instant Pot or other electric pressure cooker, or for 12 minutes in a stovetop PC.  Quick release the pressure in the cooker. Remove the lid carefully, opening away from you - even when it's not under pressure, the steam in the cooker is very hot.
Pressure cook the beans and chard for 3 minuets with a Quick Release: Drain the beans, reserving 1½ cups of the bean cooking liquid. Discard the rosemary stem. Return the beans to the pressure cooker, stir in the chard leaves and reserved bean cooking liquid. Lock the lid on the pressure cooker, and pressure cook at high pressure for 3 minutes (both electric and stovetop PCs). Quick release the pressure, and carefully remove the lid. Stir in the lemon juice, taste, and add more salt as needed.
Serve: Put the drained pasta in a large bowl; top with the beans, then the bacon, then the lemon zest. Serve and enjoy!
Equipment
Prep Time:

8 hours

Cook Time:

45 minutes

Category:

Pressure Cooker

Cuisine:

Italian
Keywords: Pressure Cooker Cannellini Beans with Bacon, Swiss Chard and Pasta, Instant Pot Cannellini Beans with Bacon, Swiss Chard and Pasta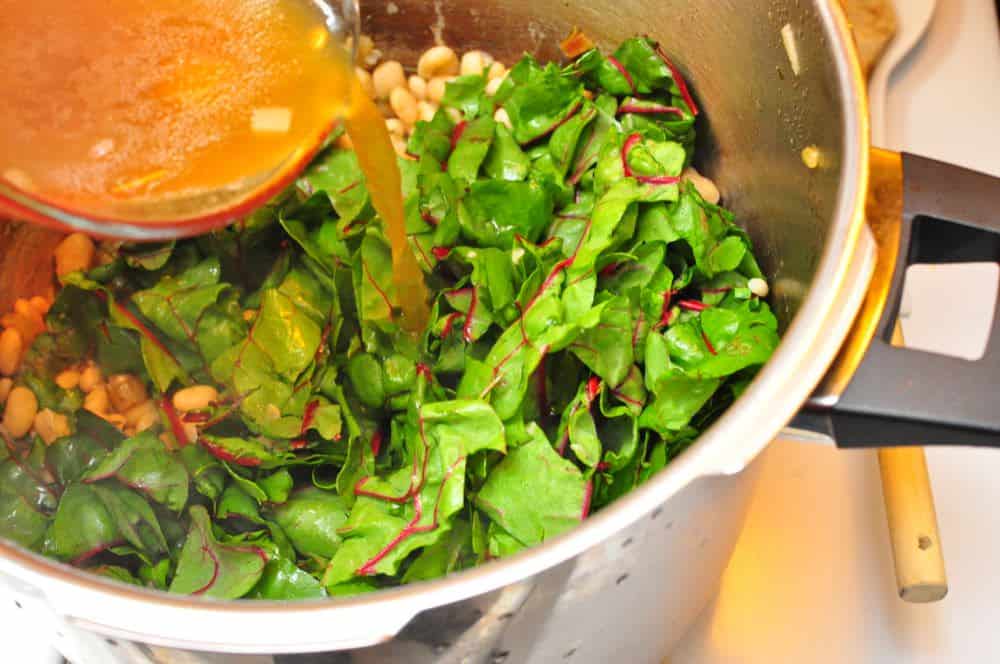 ☃️ Storage
Leftovers: This recipe freezes well, in 2-cup containers, for up to 6 months. Put a layer of pasta in the bottom of the container, then top it with the beans, chard, and bacon.
🤝 Related Posts
Pressure Cooker Pinto Beans in Tex-Mex Broth
Basic Technique: Pressure Cooker Beans
Click here for my other pressure cooker recipes.
Inspired by:
Lorna Sass Pressure Perfect

*Enjoyed this post? Want to help out DadCooksDinner? Subscribe using your RSS reader or by Email, recommend DadCooksDinner to your friends, or buy something from Amazon.com through the links on this site. Thank you!