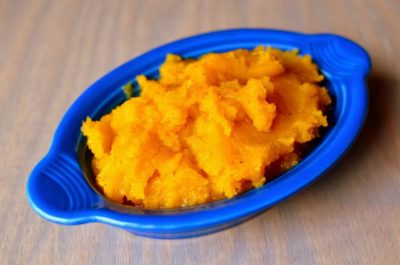 Thanks to everyone who answered my call for help with winter squash. There are some great recipes in the comments - go check them out.
After my whining about "It's sooo hard to peel winter squash", there was a recurring theme in the comments. Why bother to peel it? Halve it, seed it, cook it with the skin on, and then scrape out the flesh. No wrestling with the hard skin, other than cutting it in half. (Which is difficult enough - I had to put my weight into it to force my chef's knife through, and I'm not a small guy. I can see why some people recommend using cleavers and/or mallets to split them. Please be careful!)
Once again, I borrowed the pressure roasting technique from Modernist Cuisine at Home. Combining an alkaline environment with the high heat of the pressure cooker results in even caramelization of the squash. How do we get an alkaline environment? We sprinkle the squash with a little baking soda. The squash roasts as it pressure cooks, and is beautifully caramelized in 20 minutes.
*No pressure cooker? No worries. See the Notes section for oven baked squash instructions.
Then I mix in the good stuff - butter, brown sugar, and nutmeg. My mother-in-law suggested cinnamon, which sounded like a great idea...but I forgot when I was mashing. If you want to try it, add a quarter teaspoon, taste, and add more from there. I don't think it needs cinnamon, but I don't want to disappoint mom.
Recipe: Pressure Cooker Mashed Acorn Squash
Adapted From: Pressure Cooker Squash, Nathan Myhrvold and Maxime Bilet, Modernist Cuisine at Home
Equipment:
Print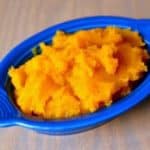 Pressure Cooker Mashed Acorn Squash
---
Author:

Mike Vrobel

Total Time:

25 minutes

Yield:

4

-6

1

x
Description
Pressure Cooker Mashed Acorn Squash recipe - pressure-roasted squash, mashed with butter, brown sugar, and nutmeg.
---
2

acorn squash, stem trimmed, halved, and seeded

1 teaspoon

kosher salt

¼ teaspoon

baking soda

½ cup

water
Mix in
2 tablespoons

butter

2 tablespoons

brown sugar

½ teaspoon

grated nutmeg
Salt and pepper to taste
---
Instructions
Pressure cook the squash Sprinkle the cut side of the squash with the kosher salt and the baking soda. Put a steaming basket or cooking rack in the pot, pour in ½ cup of water, then stack the squash on top. Lock the lid and bring the pressure cooker up to to high pressure. Lower the heat to maintain high pressure and pressure cook for 20 minutes at high pressure (24 minutes in an electric pressure cooker). Quick release the pressure. Remove the squash from the cooker, and let cool.
Mash the squash When the squash is cool enough to handle, scrape the flesh from the squash into a medium bowl. Add the butter, brown sugar, and nutmeg. Mash with a potato masher until the butter is melted and the squash is smooth. Taste the mashed squash, and add salt and pepper as necessary.
Prep Time:

5 minutes

Cook Time:

20 minutes

Category:

Pressure Cooker

Cuisine:

American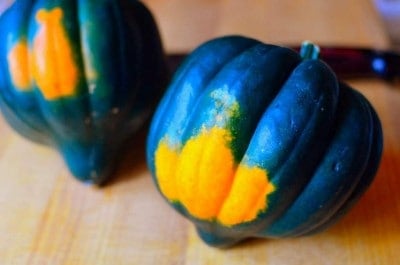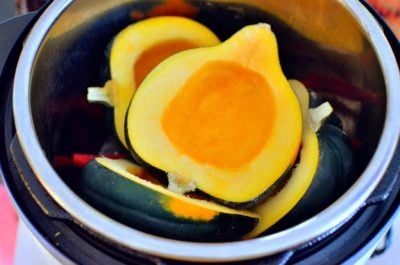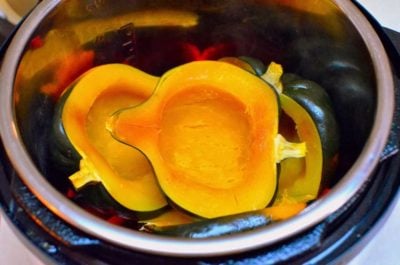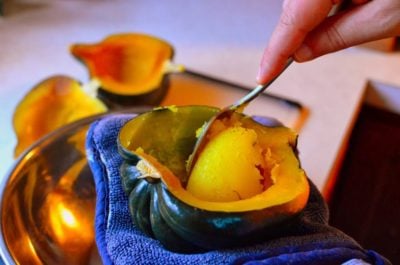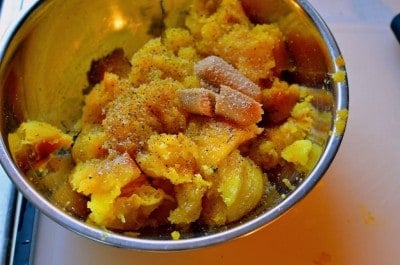 Notes
No pressure cooker? Cook the squash in the oven. Split the squash, seed them, and salt them. Skip the baking soda - there's no need for it in the oven. Put the squash in a baking dish, add ½ cup of water to the dish, and roast the squash in a 400°F oven. The squash are done when they are browned and easily pierced with a paring knife, about 45 minutes. Continue with step 2: Mash the squash.
Seriously, watch out when you're splitting the acorn squash. I don't want anyone losing a finger over one of my recipes. Alton Brown suggests cutting into the squash with a cheap Asian cleaver, then tapping it through with a mallet. Cooks Illustrated recommends a bench scraper and a mallet. Me? I stuck my 8 inch chef's knife in there, held the point on the cutting board, and leaned into it, rocking back and forth, until it split. I'm probably going to be the one to lose a finger…so, I'd go with the AB or CI approach if I were you.
Cooking for a crowd? You want three (or more) squash, and an 8 quart pressure cooker (or larger.) Don't worry about the pressure cooker's max fill line - just don't pile the squash above the top of the pot. There's enough airspace around the squash to come up to pressure, even if you're above the max fill line.
What do you think?
Questions? Other ideas? Leave them in the comments section below.
Related Posts:
Pressure Cooker Roasted Sweet Potato Puree
What do I do with: The Winter Squash issue
Click here for my other pressure cooker recipes
*Enjoyed this post? Want to help out DadCooksDinner? Subscribe to DadCooksDinner using the RSS or Email options on the right, recommend DadCooksDinner to your friends, buy something from Amazon.com
through the links on this site, or donate through my tip jar. Thank you.