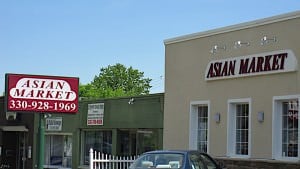 The name is generic, but Asian Food Market in Cuyahoga Falls is worth the trip. They have more of a Korean and Japanese focus than CAM Asia Market up north, and they carry ingredients for almost every type of Asian cuisine.
Last year, they moved up the road to a new store (in what used to be the Golden Dragon restaurant). It is a nice upgrade - the new store is cleaner and has better lighting than the old one.
Asian Food Market
2419 State Road
Cuyahoga Falls, OH 44223-1503
(330) 928-4710
My top five list of favorite items they sell, in no particular order:
1. Thin sliced beef, Korean style: Look in the freezer area for Short ribs for Kalbi, and thin-sliced boneless beef for Bulgogi (recipe still in development.)
2. Rice vermicelli noodles: I always keep a package of rice vermicelli noodles for a quick stir fry (recipe coming later this week). They do not need to be boiled; soak them in hot water for ten minutes and they're ready to go. I like the packages of noodles tied into one ounce portions. It makes it easy to grab just what is necessary for a recipe, and leave the rest of the noodles for later.
3. Large bags of rice:As I mentioned in my CAM Asia Market post, I always buy my rice at asian markets. The price is right, the quality is high because they have a lot of turnover, and I can buy 25 pound bags. When your kids eat as much rice as mine do, you have to buy in bulk to stay ahead of them.
4. Huge propane fired wok burner: I love poking through the housewares section of ethnic markets. You find things like a propane wok burner. Picture the base of a turkey fryer, with rings set up to hold a wok over the flame. Why? More power! You just can't get that kind of flame from a home stove.
*Why not? Gas pipes into a home are too narrow; they do not push enough gas through for the flames you see in the wok burners at asian restaurants.
**Am I going to buy it? No. But it shows a seriousness of purpose that I respect.
5. Kimchi: The famous korean pickle. (Or infamous, if you haven't acquired the taste for it.) Their refrigerator section has it in sizes from pint jars to two gallon jugs.


...Also, pretty much everything on my list from CAM Asia Market is available here as well...
Here's the map:

View Larger Map
What do you think? Questions? Other ideas? Know of any ethnic markets in the Akron area that I need to check out? Leave them in the comments section below.
Related Posts:
Click here for my Ethnic and Gourmet Markets in Akron
*Enjoyed this post? Want to help out DadCooksDinner? Subscribe using your RSS reader or by Email, recommend DadCooksDinner to your friends, or buy something from Amazon.com through the links on this site. Thank you!