Never trust a pot you can lift.
- Tom Johnson
Back in the late 90's, when I was first starting out as a home cook, I stumbled across a Le Creuset outlet store in St. Augustine, Florida. I bought a ton of cookware. OK, maybe not an actual ton, but I'm sure it felt that way to the UPS guy when the boxes arrived at my house. Now, I got crazy, and bought some things I shouldn't have - enameled cast iron Windsor pot, anyone? - But there were a couple of pieces I really loved. Like Big Blue, my 7 Quart round dutch oven, and the smaller 3.5 quart red oven that comes out every time I make no knead bread.
For a while, I've wanted to pick up some more enameled cast iron, especially some of the larger pots. That 7 quart dutch oven is a little small when I'm making a big pot of chili. But the prices for large pieces? Yowch. I love Le Creuset, but I couldn't bring myself to spend upwards of $379 for a single pot.
Then I found out there's a Le Creuset Outlet Store in Grove City, Pennsylvania, only an hour and a half drive from my house.
Road trip!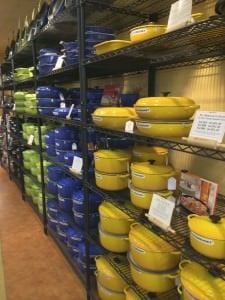 Discounts
I got there first thing in the morning, and spent a pleasant hour chatting with Mark, the friendly store manager. The outlet stocks two types of merchandise - first quality, which sell for 5% to 10% less than list price, and second quality, with minor defects, that are 15% off list price. For example, my $379 9.5 quart oval pot was available as a second for $322.
Sales on top of the discounts
What makes the trip to the outlet store worthwhile are the sales they offer on top of the discounted, outlet store prices.
First, certain colors were on clearance, for 35% to 40% off the listed price; when I was there, they had a discount on Aubergine (deep purple) and Coral.
Next is Le Creuset's "create your own set" sale, which I think is always available. The sale price is based on the number of pieces you buy. The deal started at 20% off if you buy five pieces, and built up to 30% off if you bought 15 pieces. (This is a better discount than it sounds, because they count lids as pieces. Two pots with lids, plus one other item, and you're already at 20% off.)
Finally, they had a "Buy More, Save More" sale going on. Spend $125, get 20% off; spend $200, get 25% off; spend $300, get 35% off. So, my $379 pot, that listed for $322, got an additional 35% off and cost me $209. I don't think this sale is always available - I think they only run it during certain months.
Buy More, Save More was such a deal that I…well, I kind of went berserk. I walked out with a 9.5 quart oval french oven in blue, a 6.75 quart wide french oven in purple, and a 5 quart braiser in yellow. And when I say "walked out", I mean "staggered out under the weight of" - that's a lot of cast iron.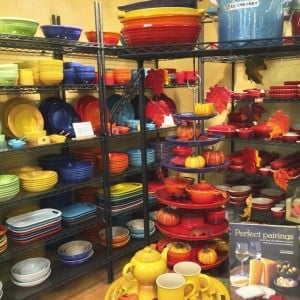 Other things I learned
Signature vs Traditional
Le Creuset has a new style of enameled cast iron pots. The Signature pots have larger, easier to grab side handles, and the knob is oven safe to 500°F. The knobs on Traditional Le Creuset are only safe to 375°F. Now, there weren't many Signature pots in the store; they have a full line of Traditional, and only a handful of the Signature pots. But I was able to get my 9.5 quart oval and 6.75 quart wide in the Signature style.
Order over the phone
Mark the manager told me they're happy to take orders over the phone and ship them to you. (This is a big deal for me - the drive is long enough that I won't make the trip without a very good reason.)
Sign up for their mailing list
The outlet store has different sales throughout the year, and they send out postcards about them to their mailing list. Mark mentioned a free shipping sale, if you want to order over the phone, and said they have a very good Black Friday sale on the day after Thanksgiving.
Le Creuset tableware is gorgeous
Now I'm lusting after a set of Le Creuset plates and platters. I was already over my budget from all the cast iron I bought, so I had to restrain myself. I hate being responsible(ish). I'll have to make another trip once I've saved up some money. (Or follow my own advice and call them…)
Le Creuset Outlet Store #48
Grove City Premium Outlets
1911 Leesburg-Grove City Rd., Space #835
Grove City, PA 16127
Phone: 724.748.4455
Web: lecreuset.com
What do you think?
Questions? Other ideas? Leave them in the comments section below.
*Enjoyed this post? Want to help out DadCooksDinner? Subscribe to DadCooksDinner using the RSS or Email options on the right, recommend DadCooksDinner to your friends, buy something from Amazon.com
through the links on this site, or donate through my tip jar. Thank you.